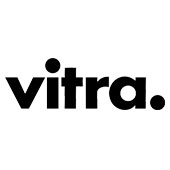 Vitra Furniture, Chairs & Accessories - Home Collection
Vitra have cemented themselves at the forefront of furniture design since Willi and Erika Fehlbaum launched the Swiss manufacturer in 1957. Designing and manufacturing some of the world's most famous designs - the Eames Lounge Chair, DSW/DSR, Girard Dolls - and working with acclaimed designers like Charles & Ray Eames, Alexander Girard and George Nelson; they have been able to create a wide range of practical furniture and accessories for the home and commercial application.
Combining the perfect balance of classic mid-century designs with modern designs, we have one of the UK's largest selection of Vitra furniture - including the iconic DSW Vitra chair. We've been a Vitra UK stockist for over 15 years we have built up an indispensable knowledge of the brand for both end-users and contract markets. Shop all of our Vitra designs below.
Vitra FAQ's
The history of Vitra
Vitra is a Swiss furniture company founded in 1950 by Willi and Erika Fehlbaum. Believe it or not, their story started when founder Willi Fehlbaum, discovered chairs designed by Charles and Ray Eames on a trip to the USA and decided to become a furniture manufacturer. The company has since become a leading brand in the design and production of high-quality furniture, lighting, and accessories for homes, offices, and public spaces. Vitra has a long history of collaborating with some of the most influential designers of the 20th and 21st centuries, including Charles and Ray Eames, George Nelson, Jean Prouvé, Jasper Morrison, and Verner Panton.

The company is still family owned and operates out of Birsfelden, Switzerland. It also operates a museum, the Vitra Design Museum, which is located on the Vitra Campus in Weil am Rhein, Germany (a short drive from Basel, across the German/Swiss border). The museum houses a collection of over 7,000 design objects and hosts exhibitions and events showcasing the work of designers and architects from around the world .
Sustainability at Vitra
Vitra recognise the growing need to make change, and take responsibility for our planet. In their most recent Sustainability report the company have set out 3 specific goals for the coming years.
1. Ecological footprint: Vitra will be a net positive company based on all the indicators of its ecological footprint.
2. Circular economy: Vitra will follow every product over its entire lifespan, ensuring the longest possible use and facilitating its recycling and disposal.
3. Transparency: Customers will be able to make their purchasing decisions based on detailed information as to where and how a product has been manufactured and which partners were involved.
Vitra at Utility
At Utility, we're proud to be longstanding, official UK stockists of Vitra. This allows us to supply all current Vitra products and order them directly from the manufacturer. You can rest assured that any piece purchased from us, is an officially licensed original - you won't find any replicas at Utility. If you're looking for a Vitra product that you can't see on our website, please feel free to get in touch with our sales team at sales@utilitydesign.co.uk and we'll be happy to help.
Do Vitra products come with a warranty?
Vitra now guarantees the longevity of all newly purchased Vitra Originals with a ten-to-thirty year manufacturer's warranty. Their pieces are not only designed and engineered to last a lifetime, but are made to be passed down from one generation to the next – a commitment to quality and durability that guides every decision Vitra make when developing and manufacturing our products. You can find out more information about Vitra's warranty here .
Vitra For Contract
Whether your project is big or small, our contract services team are here to help. As official dealers, we're able to specify and source all designs from Vitra's catalogue, whether it's listed on this website or not. If you'd like to discuss product availability or get a quote for your next job, please feel free to email Julie at contractsales@utilitydesign.co.uk today