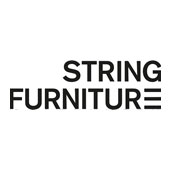 String® Shelving - Storage Shelves & Shelving Systems by String Furniture
String® Shelving by String Furniture is the original Swedish shelving system designed by Nils Strinning in 1949. Added to, developed and enhanced through time, the String Shelving collection now includes variations such as Pocket String, a smaller, out-of-the-box shelving solution. For the original, modular String® system, start with String Shelving - the diverse nature of string shelf components allows for configurations with the capacity to evolve. With its distinct Scandinavian appeal, String Shelving is loved by designers and architects across the world for its simplicity, versatility and practicality. 
Need some inspiration? We've created some fantastic ready-to-buy bundles for each room of the house. View bundles here.
Care to diver deeper into the world of String? Visit our String Furniture Hub here.
String Shelving FAQ's
What are the key benefits of the String Shelving System
The String system is characterised by its modular and versatile design. A simple and elegant shelving system, it's made up of shelving, side panels, and an array of components such as cabinets, work desks, trays and everything you might need for storage all throughout your home.

What makes String Shelving truly unique is its flexibility, allowing users to add or remove components over time to adapt to changing needs. This makes it a sustainable and long-lasting solution for any home or workspace.
How to create your ideal String Shelving configuration
As with any interior purchase, there are a few questions that you should consider before parting with your hard-earned money. Luckily, there is a String composition for just about any interior need. Remember, you can shop the full String catalogue right here at Utility but before you do, ask yourself these three quick questions.

1. In which room will your String Shelving be situated?
2. How will your storage needs change in the next 5 - 10 years?
3. What colour & finish can you live with for the next few years?

You can read more about each of these points in our buying guide - here .
String Furniture at Utility
Utilitydesign.co.uk is an official String Furniture dealer. You can rest assured that any String design purchased from us, is an officially licensed piece - you won't find any replicas at Utility.
If you need help with your String Shelving configuration, or you can't find a component you require online, please feel free to get in touch with our sales team at sales@utilitydesign.co.uk and we'll be happy to help.
Are there installation guides for String products?
String have helpfully created installation guide videos to help with the installation of your string system.
What is the maximum load you recommend for your products?
To avoid bending on string shelves, max. 15 kg evenly distributed weight on 78 cm wide shelves and max. 25 kg on 58 cm wide shelves. The maximum weight per section is 150kg depending on the material of the wall (applies to String System). In case of uncertainty, please feel free to get in touch via sales@utilitydesign.co.uk
Can you buy shelves individually?
Wooden shelves are only sold in 3-packs.
What skirting board clearance is there in a floor side panel?
The measurement is 13 cm. If you have higher skirting boards than this, we offer end extensions that enable a height of a maximum of 15.3 cm with a 1 cm wide skirting board. You can find them here.