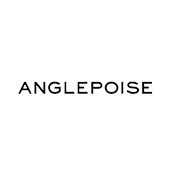 Anglepoise Table, Desk, Floor & Wall Lighting
Anglepoise is a quintessentially British lighting brand that has been creating table lamps, desk lights, floor lamp and more for over 70 years. The classic Anglepoise lamp's design was first developed by George Carwardine in 1931 who came up with a theoretical concept of balancing weights using springs cranks and levers. It is this original four-springed (patented in 1933) Anglepoise design that is credited with redefining the table lamp.
Although modern day Anglepoise designs stay true to the Carwardine methods, they have been brought up to date for the 21st century with the inclusion of modern features such as the energy saving lightbulb.
Under the guidance of Design Director Kenneth Grange, seen by some as the "Eames of the industrial design world", Anglepoise continues to create modest yet iconic light fittings that are designed to replicate the intensity of light that is demanded by professionals and adored by domestic users worldwide.
Lifetime Guarantee - Anglepoise aim is to stop the tidal wave of products that are designed for obsolescence and destined for landfill. If you do have a problem with your Anglepoise lamp, you can find out more about you can get free spares, repairs or replacement from Anglepoise here.