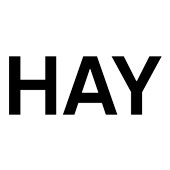 Hay Furniture - Designer Chairs, Tables & More
Hay furniture, lighting and home accessories are designed for the modern, contemporary home. Hay, a Danish design company, was founded in 2002 with the ambition to design furniture for modern living and aiming to restore the innovation of the 1950s and 60s to Scandinavian furniture design. Hay furniture has an international appeal with competitive prices.
The best selling Hay About A Chair (AAC) family comprises of dining and office chairs, bar stools, lounge chairs and sofas with a common design theme. Hay is a versatile and innovative Dansk furniture brand - items are available in a huge range of options yet are linked by a common design theme. Hay sofas such as the modular Mags Sofa offer comfort, versatility and incredible style; available to buy as modules or in compositions. Become the designer of your own interior by choosing a scheme that works in your space.