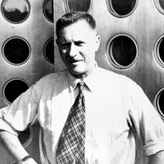 Jean Prouve
Jean Prouvé
is regarded as one of the most influential furniture designers of the early modern design movement. Specialising in the use of steel and aluminium in his designs, he is said to have considered himself more as an engineer than a modern designer.
Prouvé
was a pioneer of his time concentrating purely on efficiency and the materials being used rather than just the aesthetic appeal of products. His iconic
Trapeze Dining Table
, manufactured by
Vitra
is one of his many timeless designs with its alluring appeal and versatility - flexible to apply to any design style.