String Shelving Composition
String Shelving lifestyle
String Shelving lifestyle
String Shelving lifestyle
String Shelving lifestyle
String Shelving lifestyle
String Shelving lifestyle
String Shelving lifestyle
String Shelving lifestyle
String Shelving lifestyle
String Shelving lifestyle
1/11










String Shelving System - Configurable Storage System
The String Shelving System by Nils Strinning is a Swedish design classic and you'll find every support and shelf component from the String catalogue all here in one place. Then simply add to it with the range of String Accessories to increase its storage capabilities.
The modular system consists of shelves, side panels, cabinetry, desk and much more. You can select each component separately below to configure the perfect shelving system for your space. Start small or go big - mix and match whichever components you like - String's endless options allow for a product that can grow with you and your space.
Need some help? Feel free to email our sales team at sales@utilitydesign.co.uk
Also, you can utilise String's own "shelving builder" to get a visual representation of what your shelving unit will look like before purchasing.
Note : The "From" price stated above is for the cheapest complete shelving solution that can be purchased from String. It consists of two 50x20cm side panels and one pack of (3) 58x20cm shelves. See in image (left).
Read More
Designer : Nils Strinning
Year of Design : 1949
Material : Powder coated steel and wood veneer
Dimensions : Various
Made in Sweden
Delivered flat packed - self assembly required
Weight Limitations
Floor Panels: Max weight of 150kg.
Wall Panels: Max weight of 75kg.
78cm Shelves: Max weight of 15kg.
58cm Shelves: Max weight of 25kg.
Product: Available To Order
The lead time displayed above is for guidance based on our usual experience but can be subject to change Once your order has been shipped from the supplier, we will be in touch to provide an ETA. We aim to check, pack and dispatch all orders as soon as they arrive into our Liverpool warehouse.
If you'd like any further information on the lead-time of a specific product, please feel free to contact us via live chat, give us a call on 0151 494 9412 or email sales@utilitydesign.co.uk - please note that our office working hours are 9 am - 5.30 pm Mon-Fri.
Your order will be shipped via our courier partner FedEx or a dedicated third-party delivery team depending on the size, weight and/or fragility of your order. If your order exceeds the dimensions/weight restrictions of our courier service, our delivery team will be in touch to arrange delivery with you.
We aim to dispatch all in-stock orders placed before 1pm the same day, on a next working day delivery service.
You can find out more about our delivery terms here, or feel free to get in touch via our live chat function (bottom right of your screen during office hours).
Description
String Shelving is a highly flexible system of storage which lends itself to large and small compositions. Designed in 1949 by Swedish architect Nils Strinning it has won several coveted awards. Its simple construction of a powder coated steel frame on which wooden elements hang gives the String Shelving system a refined, timeless unpretentious appeal which add to its enduring popularity and highly practical versatility. Whilst it may appear daunting initially the composition of String Shelving is surprisingly simple.
First choose your side or support panels on which the shelving, desk and cabinet elements hang. Floor panels (standing on the floor and mounted on the wall) are 200cm or 85cm high and 30cm deep. Wall mounted panels (for mounting higher up a wall) are 75cm high and 30cm or 20cm deep, depending on your requirements. These can be purchased singularly or in packs of 2.
Next choose your shelves and modular units. Shelves come in pack of three and are either 58cm or 78cm wide with depths of 20cm or 30cm (depending on the depth of side panels you have chosen) in several finishes - ash, oak, walnut, grey, white, beige and black.
Once you have a basic shelving system you can add further elements for extra storage or if you want to expand your String Shelving system. These elements include a work desk, a magazine shelf (in the same powder coating as the supports or wood), a media shelf, a glass display, solid door cabinet with sliding doors, swing door cabinet or and a two-drawer chest. There's also a Folding Table in a range of finishes, which is used in conjunction with Floor Side Panels and a white plastic bowl shelf - ideal for a variety of uses for storing or displaying plants etc. There are also a number of additional accessories to enhance your String - from bowls and racks to hooks and hanging rods. See String Accessories for all options available. 
Modules Explained
Floor Panels - Low: H: 85cm; High : H: 200cm. Standard depth : 30cm. Skirting Board Clearance : 12cm
Wall Panels - Either 30 or 20cm deep - standard height of 75cm
Cabinets & Drawers : H: 42cm; W: 78cm; D: 30cm. One steel-lined finger hole in each drawer/door.
Mirrored Cabinet : H: 37cm; W: 78cm; D: 20cm. One steel-lined finger hole in each drawer/door.
Cabinet with Swing Door  : H:42cm; W: 58cm; D: 30cm. The door can be mounted on either side of the cabinet 
Cabinet with Flip Door : W: 78cm; D: 30cm; H: 42cm. Can only be used with 30cm depth panels.
Tiny Cabinet : W: 28cm; D: 30cm; H: 38cm. Fits together with all 30cm deep panels, it needs to be placed on top of either a wooden shelf or one of the other cabinets
Workdesk : W: 78cm; D: 58cm. Can only be used with 30cm deep panels
Folding Table : W: 78cm; D: 96cm. Can only be used with floor panels
All Magazine Shelves : W: 78cm; D: 30cm. Can only be used with 30cm deep panels
Media Shelf : H:2cm W:58cm D:47cm. Designed to give record players a designated spot with cord organisation at the back. 

Note: The "From" price listed at the top of this product listing relates to the cheapest full shelving configuration you can create from the components listed. This would include a pack of 58x20 shelves in white and a pack of 2 50x20cm wall side panels.
See the String Shelving collection.
See more Shelving.
Watch the String Shelving Installation Video
| | |
| --- | --- |
| Brand | String Shelving |
| Designer | Nils Strinning |
Designed by
Nils Strinning
Swedish architect Nils Strinning was one of the leading mid-twentieth century designers who built the foundation of what we now call Scandinavian design. Here we feature his award-winning String Shelving system, a lightweight shelving system created in the 1940s and still as popular today, not least because of its fantastic value and design classic appeal. The original system has now been added to, developed and enhanced to include a number of variations including Pocket String and String Works
More from Nils Strinning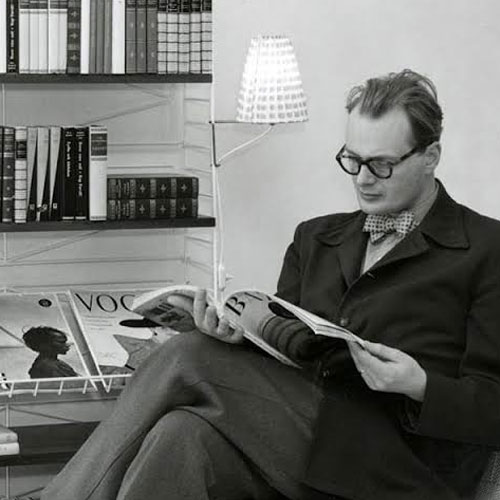 Thank You Messages
"Every part of their service and process is polite, efficient and accurate. Zero complaints what so ever, and continually impressed by this company."
"good customer service....Very happy that I was able to amend my order after I realised that I needed to go with a smaller size..Good communication throughout. Table arrived well within the timeframe..and I love it!"
"Excellent customer service, the lady that assisted me on the telephone & via email was professional and super efficient, the service I received today was fabulous, would highly recommend Utility"
"Great price and actually had the item in stock and this company is UK based and actually has customer service staff who answer the phone. Will definitely be using Utility Design again."
"Utility Design have a wonderful selection of beautiful products but I was particularly impressed by their customer service when my delivery was delayed by the courier. They went above and beyond to keep me informed"
"An absolute pleasure to deal with, their edit and knowledge superlative."