Working from home can be a blessing and a curse. You get to manage your own diary, work in whatever clothing feels most comfortable and the tea round isn't quite as daunting! But you also don't get the familiar friendly-faces you would in an office and you lose some of the sense of sanctuary a home gives you after a day at work. Whether you do work from home or you just have a home office you occasionally work from, it's important the space is set up for maximum comfort and productivity.
Productive Home Office Tips
Clutter Kills
As the cliché goes... a tidy room equals a tidy mind. For us, that couldn't be more accurate. When our desks and general working area are full of clutter, we find ourselves distracted and spending just as much time finding things rather than actually doing them. A tidy and clutter free space doesn't mean an empty one either. There are several shelving systems, storage solutions and tips you can employ when decluttering to get the most out of the space. We recommend a modular shelving system like String that can be expanded if needed. If you want to take it even further, why not look at the String Works system for a seamless desk and storage composition. If you desk just needs a bit more organisation, the Vitra Toolbox or O-tidy to give your stationery and small items a place to stay.
Products Imaged (Clockwise) : String Works, String Orgmix, Hay Kaelido Tray, Vitra Toolbox.
Work Horse
Every Cowboy-and-girl needs their trusty steed. A comfortable chair is a must have in any office, whether at home or not. Finding a chair that evokes a sense of relaxation but also productivity is a difficult but imperative task when furnishing an office. Luckily there are several types of options at your disposal. If you are looking for a traditional orthopaedic office chair with seat padding and gas height adjustment look no further than the Vitra Office range or the Magis Annett Chair. There are also several static chair options available like the Vitra Eames Plastic Range or the Hay About A Chair Series which will provide your office space with simple, clean design - but you may lose out on some comfort.
Products Imaged (Clockwise) : Vitra Eames DAW & DSW, Vitra Eames Soft Pad Chair, Hay About A Chair.
Making Light Work Of It
An office space with natural light is the ideal goal, but not everyone has the pleasure of natural light throughout their homes. There has also been a recent trend of outdoor offices too - we're not sure that's feasible in Britain though! Light is a very important part of our biological clock, so it's important you have the right type of light for work. A bright, white light is the most effective for working whereas a yellow/amber light may make you feel relaxed. We recommend a task light (table or desk lamp) for this. There's a wide range to suit many styles on our web shop but a few iconic choices would be; Lampe Gras No.206 Table Lamp, Louis Poulsen Panthella and the Artemide Tolomeo Mini.
Products Imaged (Clockwise) : Louis Poulsen Panthella, Lampe Gras No.206 , Artemide Tolomeo Mini.
 Stationery Staples
Your desk is now clutter free, you have a chair to sit on and the right lighting. What next? A big part of being productive is being organised and the right stationery can play a huge part in this. Having some staple stationery pieces on your desk can help towards achieving this. A weekly or monthly planner is always a must have item as well as a stockpile of notepads and notebooks to jot down your ideas. Don't forget to use the walls around you to hang up dry erase or cork boards to help keep you on track too. If you're a real stationery lover, you can also pick up some aesthetically pleasing stationery from Hay like the Bullet Pen, Starfish Desk Tidy and Hay Timer (handy if you use the Pomodoro technique!).
Products Imaged (Clockwise) : Ferm Living Brass Pencil Holder, Hay Starfish, Kaweco Brass Sport Fountain Pen.
Work then Play
Our final tip, and possibly most important, would be to ensure that you separate work from play in your home. By having a dedicated space - preferably a whole room - for your work is very important for a healthy work-life balance. Make sure you leave anything home related behind once you sit at your desk and remind yourself that you're at work now, not home. If you can't dedicate a whole space to an office, you can try other methods such as leaving distractions (phones, tablets) in other rooms. By separating work from play, you still get that sense of sanctuary from the other rooms in your home once you pack up and finish for the day.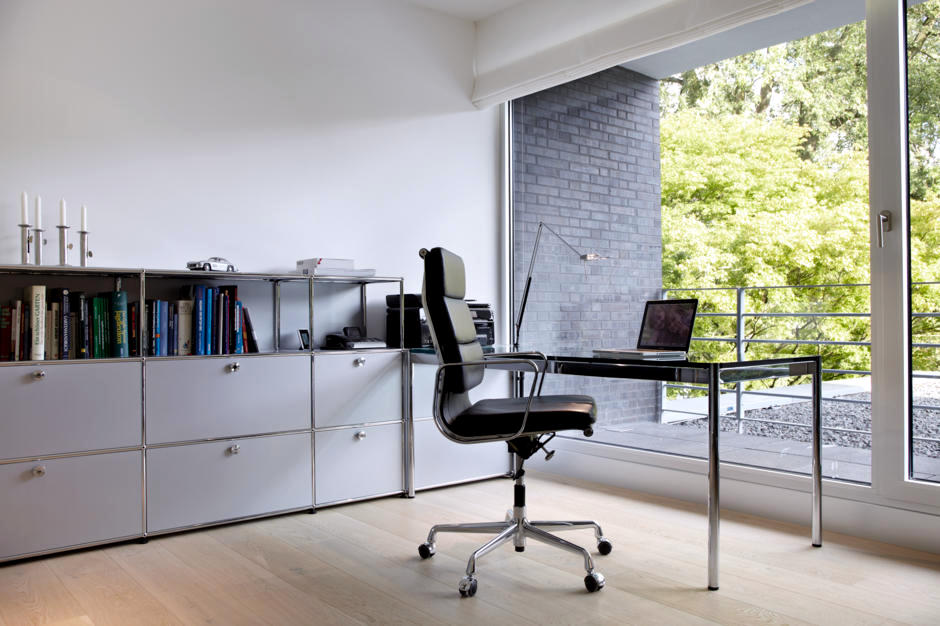 Products Imaged : Vitra Eames Soft Pad
That's our round up of tips for a productive home office. Have you got any tips you could share with us? If so you can do so over on Twitter or Facebook!
Time for more Utility? 36 Hours In Liverpool Travel Guide | Hygge: The Art of Danish happiness | How to Declutter your home