When one in five people are predicted to have enough clutter in their homes to fill a small bathroom it's safe to say we're a nation of hoarders. According to Elle Décor's Editor in Chief Michelle Ogundehin, the typical UK household is filled with £3450 worth of clutter- that's £93 billion nationally. For so many of us material things are taking over our lives- but times are changing.
With the effects of the recession still raw many of us are adopting a less is more attitude, as shown in the popularity of TV documentaries like Channel 4's Life Stripped Bare. As decluttering is having a bit of a moment we thought we'd share our top minimal makeover tips on how to declutter your home, accompanied by some inspiring interiors on Instagram to help you make a change.
Change Your Perspective
If decluttering is something you constantly put off then it's likely you don't realise just how beneficial it can be- not only on a practical level in your home but also for your state of mind.  Clutter, however you define it, can be bad for your health. According to to Psychology Today, people tend to feel like life is out of control when they surround themselves with more things than they can manage.  Mess causes stress – and you might find a little clutter clearing to be really therapeutic.
Clear-Organise-Store
This is your clutter clearing mantra. Decluttering can be such a big task that it's hard to know where to start. The first step is to remember that it's not just about containing things you don't really need in a lovely selection of storage baskets- it's about getting rid of things too. Clear first, organise afterwards and ONLY THEN may you store.
Giving is Good
It goes without saying that there are a lot of people in this world who'll appreciate your old school jumper more than you do. Don't just throw unwanted things in the bin- put as much stuff as you can from clothes and toys to blankets and toiletries in a donation box for charity.
The Liverpool White Chapel Centre- Liverpool's leading homeless charity (and our sponsored charity for 2016)  have recently opened a shop  in Allerton accepting accept menswear, womenswear, children's clothing, footwear, accessories, bags and jewellery, CDs, DVDs and books.
Another great charity you could donate to is CalaisAid : A charity working to unite individual groups by organising fortnightly collections of goods such as clothes, blankets and books to take to Calais.  They have collection points across the country- find your nearest one using google maps here.
 And that goes for Furniture too
When it's time to let go of clutter you want it out of your house as quickly as possible.  If you've got no takers on Gumtree or Ebay then there's loads of great charities you can donate unwanted furniture to instead. For example, The British Heart Foundation will collect small furniture for free, the Furniture Re-Use Network is a local furniture recycling charity aiming to help low-income households whilst reducing waste, and Freecycle is a non-profit network that lets you give away (& get) furniture for free in your local area.
Discarded furniture: Millions of items thrown away each year are in usable conditions & could go to a great home! https://t.co/pbzywABco9

— Reuse Matters (@FRNUK) September 26, 2016
Be Ruthless
Most of us have things we cling onto unnecessarily, whether that's for sentimental reasons, because we feel bad throwing it away or because we think our childhood toys might be worth a fortune on Ebay one day. When going through old stuff it's important to ask yourself- do I really need this to cherish the memory? Will my Nan even notice if I throw away this unused gift she got me five years ago? Will my cabbage patch kid ever be worth £10000? If the answer is no, let it go. With less stuff it'll be much easier to achieve that minimal, cosy-clean look in your home.
Think about the time you last used/wore it
Another excuse we give ourselves for not throwing stuff away is 'I might need it again someday'- especially with clothes. If you're one of those people with a wardrobe full of stuff but nothing to wear then it's time for a clear out.  If you haven't used/worn something you've come across in the last 6 months then you should probably get rid of it. If you found something and thought '"I've been wondering where that was for ages" then you should probably get rid of it. If you've found something you didn't even know you had then you should definitely get rid of it.
Enhance your Wardrobe Storage
So you've cleared out all the clothes you've accepted you'll never wear / fit into again. Good for you. Now work on making the most of your wardrobe space to clear away clutter from elsewhere. Shoe racks, hanging wardrobe organisers and wardrobe storage boxes are a great way to maximise storage space and prevent clothes from piling up on the floor. If you sill need more space for clothes a clothes rails is a great idea- just stick to a few of your favourite pieces to nail that minimal clutter-free look.
Clean out Cupboards
Just because cupboards are hidden doesn't mean that you shouldn't go through them. A good clear out of your cupboards from the kitchen and living room to the bathroom and bedroom will open up so much space when it's time to organise and store the things you've chosen to keep.
Clear out Shelves
Shelves aren't an excuse to store things you don't need just because you've got the space for it. In an increasingly paperless society shelves are not only for stacking files and paperwork but also for displaying those few treasured pieces you've chosen to keep. Make sure everything on your shelf is there for a reason- that way it fits a practical storage purpose but also looks neat and minimal in your space.
Modular Storage
Once you've done your clear out it's time to get organising and storing. If you need more storage space consider investing in a modular storage unit like String shelving (featured below) or Hay New Order. That way you can have it made to fit your needs exactly so clutter doesn't pile up elsewhere.
Meet the Minimalists
Joshua Fields Millburn & Ryan Nicodemus launched theminimlaists.com in December 2010- a website about living a meaningful life with less stuff. From attracting 52 visitors in the first month, they now attract over 4 million readers as well as over 50,000 Twitter followers and one of their many TED talks – A rich life with less stuff- has had more than one million hits on YouTube.
Check out their website  for a little decluttering inspiration or download their new documentary MINIMAlSIM: A Documentary About the Important Things to find out how your life could be better with less stuff.
 Read About Decluttering
You might have already noticed that the self-help trend for purging stuff has hit the bookshelves hard in the last few years. From The Magic of Tidying Up by Marie Kondo to The Joy of Less: A Minimalist Living Guide by Francine Jay, here's a list of the 15 best sellers on how to declutter if you need some extra help.
Make it fun
The 30-day minimalism challenge (launched by Millburn & Nicodemus)   is a fun way to declutter in steps. On day one throw out, sell, donate or recycle one item. On day two, two items. On day three, three items, and so on. After 30 days, you'll have removed 564 items, so it's a  great way to test what you really need & makes decluttering fun.
Unsure if you're up for the challenge? Watch Channel 4's Life Stripped Bare for a little inspiration!
What's your top tip on how to declutter? Let us known on Facebook or Twitter.
***
Feeling inspired? Start your Declutter journey today with Utility. We have a great range of storage solutions to help get your home clean & organised in time for Christmas!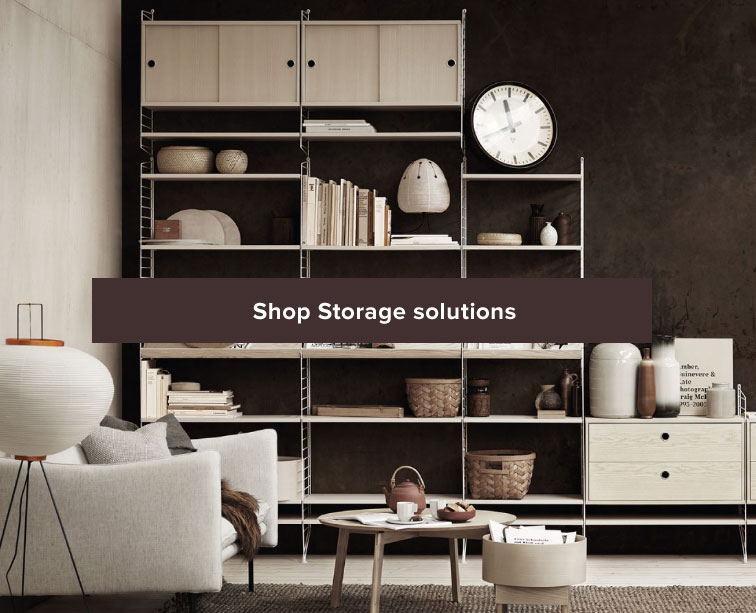 Time for more? Bedroom Inspiration from Instagram | Interior Trend : The Natural Home | The Dark Colour Palette Trend | Fashion Week Trends That Work in The Home