With the rise in popularity of trends like Scandinavian simplicity, minimalism and slow fashion, coupled with the ever-increasing cost of living; there has been a change in how consumers are behaving. Those who aren't caught up in the fast-fashion and quick consumer lifestyle are starting to see the value in buying quality, timeless pieces. But this thinking doesn't need to be applied to just fashion, your home can benefit from it too.
Here are a few reasons why you should consider flogging the flat-pack furniture and start investing in quality designer pieces instead;
---
1. Quality
The biggest difference between flat-pack, ready to buy furniture and classic contemporary furniture is quality. Manufacturers like Vitra, Knoll & Carl Hansen have spent years perfecting their craft and innovating the manufacturing process to ensure the highest quality is achieved. Take a detailed look at a Carl Hansen Wishbone Chair pictured below and you can clearly see the craftsmanship that has gone into creating the joints and flawless finish. As with anything high quality you own, you tend to take that extra little bit of care of it too. Meaning these pieces will stand the test of time, in more way than one...
Carl Hansen Wishbone Chair Details
2. Timeless Appeal
Mid-century modern pieces were given that title because their mid-century designs still have a modern appeal. With a lot of these classic design pieces making a resurgence into our homes, it's clear to see that these design pieces will always be relevant no matter what the current trends are. Take the Eames Plastic Chair range; due to the recent Instagram hashtag trend #OnMyEames and increasing attention from lifestyle and fashion bloggers it has become the chair of choice for many.
Left: Charles Eames and the Vitra DSR; Right: The #OnMyEames trend
3. Value Appreciation
Many classic design pieces increase in value over time, meaning a chair worth £250 now could go for £1,000's in the near future. A quick check on Google and we can instantly see an original Eames Plastic Chair from 1958 that is going for around £1,200. Let's take the another Eames design - the LCW - and see how much the value has appreciated over time;
1945 - Original Cost  - $32.50**
2017 - Original Cost with Inflation Considered - $411
2017 - Actual Cost - $1,415
That's a staggering $1,000 difference. It is hard to gauge what will become a classic design and what won't. However, you can expect most of these pieces to hold their value over time so you can at least expect most of your investment back - should you need to sell.
**It's in $ as that's the only original cost figure we could find.
The Vitra LCW which has been around for over 70 years.
4. Design
The most obvious but often overlooked reason to buy designer furniture is the actual design itself. Although all furniture is functional and does its job, pieces that have a striking form as well as function will bring that extra bit of joy to your life. The hours spent planning the materials, angles and fixings of contemporary furniture are what really sets it apart from alternatives on the market.
Although very simple in their design, the Artek 60 Stool and Series 7 Chair pictured below clearly show why considered design always wins.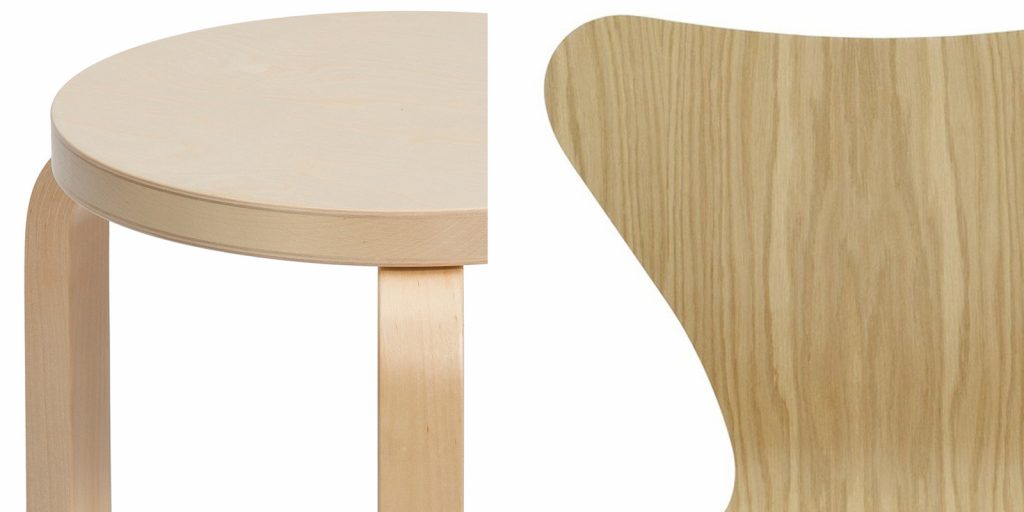 Left: Artek 60 Stool; Right: Fritz Hansen Series 7 Chair
---
Don't know your where to start when it comes to mid-century modern furniture pieces? Check out the list below for a quick introduction into some of the most iconic pieces available on the market;
1 - Flos Arco Light - Designed in 1962 by Achille Castiglioni - £1,603
2 - Artek 60 Stool - Designed in 1933 by Alvar Aalto - £170
3 - Vitra Eames DSW Chair - Designed in 1956 by Charles & Ray Eames - £345
4 - Fritz Hansen Series 7 Chair - Designed in 1955 by Arne Jacobsen - £349
5 - Vitra George Nelson Bench - Designed in 1946 by George Nelson - £550
6 - Louis Poulsen Panthella Lamp - Designed in  1971 by Verner Panton - £463
7 - Kartell Componibili Storage Unit - Designed on 1969 by Anna Castelli Ferrieri - £72
8 - Carl Hansen Wishbone Chair (CH24) - Designed in 1949 by Hans J Wegner - £543
9 - Fritz Hansen Kaiser Idell Wall Light - Designed in 1931 by Christian Dell - £503
Want even more Design Classic inspiration? Take a look at our Pinterest account to see some of these great designs in situ.
Time for more? Instagram Interiors | Hygge: The Art of Danish happiness | How to Declutter your home | 36 Hours in Liverpool