As a key influencer of the 'Danish Modern' movement, Hans J. Wegner helped change the general public's view of furniture in the 1950s and 1960s, making mid-century Danish design popular on an international scale.
With a deep understanding of the need for furniture to be as functional as it is beautiful and over 500 chair designs in his portfolio, Wegner carved out a reputation as "The Master of the Chair" - A title that few would dispute.
Famous for combining perfectly executed joints with exquisite shapes, Wegner used his constant curiosity for materials and his deep respect for wood's natural characteristics to create minimal designs with organic, natural softness.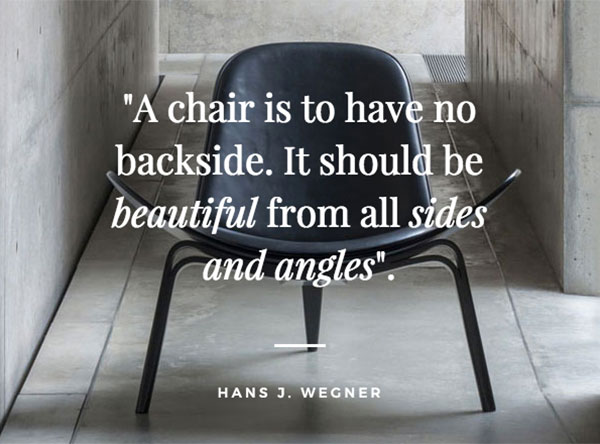 The son of a shoemaker, Hans J. Wegner was born in 1914 in Tonder, Southern Denmark. He began his career as a cabinetmaker in 1931 before attending the Copenhagen School of Arts & Crafts. After receiving his architectural degree in 1938, he joined Arne Jacobsen and Erik Møller and began designing furniture for the new City Hall in Aurhaus, Denmark.
It was around this time that a young Wegner also began working with master cabinetmaker Johannes Hansen, who played a key role in introducing modern design to the Danish public.
Following the opening of his own drawing office in 1943, Wegner set about designing a series of chairs inspired by Chinese chairs from the Ming Dynasty in the 17th and 18th century. The most popular of these chairs, the Wishbone Chair has since gone on to become his most successful ever design.
Considered one of the most creative and productive Danish furniture designers of all time, Hans J. Wegner received several awards for design including the coveted Lunning Prize (1951) and the 8th International Design Award (1997).
Thankfully, due to a long standing alliance with furniture manufacturer Carl Hansen & Son, a wide range of Wegner designs live on in domestic and commercial spaces around the world.
Utility are proud stockists of Carl Hansen & Son, stocking iconic Wegner designs including the Shell Chair, Wing Chair and Wishbone Chair.
Breaking News! NEW Wegner releases now available.
Carl Hansen & Son have now recreated one of Hans J. Wegner's early designs: the 1950 CH22 Lounge Chair, which bears the first actual model number from the first joint collection between the innovative designer and the Danish furniture manufacturer. Also, for the first time since its design in the 1950's, the CH26 chair has gone into production and is available to order.
The CH22 was the first model in Wegner's debut collection created exclusively for Carl Hansen & Son in 1950. The designs clearly illustrate his ability, even early on in his career, to simplify a construction until it is distilled down to its essence and is full of character.
In designing the CH22, he also created a blueprint for transforming the lounge chair into a dining chair – a design that has never been manufactured and was evidently not even produced as a mockup.
This previously unknown design, with the model number CH26, bears a striking resemblance to the CH22, sharing many of the design elements so characteristic of Wegner: organic shapes, bold backs, light-coloured wood and woven seats.
Almost all of the world's major design museums, from The Museum of Modern Art in New York to Die Neue Sammlung in Munich, feature his furniture in their collections.
Before his death in 2007 (Aged 92) Wegner was made an honorary member of the Royal Danish Academy for the Fine Arts (1995) and an honorary doctor of the Royal College of Art (1997).