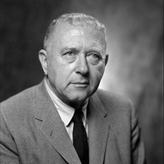 Marcel Breuer
Marcel Breuer
was the protégé of Bauhaus founder Walter Gropius and his entire body of work, both architecture and furniture, embodies the driving Bauhaus objective to reconcile art and industry. Inspired by bicycle construction, fabricated using the techniques of local plumbers,
Breuer's
first designs, including the
Wassily Lounge Chair
, remain among the most identifiable icons of the modern furniture movement. He was an early mentor to
Florence Knoll
during her time in the office of Walter Gropius and was subsequently an influential figure in
Knoll's
history.