Here at Utility we're huge lovers of all things design, so when we recently took a trip to California we couldn't help but fawn over the stunning Palm Springs and L.A architecture that has become so synonymous with the finest in mid century modern design.
We embarked on a road trip, taking in some of the most iconic homes and buildings from the mid-19th century. One of which was the house and studio of Charles & Ray Eames, at Pacific Palisades which, considering we sell plenty of Eames furniture (as well as lots of other furniture from the mid-century modern period), was just too good an opportunity to pass up.
Below you can see just some of the places we visited and photos we took…
Palm Springs Art Museum
We felt like a kid in a candy shop when we visited the Palm Springs Art Museum. We were a little overwhelmed with the number of amazing pieces of artwork on show, covering everything including architecture, paintings, glasswork, photography, sculptures, furniture, and much more.
The museum was founded way back in 1938 and was home to pieces of artwork donated by wealthy local homeowners. It has moved sites several times before settling into its current location. Today it features all sorts of exhibitions and programs, making it a must visit if you're in the area.
Check out more info on their website.
Eames House
Of course Charles and Ray Eames designed and built their own house - we wouldn't have expected anything less!
Otherwise known as Case Study House No. 8, their house is a lesson in clever, stylish design that looks as amazing now as it no doubt did when it was built in 1949. The architecture itself is actually quite simple, essentially two large glass and steel rectangular boxes, but the coloured glass really brings it to life. Inside is packed full of not just some of the Eames' personal belongings, but also plenty of their classic furniture, including some we sell at Utility. It's been left just as it was when Ray Eames died back in 1988. Inside photography is strictly forbidden and reserved for fundraising to preserve the trust but we were allowed to look in through the open windows and doors.
The surroundings aren't to be overlooked either. In an elevated position overlooking Santa Monica beach over a meadow (albeit very dry due to the drought) it's a serene and relaxing location, set amongst eucalyptus trees with the sound of birdsong and the ocean in the background.There aren't many better places to live and work.
If you want to go and take a look, make sure you make a reservation as it's incredibly popular. You can do so over at the Eames Foundation website and if you're feeling inspired, you can check out our full range of Eames furniture here.
Kaufmann House
Designed for businessman Edgar J Kaufmann in the mid forties, this masterpiece by Richard Neutra is one of those places you'd find hard to beat if you could design your dream home. It's now even considered one of the most important homes of the 20th century and a jewel in American architecture history.
It's quite a simple layout, featuring steel, glass and stone in its construction, and it's this house (and some of its copycats) that has become the archetype for houses in the Californian hills. Once owned by singer Barry Manilow it was restored most recently by Brent Harris, an investment manager, and Beth Edwards Harris. Rumour has it it's recently been touted on the market for $38m, a far cry from the $348,000 it cost to build!
Frank Sinatra's House
Among the many celebs who have owned property in the Palm Springs area, one of the most famous is undoubtedly Frank Sinatra, and what a house it is.
Sinatra was one of the first big names to live in Palm Springs, which led to a flurry of others following in his footsteps. Sinatra originally wanted a Georgian-style mansion, but architect Stewart Williams was able to convince him to opt for something more modern and "desert appropriate".
Named Twin Palms, you can imagine Hollywood parties for the rich and famous being held here, with cocktails aplenty around the Grand Piano shaped pool. You can even rent the house, at a price!
You can learn more over on the Twin Palms website.
Del Marcos Hotel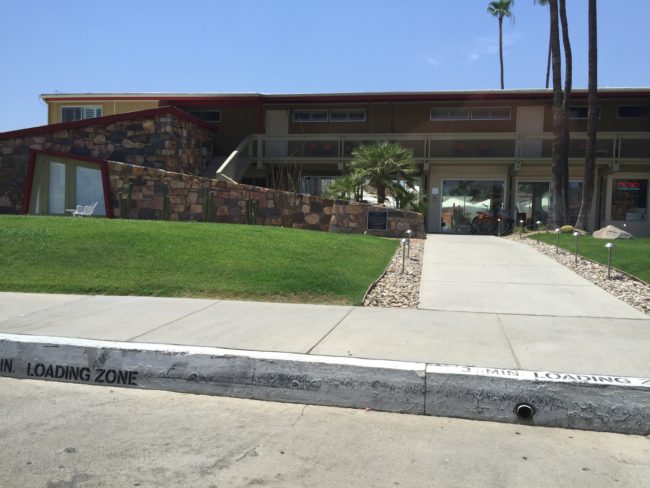 The 17-room Del Marcos Hotel was designed by William F Cody in 1947 and is still an incredibly popular place to stay in the area. The award-winning hotel was Cody's first independent commission in Palm Springs, and was built in a U-shape around a courtyard to encourage guests to socialise.
Tramway Gas Station
The iconic Tramway Gas Station, designed by Albert Frey, was intended to be the first Palm Springs building people saw when approaching from California State Route 111. Designed in 1965, it quickly became one of the key examples of modernist architecture and set foundation stone for this desert location's iconic status as a mecca for contemporary design.
However, it closed and began to fall into disrepair in the mid 1990s, until it was turned into an art gallery and later the Palm Springs Visitor Centre.
---
These were just some of the amazing architectural stops on our tour of Palm Springs. We also were lucky enough to see the Dinah Shore House (now owned by Leonardo Di Caprio, again available to rent); The Edris House, Bob Hope's House (the behemoth, John Lautner designed 23,000 square feet structure in the Coachella Valley), the Chase Bank Building and many more.
We certainly left feeling inspired and the trip re-inforced our passion about the amazing furniture we sell here at Utility. Whilst most of us will never have the luxury of Palm Springs, we can have our own little part of it wherever we live.
Take a look at the gallery below to see all the pictures we took.
See more amazing design over on our Instagram and Pinterest pages.
Time for more Utility? Interior design tips first time buyers should know | 7 things you need to know about decorating with white | Travel with Utility: Where to go and what to take