Decorating with white is something many homeowners tend to shy away from. An all white room can look so clean and pristine, it feels hard to really relax and get comfortable in.
White interiors are never out of fashion, but this season neutral colours are popping up everywhere. So if you're looking to get ahead of the trend, here's a few tips to make beauty and comfort achievable when decorating with white.
Start with a blank white canvas
White works best as a foundation colour because it makes other hues pop. If you start by painting a room white, then you basically have a blank canvas on which literally anything goes. Unlike bolder colours, you can match white with bright colours, pale colours, pastel colours, dark colours, black, wood, metal- there's nothing it doesn't go with.  Look at white as a fresh start to whatever you do- and let your creativity run with it.
White is pretty- but it doesn't have to be precious
If you've got kids, pets or a disposition to spilling things then it makes sense that you might be scared of white.  But white can be pretty as well as practical. If you embrace the lived in look- rumpled linens, fluffy cushions, distressed finishes, shabby chic slip covers and machine washable textiles like faux leather and faux suede, white rooms become a calming and inviting space to relax in. Don't shy away from white because of the colour – instead use fabric suitable for your busy home.
White isn't boring
The beauty of white is it's versatile range to go from ultra creamy hues that pair well with wood for a traditional, rustic look, to ultra modern whites with a matt lacquer finish, that are great for minimal homes. Depending on what colours and textiles you pair it with, white can be used to create all sorts of looks from shabby chic to urban luxe.  It's actually a very dramatic colour that doesn't at all look boring when done right.
Not All Whites Match
Believe it or not, white actually has a huge range of colour. Pantone has over 50 shades of white, and Benjamin More over 200. Every colour in the spectrum has a white version of it, so be careful for  underlying tones of pinks, greens and blues when throwing whites together- make sure they match first!
Approach decorating with white as you would fashion
If white is your foundation colour, it creates a canvas for you to decorate around,  giving you the flexibility to change accessories on a whim. Whether you want to usher in summer with bright and pastel colours or get ahead of new trends, a white room can easily be freshened up by swapping out rugs, throws and pillows for different home accessories depending on your tastes that season.
Layer with Textiles
You don't always need colour to make a room look stunning. Decorating with patterns, textures and varying materials in similar white hues creates a room that has depth and interest
White is an Eraser
If your home has some architectural mishaps, exposed pipes or unsightly marks on a drywall,  white can camouflage all the eyesores because it establishes continuity and flow. An abrupt colour change on the other hand can destroy the sight of line, causing heads to turn everywhere and notice blemishes.

Feeling inspired?
Check out some of the best we have to offer in white across our furniture, lighting and home accessories ranges.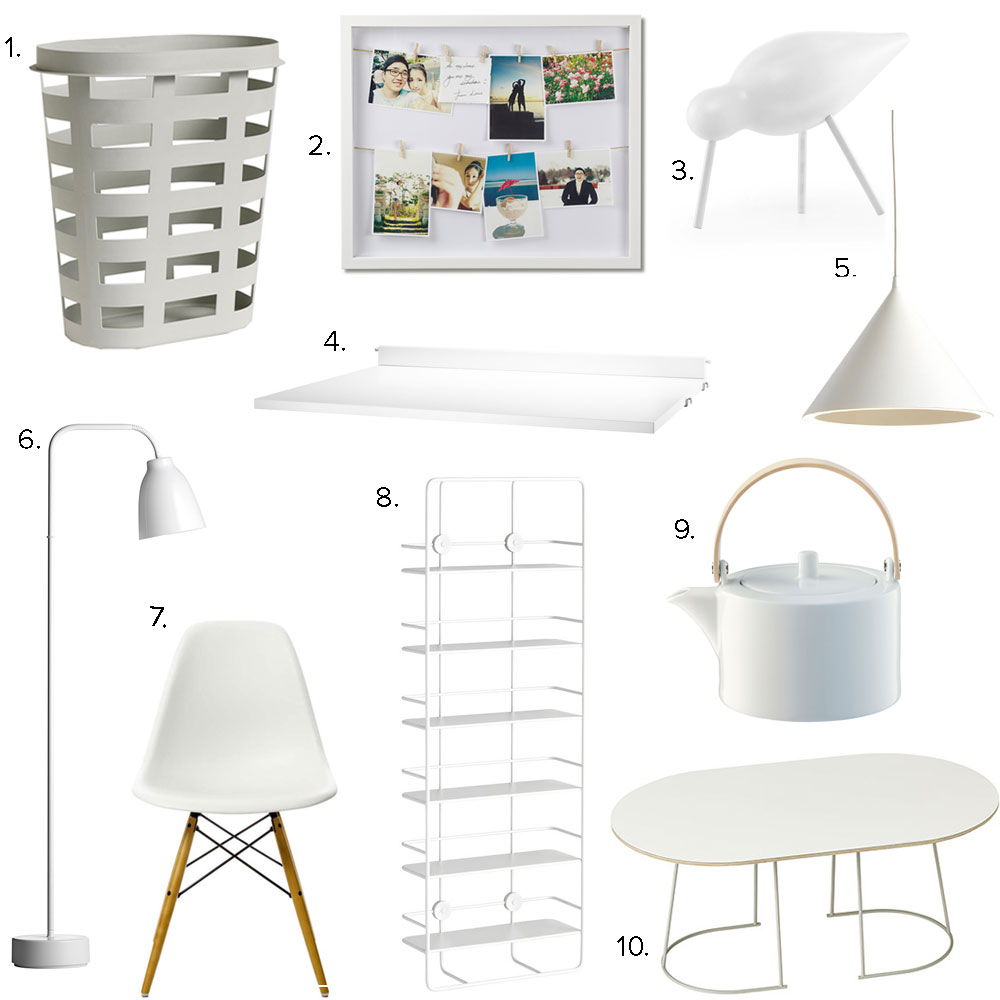 1.Hay Large Laundry Basket, £35.00
2.Umbra Clothesline Photo Display, £35.0
3.Normann Copenhagen Shorebird, 25.00
5. Woud Annular Pendant Light, £185.00
6.Lightyears Carrivagio Read Floor Lamp, £380.00, 
7.Vitra Eames DSW Plastic Chair, £339.00
8.Woud Coupé Vertical Shelf, £325.00
10. Muuto Airy Coffee Table, £219
Like what you see? our range of white products doesn't stop there. Head to our Pinterest for some more #whiteliving pinspiration
If you have any tips for decorating with white, don't be shy! Tweet us @utilitydesign
Time for more? Design Ideas to Transform your Walls | Utility Top Tips For Furnishing a Small Apartment