The Chairs That Rock: The Amazing Benefits of Rocking Chairs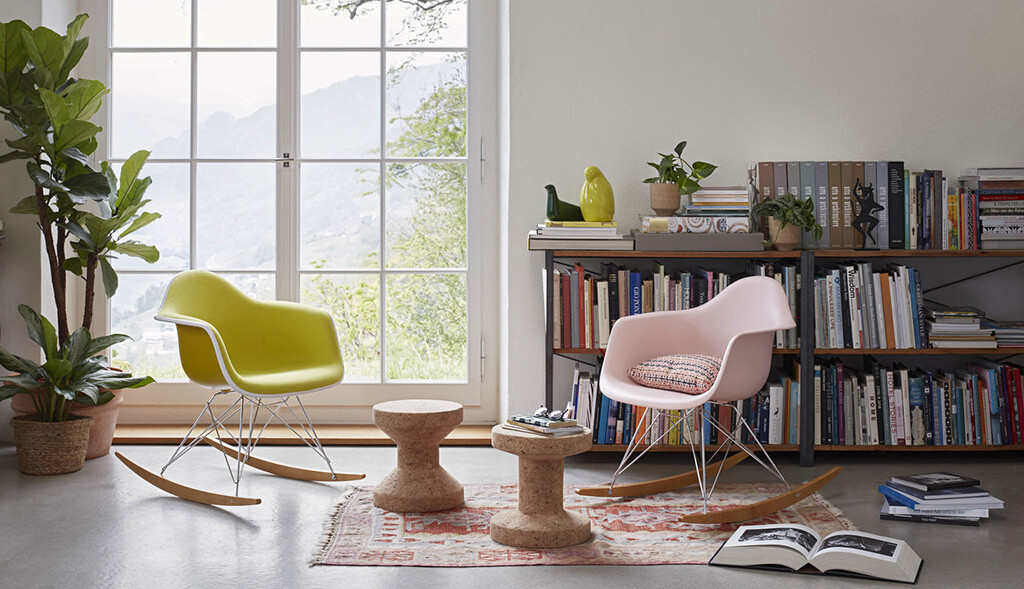 What springs to mind when you think of a rocking chair? The porches of Texan homes? The dusty living rooms of elderly relatives? Leave the stereotypes behind as we explore why rocking chairs still rock and the great health benefits they can provide.
---
A brief history of the rocking chair
The first rocking chairs date all the way back to 1710. They were created by attaching two ice skates to the bottom of a regular chair (pretty clever huh?). However, the trend didn't really take off until about 75 years later.
Many of the rocking chairs we see today are single-seaters, but back in the day, they were often designed for more than one person. Early on, these relaxing chairs were recognised as having positive palliative effects and have since been used readily in places such as hospitals and other health care facilities. The rocking chairs of today have come a long way from their humble beginnings, featuring sleek silhouettes which beautifully complement modern living spaces.
Read on for some surprising health benefits of a timeless classic, the rocking chair.
---
1. Relaxation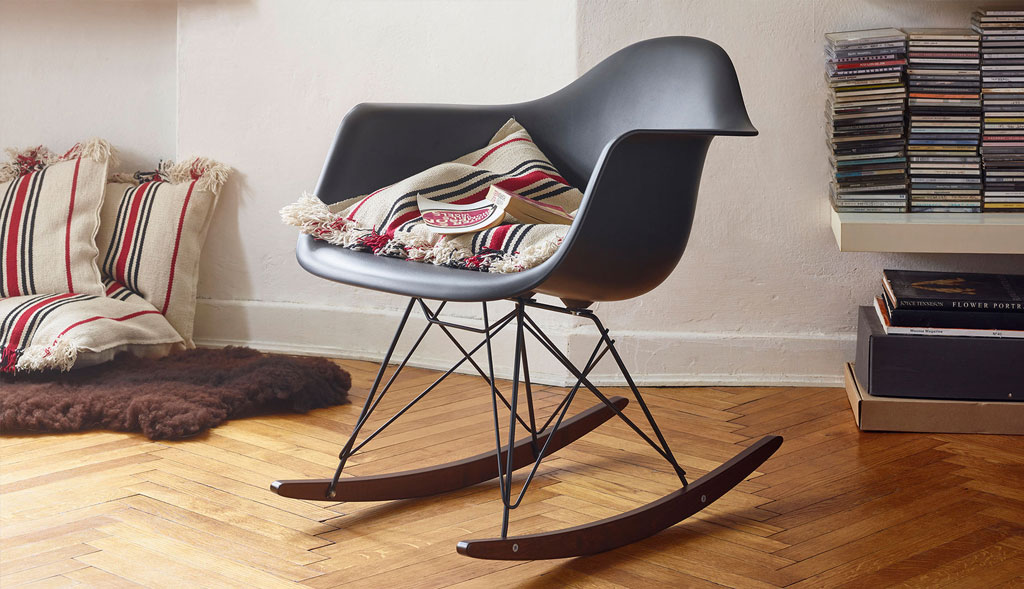 First and foremost, rocking is relaxing. It releases endorphins in the brain which can improve mood and reduce stress and pain. Airports around the US have even introduced rocking chairs to help travellers unwind from the stressful and fast-paced environment of busy airports.
Vitra Eames RAR from £540 - shop now
---
2. Ease Arthritis And Back Pain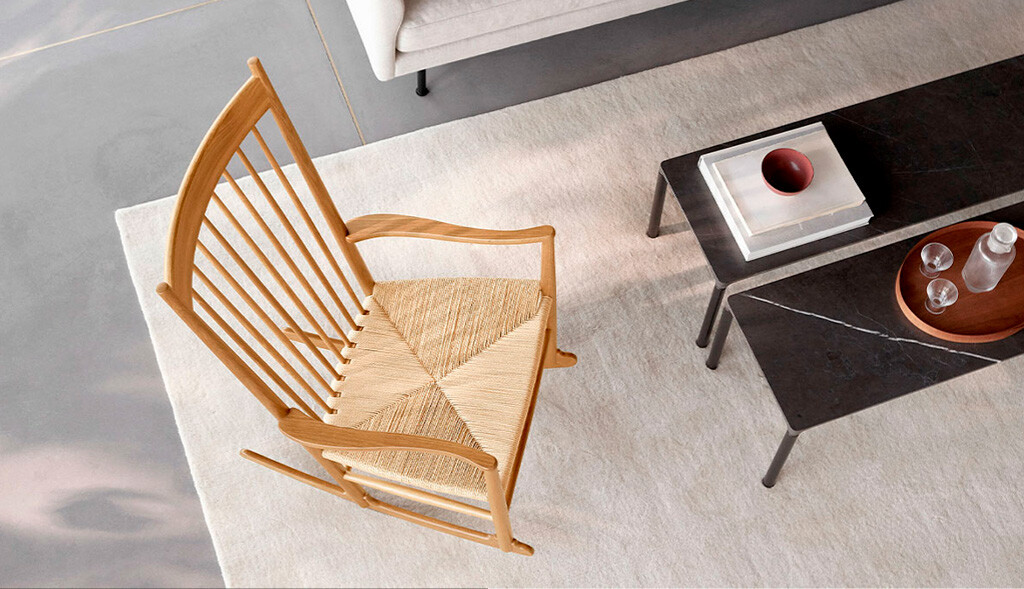 Arthritis and back pain can be debilitating conditions, but did you know that using a rocking chair may be able to help? It's even said that former US President John F Kennedy used to use a rocking chair to ease his back pain.
Using a rocking chair increases blood flow around the body, thus sending more oxygen to the joints, helping ease the symptoms of arthritis. The slight physical exertion of rocking also helps to build up strength and flexibility in the knees.
The Fredericia J16 from £2260 - shop now
---
3. Great For New Parents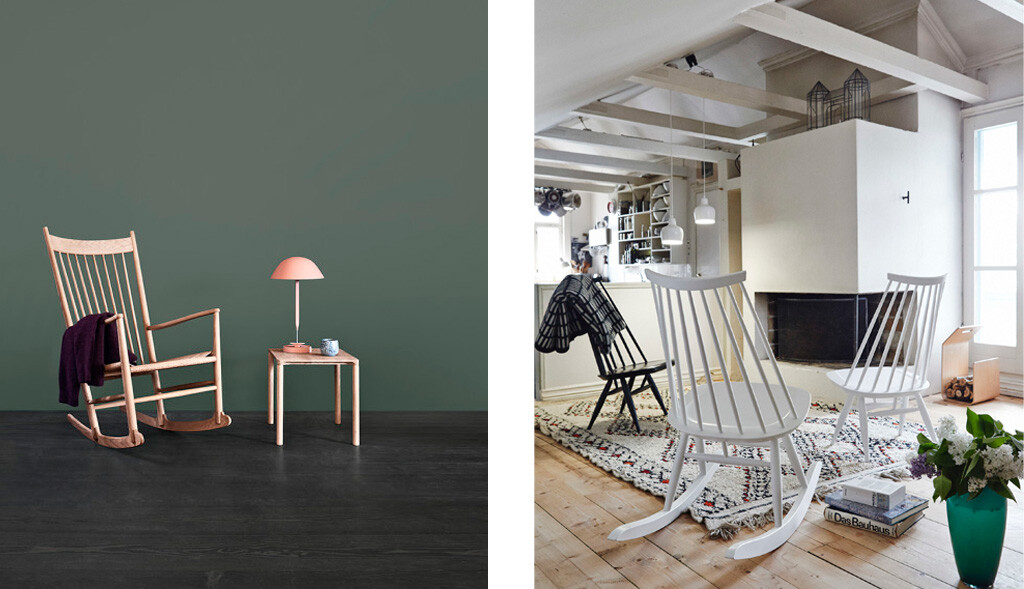 It's no secret that rocking has a soothing effect on babies, helping to calm them and help them sleep. Rocking also promotes parent-child bonding, and there is even research to suggest that rocking a child can enhance emotional, social, cognitive and motor development.
Some have suggested that rocking is a useful technique with adopted children, again to boost bonding. For new mothers who have given birth by cesarean section, rocking is said to speed up recovery time. This also applies to people recovering from any kind of surgery.
The Artek Mademoiselle Rocking Chair from £1275 (shown above right) - shop now
---
4. Help With Sleep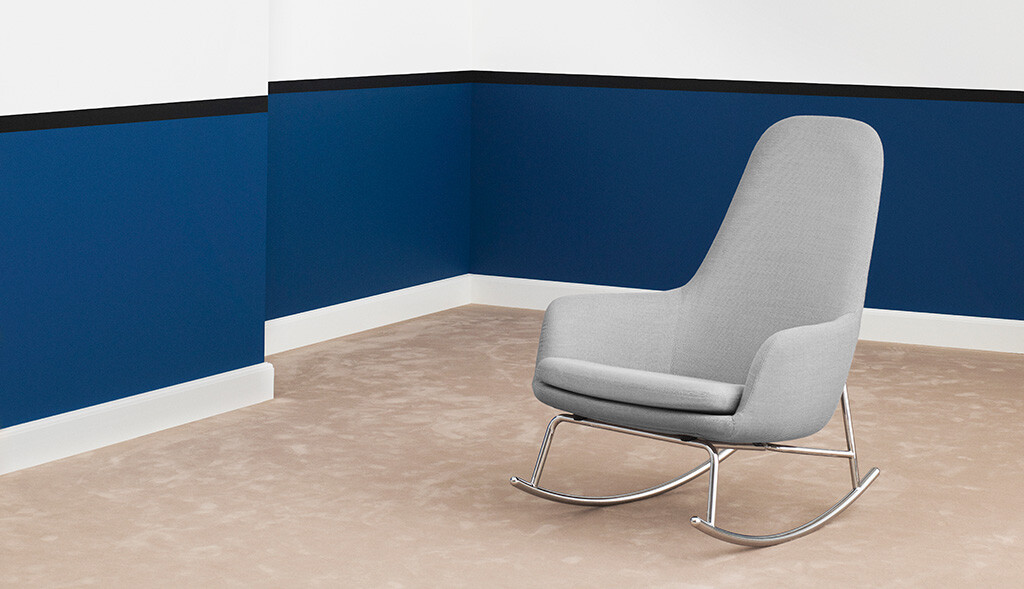 It's not just babies who get sleepy in a rocking chair! Researchers from the University of Geneva found that rocking can foster deeper sleep, which stands to reason given how relaxing they are.
The Normann Copenhagen Era High Back Rocking Chair from £1575 - shop now
---
5. Gentle Excercise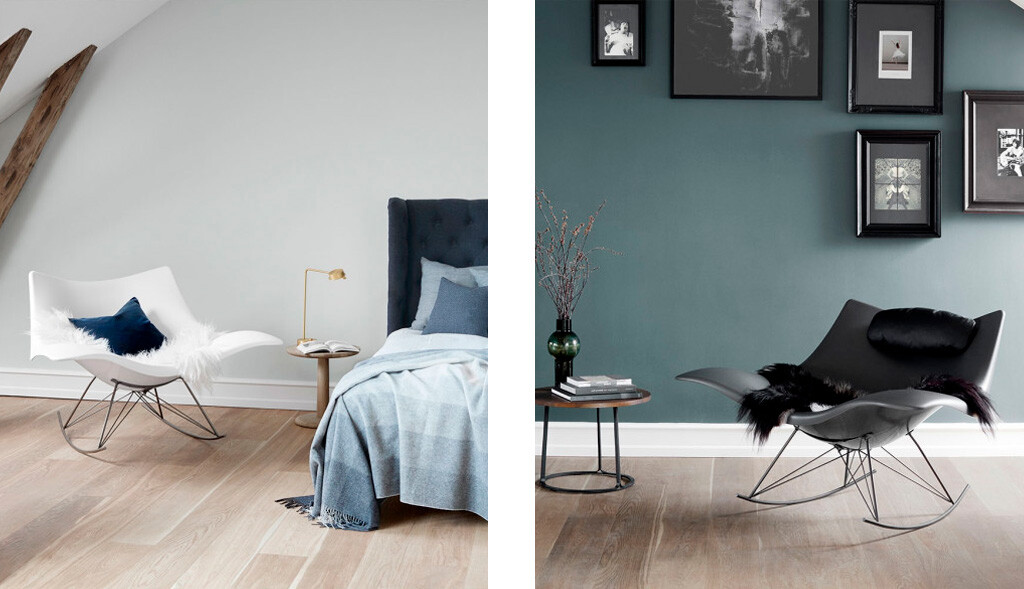 Exercising whilst sitting down... surely it sounds too good to be true. But rocking a rocking chair apparently burns up to 150 calories an hour. Using a rocking chair is a great idea for those who are unable to work out regularly. It gets the blood flowing and acts a gentle exercise.
The Fredericia Stingray Rocking Chair from £1925 - shop now
---
6. Fight Dementia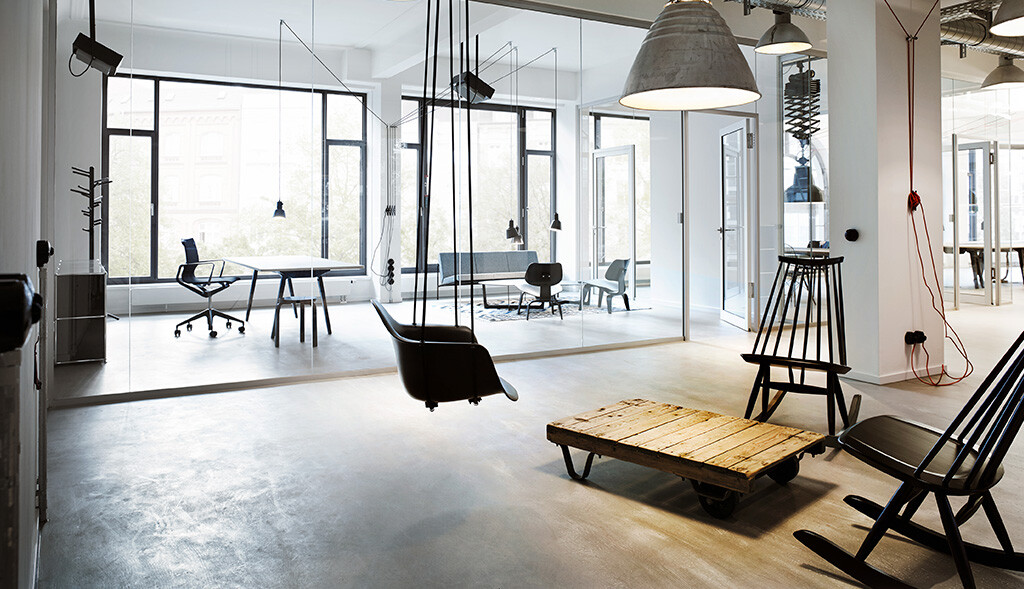 Rocking could even help those who suffer from dementia. A study conducted by the University of Rochester found that residents of a nursing home who had been diagnosed with dementia showed increased emotional and psychological wellbeing when using rocking chairs compared to those who did not. Behaviours such as anxiety and depression were noticeably reduced by those rocking away in their chairs.
The Artek Mademoiselle Rocking Chair from £1275 - shop now
---
7. Improved Balance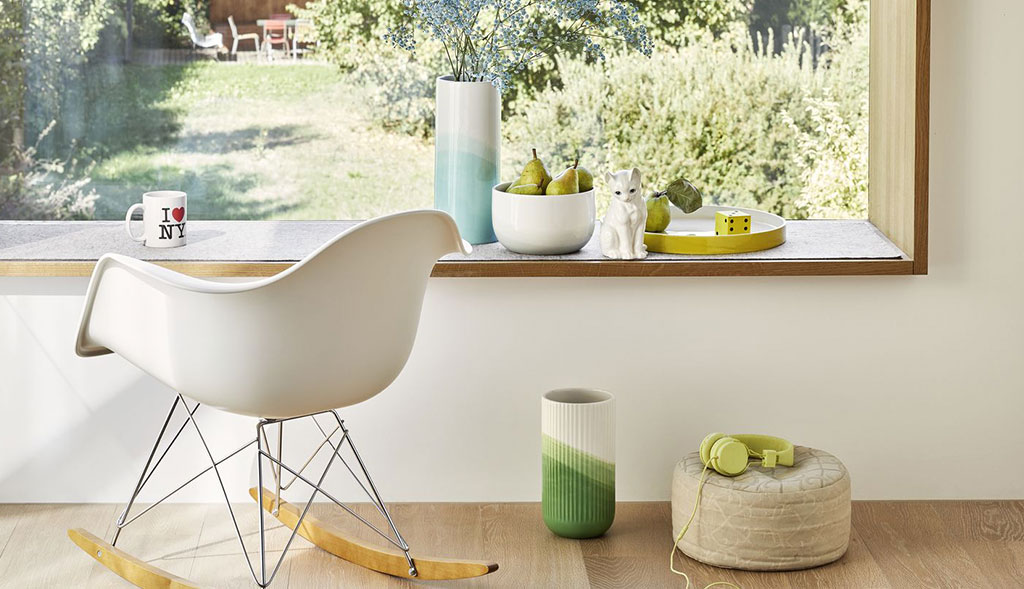 Rocking stimulates the balance mechanism in the inner ear as the body works to balance itself as the chair rocks. The improved balance was seen in the aforementioned dementia patients who used rocking chairs.
Vitra Eames RAR from £540 - shop now
---
Contemporary Designer Rocking Chairs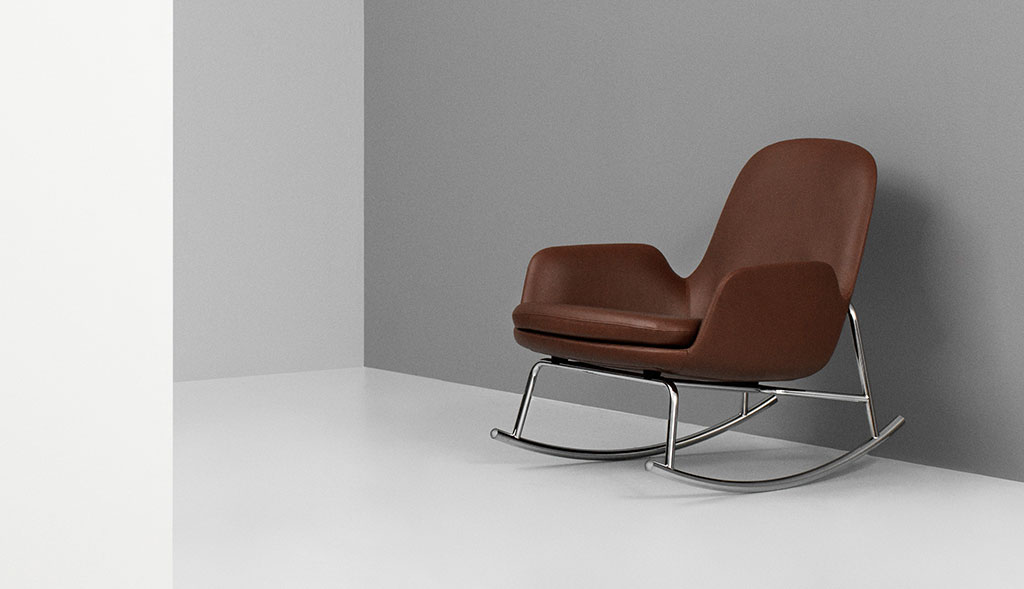 Designer of the Era Chairs Simon Legald said this about the range:
"Rocking chairs enable a calm movement that makes you feel relaxed. With the Era rocking chair, the idea was to combine an upholstered lounge chair with a rocking frame to get the comfort of the upholstery and the movement of the rocking frame and introduce a new form of comfort."
The Normann Copenhagen Era Low Back Rocking Chair from £1385 - shop now
We believe rocking chairs have a place in every home. After all, what's not to love about great looking designer furniture that comes with these fantastic health benefits. Modern rocking chairs are a far cry from rocking chairs of the past. There is one to complement every interior style. Whether you're after a fully upholstered chair, a contemporary, sleek silhouette or perhaps a chair that hints to its traditional past, there is a designer rocking chair for you.
Browse our full range of rocking chairs.
---
Time For more? Inside The Home of Nikolaj Coster-Waldau | Charles and Ray Eames - The Chair of the Century | Get the Look - Beige Interior