Finding wall art to suit your interior style
If you're looking to give your home an overhaul, and require furniture inspiration and perhaps a bit of wall art inspiration too, look no further than this blog. Teaming up with DOT-ART, a Liverpool based company that works with local artists to supply home and business owners with top quality artworks, we've made some inspirational mood boards that you can depend on - whatever your interior style.
---
Mid Century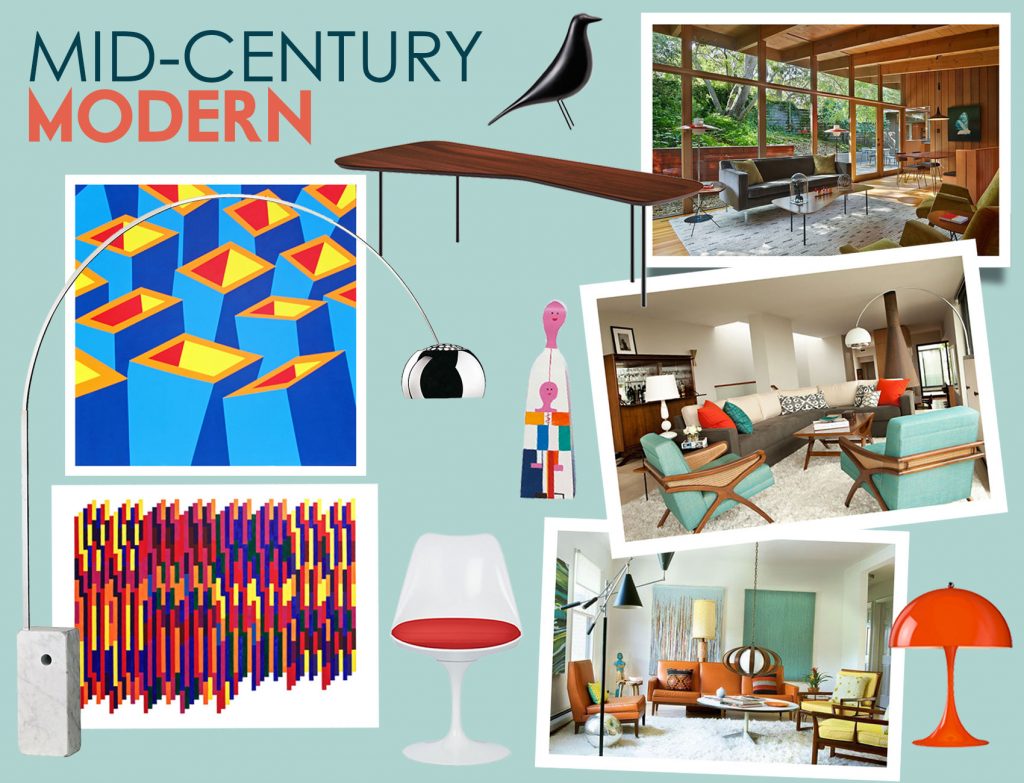 Mid-century refers to a post-war period of design between 1940 and 1970 that was part of a movement to propel America towards becoming a powerhouse in the design world - overtaking Bauhaus. This period of design fathered some of the greatest designs and designers that are still coveted today including Charles & Ray Eames, Eero Saarinen & George Nelson to name a few.
Mid-century modern interiors are characterised by rooms that effortlessly flow between indoor and outdoor, sculptural lighting that can be mistaken for art and strong use of graphic patterns, particularly geometric ones.
Seen above: Louis Poulsen Panthella Mini in Red ; Knoll Saarinen Tulip Side Chair ; Flos Arco Floor Lamp ; Knoll Girard Coffee Table ; Vitra Eames House Bird ; Vitra Wooden Doll No.4
Wall Art: Anthony Gribbin, Volcano [Acrylic on Canvas] ; Ali Barker, Prelude in C (Synaesthesia 6) [Print].
---
Scandinavian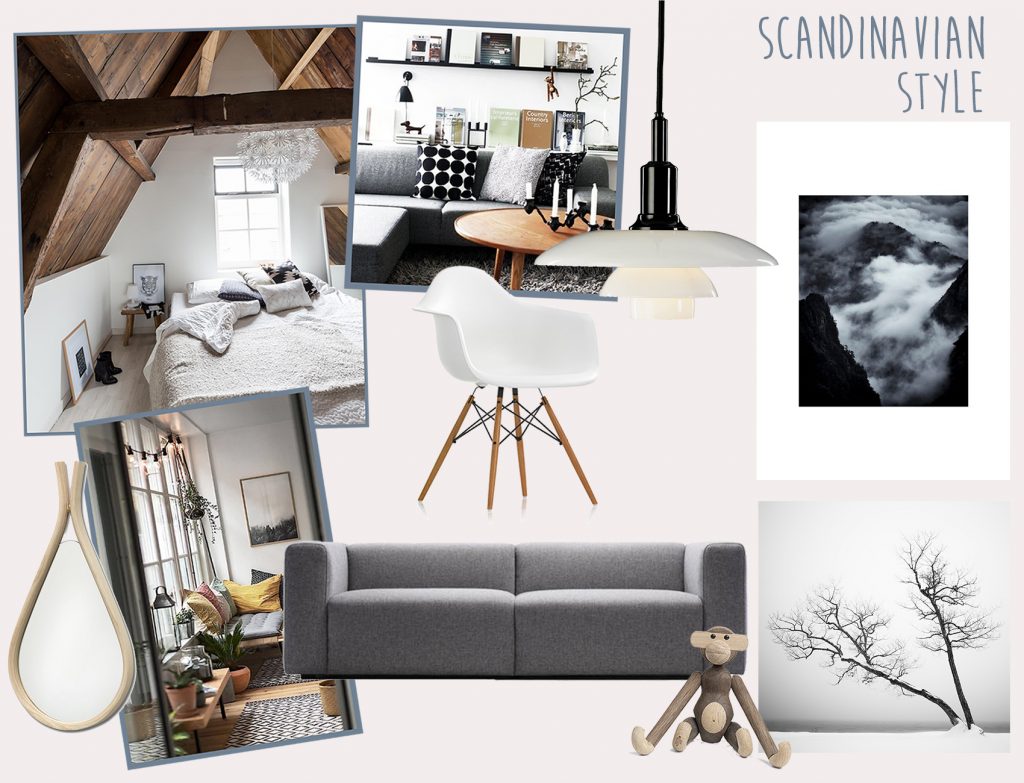 Scandinavian style, in both interiors and fashion, has come to the forefront of design in recent years. The pared-down and simple approach to design has grabbed the attention of the masses as consumers are slowly shifting the way they think to focus on value and longevity as opposed to fast, fleeting trends. Form and function are carefully balanced to create functional and clean interiors.
Scandinavian interiors focus heavily on simplicity, in both colour and form. White and bright walls set the backdrop for pieces that have strong, graphic forms. The use of natural and light materials like oak, beech and ash are popular choices for furniture. Scandi interiors promote a sense of calm and tranquility, which is reflected in the whole Scandinavian lifestyle - Hygge.
Many popular brands and designers have strong Scandinavian links including Hay, Menu, Louis Poulsen & designers like Poul Henningsen, Arne Jacobsen and Hans J. Wegner.
Seen above: Skagerak Turn Mirror ; Rosendahl Oak Monkey ; Louis Poulsen PH 3/2 Pendant Light ; Vitra Eames DAW Armchair ; Hay Mags Sofa
Wall Art: Bryn Davies Brush and Ink [Photographic Print] ; Bryn Davies Light Drawing Kussharo Tree II [Photographic Print]
---
Industrial
Industrial interiors aren't necessarily characterised by what's within them, it's more the actual space itself. A few must-haves within an industrial interior are a large open space, raw and exposed materials (especially brick!) and the use of hard floors.
A large part of Industrial interiors is that they are utilitarian - designed to work, not look good - which only adds to their charm. Furthermore, the great thing about industrial interiors is that they can be styled however you want too. A few tips to keep an industrial and gritty feel would be to include raw, natural materials like copper and weathered wood. Size matters with industrial interiors too, don't be afraid to go big as large statement pieces will fill the room.
Seen above: String Pocket Shelving - White ; Anglepoise 1227 Giant in Black ; Muuto Outline Studio Sofa ; Hay Result Chair
Artworks: Hilary Dron Ballinglen XXIV [Mixed Media on Paper] ; Paul Naylor Abstraction of the Shipping Cranes at Seaforth Dock (Isolated) [Ink on Paper]
---
Minimalist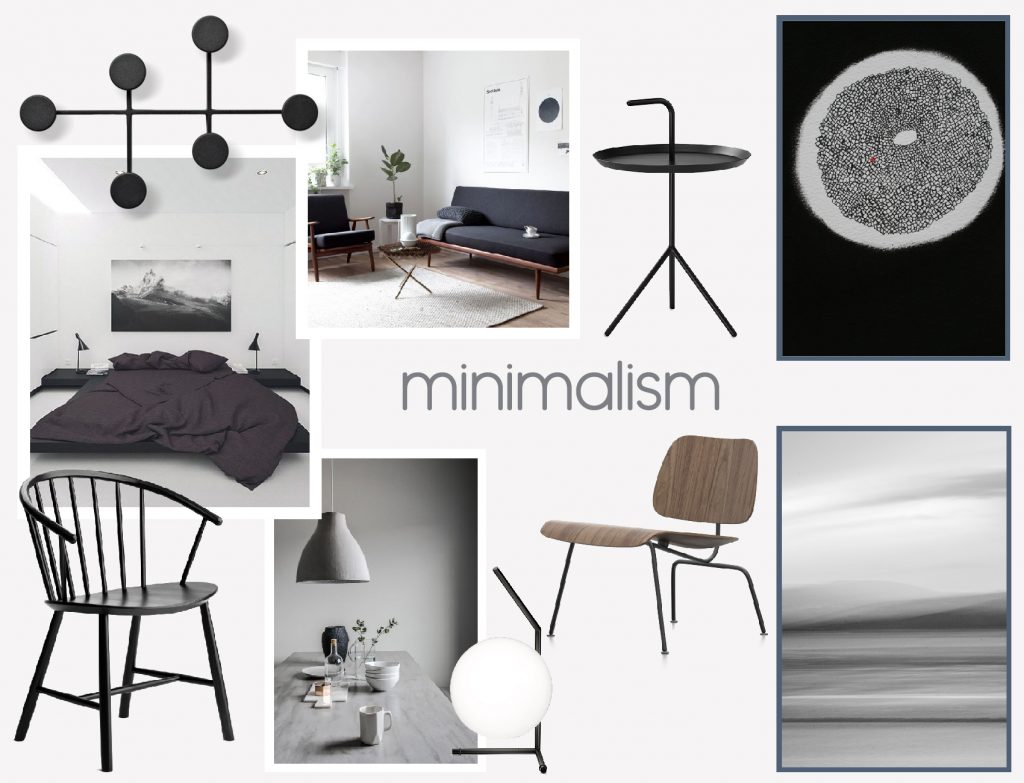 As the name suggests, minimal interiors focus on reducing physical and visual clutter ending in an open, clean space. Minimalist homes are all about creating an uncluttered space and often do so by sticking to a monochrome palette, however the use of light wood like ash and beech can also work.
Furniture pieces are few and far between, but everything has its place and function in the home.
Seen above: Menu Afteroom Coat Hanger ; Hay DLM Side Table ; Vitra Eames LCM Lounge Chair ; Flos IC Table Lamp Limited Edition Matt Black ; Fredericia J64 Dining Chair
Wall Art: Sarah Nicholson Solar 1 [Ink on Paper] ; Mark Reeves Shrouded Hills [Photographic Print]
---
If you've been looking to fuse a new piece of wall art into your home, we hope this has inspired you to take action. Check out DOT-ART's website for information on emerging artists that are local to Liverpool. We're sure you'll be as impressed as we were.
---
Time for more? Utility Follows Charlotte Sintrat | Utility Follows Ingrid Opstad | Utility Follows Hannah Trickett 
Photography Credit: Hege Morris