As it's London Architecture festival this month (June 1 - 30), we thought we would share and celebrate some of our favourite architecture styles with you. Architecture is like a timestamp, leaving a lasting impression of the current world climate and architects' state of mind - making it one of the most complex yet breathtaking art forms.
From Brutalism to Minimalism, we're going to take you on a whistle-stop tour through the modern architecture ages, covering the wonderful and wacky world of modern architecture.
---
Architecture Styles
Brutalist; 1950 - 70
The name Brutalism derived from the term Le Corbusier used to describe the material used for his work - 'béton brut' (raw concrete). British architect Reyner Banham then translated the term into Brutalist - fitting for such a harsh and drab style of architecture. Brutalism uses raw concrete and brick to create strong, clean lines that divides opinion with architects and passers by - some find Brutalism ugly and clunky whilst others enjoy the bold simplicity of the style. Although traditional Brutalist buildings are a thing of the past, it's clear that the use of large concrete facades and open spaces has inspired plenty of architecture today.
Seeing as Britain is famous for its dismal weather, it's only right that it's home to lots of Brutalist architecture too. Head down to London Southbank and you will be immersed in Brutalism through the National Theatre and IBM headquarters. Check out the below images of our favourite Brutalist building - The Barbican - below.
Images via Joas Souza - Brutalism Project Part I - Barbican Estate
Want to read more about the Brutalist movement? Read Dezeen's guide here.
Mid-century Modern; 1930 - 60
An architecture style synonymous with the West Coast of America that personifies the laid back and laissez-faire attitude of the Californians. Mostly restricted to private residences, the Mid-Century modern movement was influenced by Bauhaus and International architecture styles. Characterised by clean simplicity and an integration with nature through large open areas and strong natural lighting, Mid-Century modern homes are still highly coveted to this day and have heavily influenced modern day interior trends.
The Kaufmann house in Palm Springs, California is the epitome of Mid-century modern design and is famous due to the pedigree of its original owner Edgar Kaufmann. Kaufmann also owned Fallingwater, one of the most famous private residences to date. Check out the Kaufmann house below - don't you just want to live there?
Images via Archdaily
Want to check out a list of other examples mid-century modern architecture? Check out this list on Mid-century Home.
Japanese Metabolism; 1960 - 1980
Metabolism was a post-war Japanese movement that combined ideas of architectural structures and biological organic growth. In essence it was an idea for a futuristic form of architecture and social living that could be expanded/reduce depending on demand. Gaining international publicity after a proposal made at the 1960 Tokyo World Design Conference, Metabolism was largely theoretical and there were actually very few buildings created using this style. The majority of Metabolism architecture was created in 1970 World Exposition where Kenzo Tange, an advocate of metabolism, was tasked with planning the whole site.
The most famous 'Metabolistic' building is the Nakagin Capsule Tower in Tokyo which was made in just 30 days in 1972. Built using two steel supports, the Nakagin is a modular building where the components (rooms) can be removed, hwoever it has never been altered. Still inhabited by around 15 people although some of the rooms are falling apart and inhabitable. If you want to experience this intriguing infrastructure yourself, you can also stay at the Nagakin for around $30 USD a night - bargain!
Images via Noritaki Imami
Contemporary; 2000 - present
Modern day contemporary architecture encompasses many styles, often lending itself to Brutalism and International style through the use of large concrete facades, open plans and clean lines. However, contemporary architecture has the benefit of major technological advancements allowing for more expressive sculpture-like structures being created. Although much of the postmodern 20th century architecture was based in the US and Europe, contemporary architecture is truly global.
Contemporary architects like Zaha Hadid have paved the way for buildings that take the form of sculptures on a much larger scale. The Heydar Aliyev Centre in Azerbaijan which houses a gallery, theatre and conference hall eschews sharp angles to create a flowing, mesmerising structure.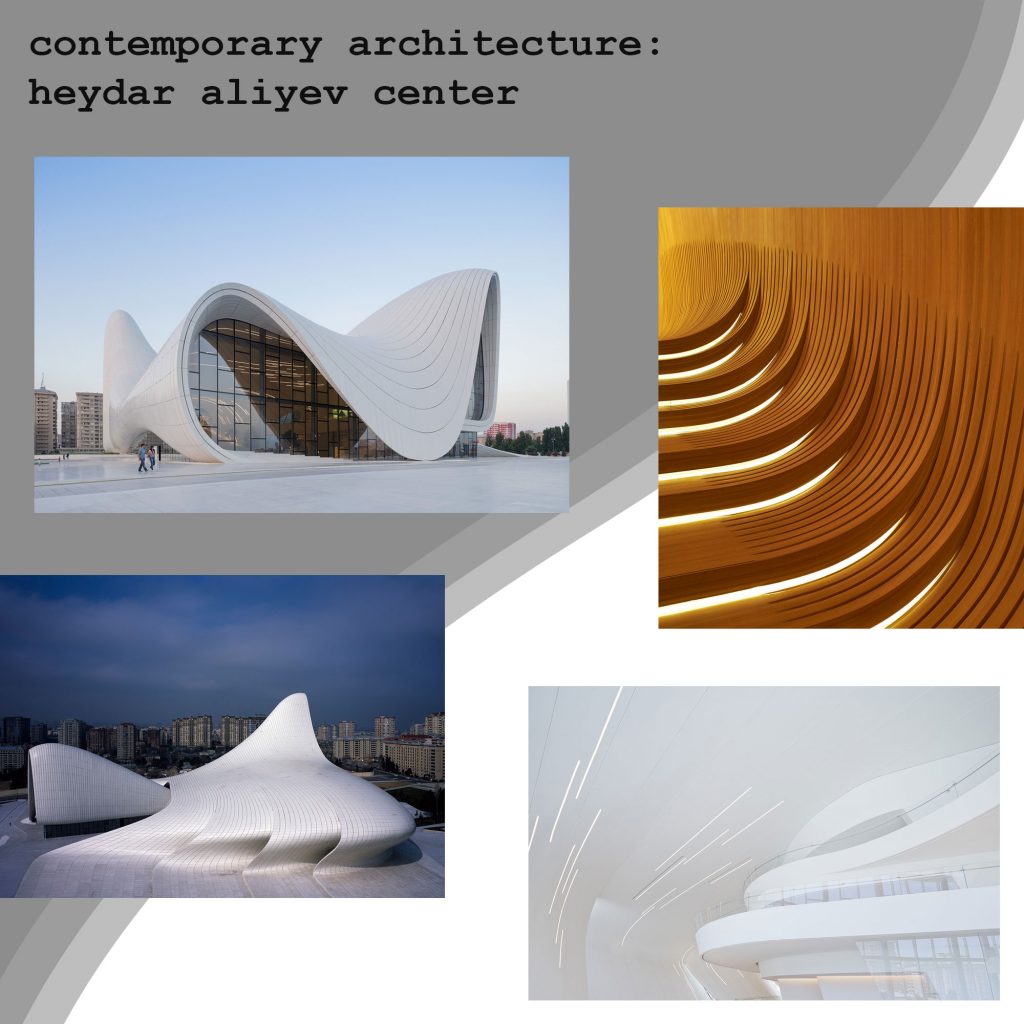 Images via Archdaily
Minimalist; 1960 - present
Minimalist architecture may not necessarily be classed as a style of architecture like Brutalism or Mid-century are - just yet. However, it has certainly taken visual platforms like Instagram and Pinterest by storm due to its clean and photogenic aesthetic. Minimalist structures are pared-back, simple and often only use the necessary elements needed to create them and they aim to reduce visual and physical clutter to create an open, often vast space. That doesn't mean the structures are bland and simple, architects are bold in there approach to minimalism and there is a lot of focus of how a space feels as well as looks.
This holiday home in Okinawa is minimalist architecture in its truest form. Practically a blank white canvas on the coast of Okinawa, the holiday home has a windowless facade but the rear has large open windows that peer out onto the sea, taking inspiration from the Mid-century modern mantra to integrate nature into architecture.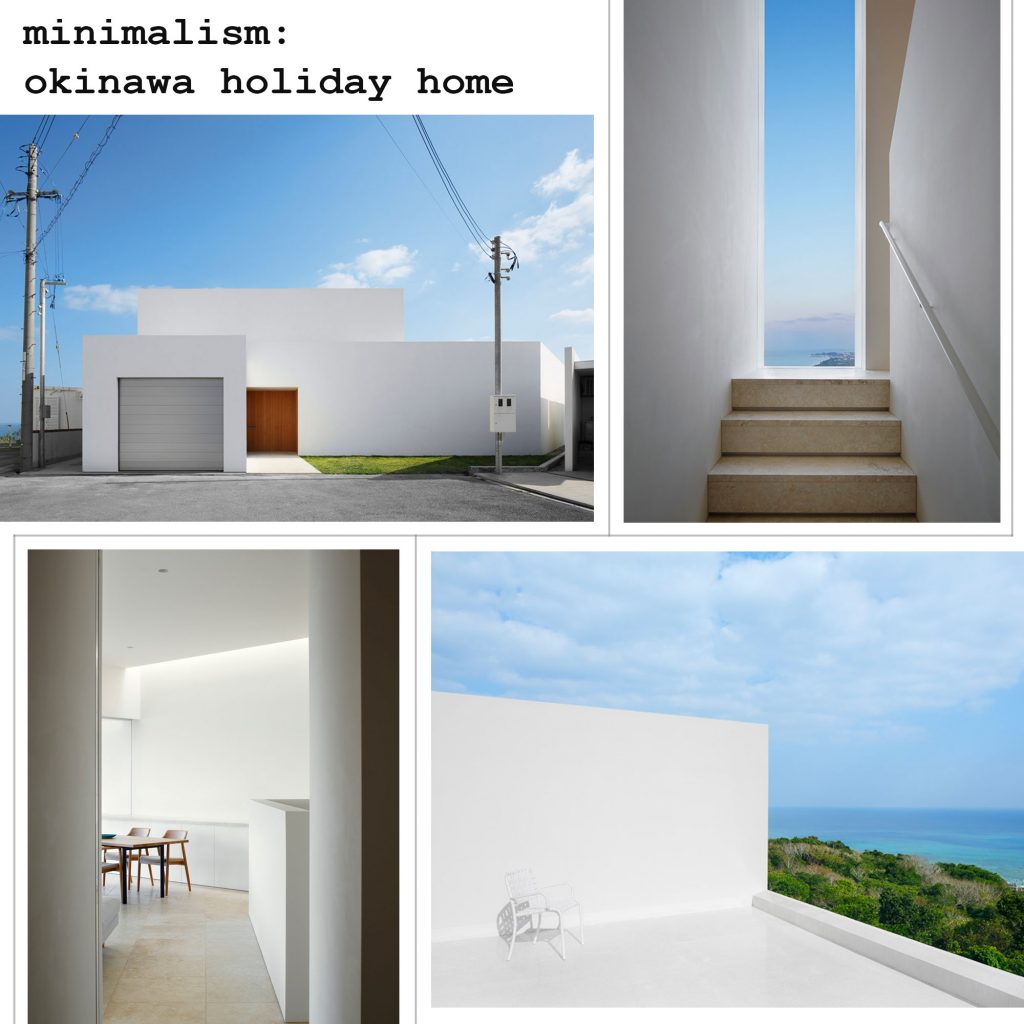 Images via Dezeen
Want to check out five more Minimalist homes? Read this blog post from lifestyle publication Manimalist.
---
That's the round up of some of our favourite architecture styles. What's your favourite style or builiding? Share your thoughts with us over on Facebook and Twitter.
Time for more Utility? Inside Carl Hansen & Son's London Showroom | Forget The Flatpack : Consider Investing in Design