Typecasting : An assembly of iconic, forgotten and new Vitra Characters
In conjunction with Milan Design Week 2018, Vitra have teamed up with designer Richard Sadler to present an exhibition called 'Typecasting' in the former sports arena, La Pelota. Austrian born Sadler has curated the exhibition, bringing together 200 pieces from the extensive Vitra archive to juxtapose current products with design classics, prototypes, special editions and future visions.
---
Typecasting at Milan Design Week : The social function of furniture
The key theme explored by Richard Sadler in this year's exhibition looks past the functional use of furniture pieces - in particular, the chair. Along with their obvious practical use as seating, chairs have historically always had an additional representative function: the selection of a specific chair is also a personal act of image cultivation.
In 'Typecasting', Sadler has organised the Vitra objects according to the personality traits he feels they posses rather than by their functions within the history of furniture.
"This organising principle offers a new view of the broad range of objects Vitra has contributed to design," Stadler said. "As a transhistorical, non-hierarchical presentation, it combines different object typologies chosen from current and past production, special editions and prototypes."
"Looking at familiar objects through the lens of self-staging and image cultivation sharpens the perception of furniture's role in defining our personal and social profiles."
---
Objects in the installation
Products chosen for the exhibition include designs from the current Vitra portfolio, some of which are presented in unusual versions that are not commercially available. These include Vitra Editions – a company project that gave rise to numerous experimental designs between 1987 and 2007, such as the Vodöl armchair (1989) by Austrian architects Coop Himmelb(l)au, the Chair/Chair (1987) by American artist Richard Artschwager, or the Slow Car (2007) by Dutch designer Jürgen Bey. Amongst the prototypes and objects drawn from the museum collection, visitors will find the mould created at the Museum of Modern Art in New York for the reproduction of the iconic design La Chaise (1989/90) by Charles and Ray Eames.
Two of the included objects : (Left) A lamp designed by Japanese-American artist Isamu Noguchi in 1951, (Right) T-Chair by Italian architect Antonio Citterio.
---
Accompanying events
Designer Panel: Typecasting. Objects as Characters – Wednesday, 18 April, 4:30 – 5:30 pm (La Poleta, Milan)
With Ronan and Erwan Bouroullec, Edward Barber and Jay Osgerby, Sofia Lagerkvist and Anna Lindgren of Front Design, Robert Stadler, Maria Jeglinska, and Jon Stam of Commonplace Studio.
Moderated by Jan Boelen.
Tours: With curator Robert Stadler, 17./18./19. April, 9:30 am (Duration approx. 30 Mins)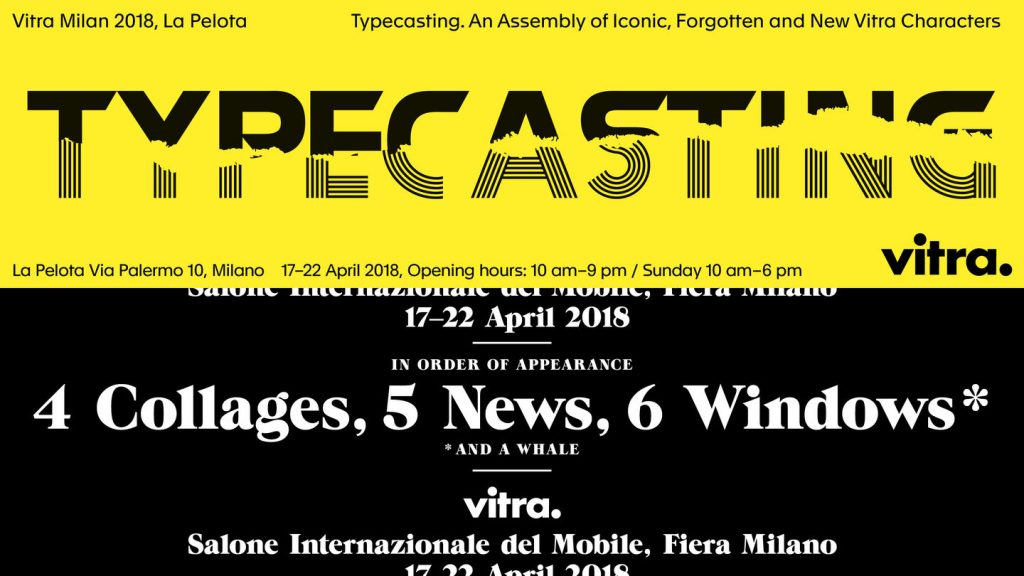 ---
Time for more? The Story Behind Verner Panton's S Chair | A Look Inside the Aalto Residence | Arne Jacobsen's Most Iconic Designs