LIFE HACK: If you don't currently watch the USA Network's hit show "Suits" - start now!
Based in a fictional law firm in New York City, Suits features a host of charismatic and powerful people. Whether your favourite character is Mike Ross, Donna Paulsen or Louis Litt, we can all agree that the boss of style is Harvey Specter.
With sharp dialogue, stylish suits and an office interior to die for, it's safe to say that Harvey is the envy of many a man (it can't be just me).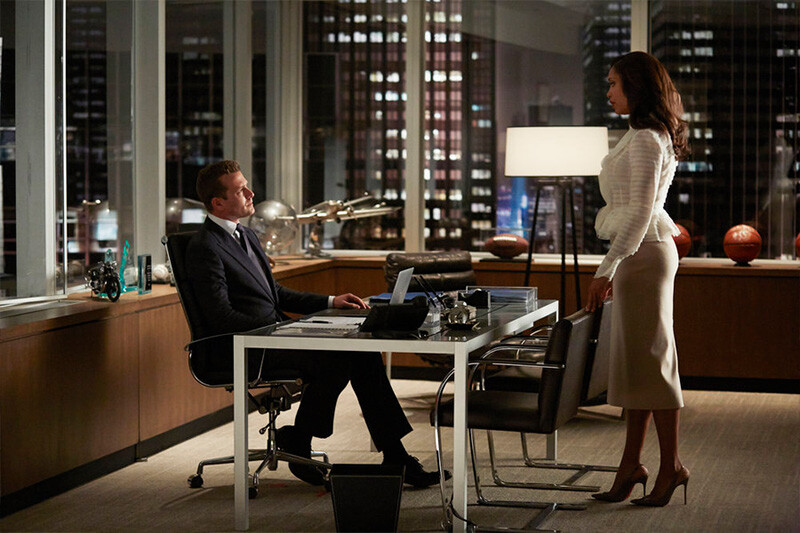 ---
Updated March 26th 2018 : A lot has changed over the 7 seasons Suits has been on the air. Mike has been in and out of jail, Jessica has stepped aside and made way for Harvey to take over the reigns of the firm, Donna has become COO of Pearson Specter Litt and Louis finally got his name on the wall.
2017 supplied a few twists, including a Harvey & Donna hook up but the most notable change is the fact that in the wake of Meghan Markle's engagement to Prince Harry, both Mike & Rachel will be leaving the show. Whilst we'll be sad to see them go, we can't wait to see how it plays out on screen.
Despite the shows many changes, there is one thing that will forever remain the same. That's Harvey Specter's impeccably designed office (and apartment). We've taken a comprehensive look into his Pearson-Specter-Litt office and gathered together the best contemporary furniture & lighting to help you create your very own Harvey Specter office or apartment.
Okay, so the maybe one more thing doesn't change.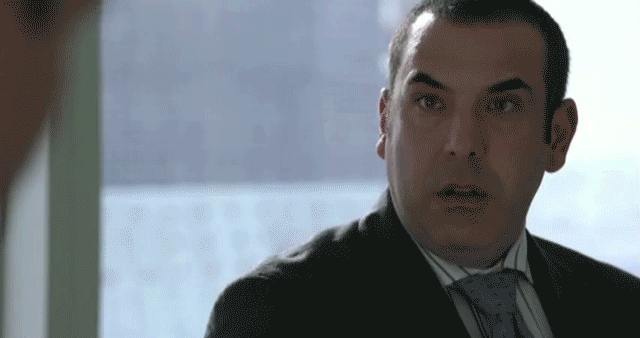 ---
Harvey Specter Style Seating
Whether you're sat in front of a computer typing all day, sifting through legal documents or simply require a James Bond villain style swivel, you're going to need a great office chair. We've included a number of options that look strikingly similar to those Harvey is seen using as his throne, as well as the Knoll Brno chair which is the actual chair used by Harvey's guests.
If it's a contemporary design classic that combines luxurious leather and metal, it'll look great in your Suits inspired office.
Shop our full range of office chairs at 10% OFF and feel like Harvey when tackling those spreadsheets - Use code HARVEY10

We've also got to give a special mention to the Knoll Bertoia Side Chair, seen above being used by Louis and Katrina in the Manhattan based law firm. Designed in 1952, it's made from polished chrome welded steel rods which are scratch, chip and chemical resistant. It also comes in three upholstery levels.
---
Harvey Specter Draw-less Office Desk / Table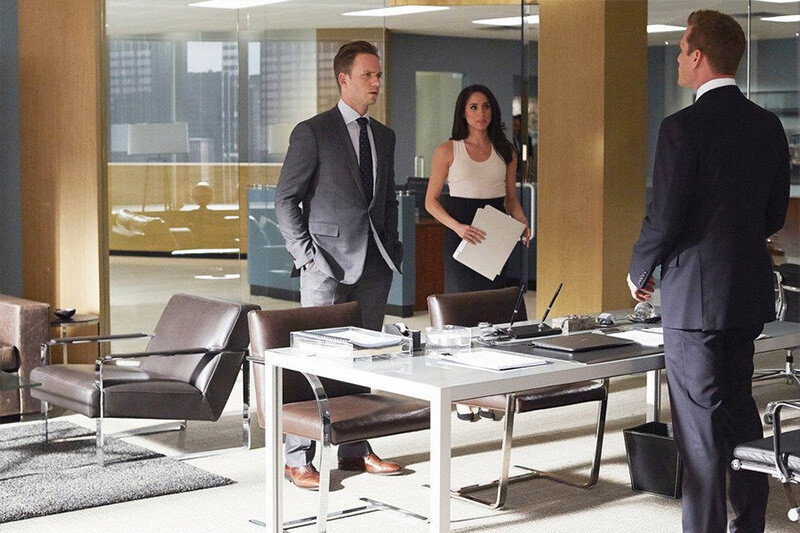 Perhaps you've noticed that Harvey Specter's office is missing something - drawers! I guess that's because Donna takes care of everything he needs to hide. For this reason, we've taken a leaf out of Harvey's book and selected tables rather than the conventional desk seen in most offices.
Honourable mention goes to the Knoll Barcelona Side Table designed by Ludwig Van Der Mies and the stunning Eero Saarinen Tulip Side Table as they're the actual tables spotted on the set of Suits.
Don't yet have a Donna in your life? The Knoll Albini Desk has a drawer unit while still having the necessary elegance to shine in a Specter Pearson Litt office. Designed by Franco Albini in 1949, this classic desk is suitably understated and looks just as good today as it did half a century ago.
Shop our full range of home and office desks now at 10% OFF - Use code HARVEY10
---
A place to put your feet up

Although we rarely see Harvey lying down like Mad Men's Don Draper, it's always nice to have a spot for reflection in one's office – just don't let people jump on it.
As well as a sofa and armchairs, Harvey also has a Chaise Longue in his office so we've picked our two favourites, the Mr Chaise and the Le Corbusier LC4.
Shop our full range of designer sofas now at 10% OFF -Use code HARVEY10
---
Home & Office Lighting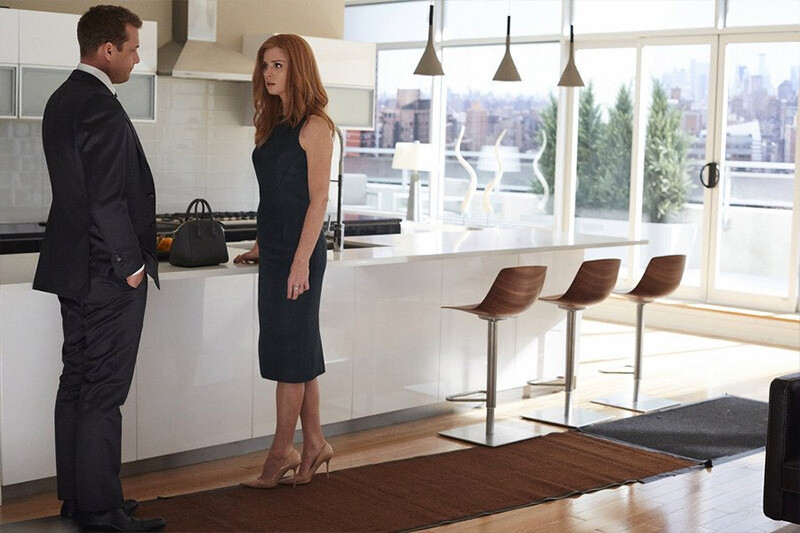 Functional lighting doesn't feature heavily in Harvey's office, probably due to light pouring in from its huge windows. However, we have selected a handful of desk, floor and reading lamps that we think Gabriel Macht's character would appreciate. We've also included the Foscarini Aplomb Suspensions lights from Harvey's apartment (shown above).

Shop our full range of designer lighting now at 10% OFF -Use code HARVEY10
---
Harvey Specter's Apartment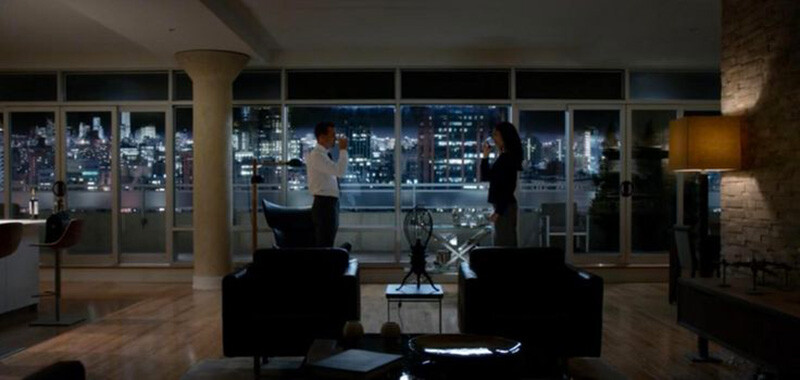 Possibly even more impressive than the astonishing 360 degree city views from Harvey's home, is the interior styling within it. Featuring Foscarini Aplomb suspension lights above a contemporary breakfast bar, this apartment is the perfect fit for a high flying lawyer.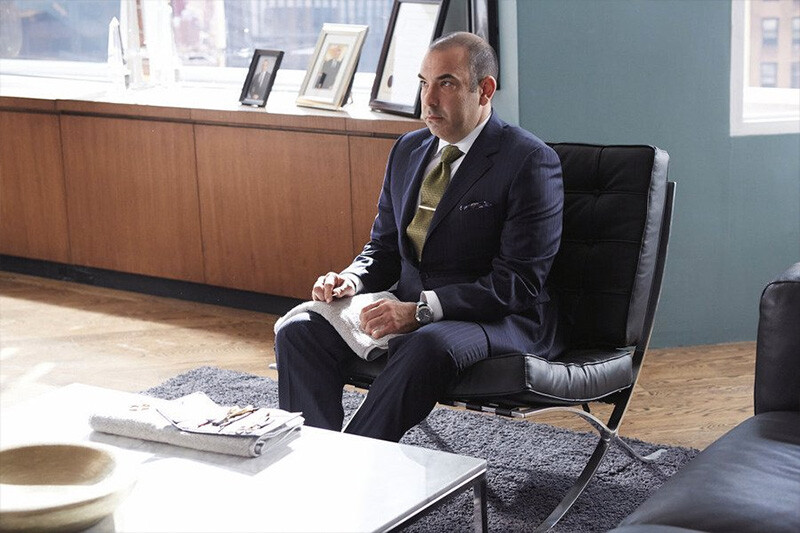 These furniture pieces will allow you to turn your home into a beautifully modern escape from the rigor of office life. We've also included the Knoll Barcelona Chair (as seen above) because in our opinion, it's the one piece missing from Harvey's life.

---
Do you think we've nailed the Harvey Specter style office look? Check out our full range of office furniture and create your very own Suits office.