Even the most creative of individuals have a slump every now and again. It's natural. But that doesn't mean the creativity is gone forever. It may well return on its own over time, but there are certain things you can do to give it a little helping hand- such as  changing up the decor and furnishings in your home. So if you're looking to add a bit of creativity into your life, here's how to do so with your interior design…
Use colour to inspire creativity
Colour is incredibly powerful when it comes to influencing our mood, be it happiness, passion, excitement or sadness. This extends to our levels of creativity, which can be affected by the colour of our workspace. According to research, inserting the right hues into your office can work wonders for your happiness and productivity, and different colours work well depending on the task at hand.
For example, blue is said to evoke calm and trust, so it's a good option if you have a stressful job, or are feeling under pressure revising for exams. Red is effective at enhancing our attention to detail, and orange is your go-to if you have regular high-energy meetings or all night study sessions because it's said to symbolise endurance, helping you maintain creativity for longer.
Green is the real winner if you want to come up with new ideas, and is proved to boost our creative thinking. If you need a little encouragement brainstorming for work or school, having  splashes of green around your home or office can help increase your productivity.
You can read more about interior design colour psychology here.
Go back to nature
There is a ton of research around why getting back to nature is good for us in just about every aspect of our lives. For example, according to this study, having plants at home or in the office, improves productivity, concentration and memory retention.
Architect and design psychology consultant Barbara Lyons Stewart believes that creativity is boosted by reducing stress, either at home or at work, and natural environments, such as forests or mountains can lower your stress levels.
Obviously if you have amazing views from your home, then installing larger windows or placing a desk against a window would help. If that's not an option, a huge wall mural might work too. Even changing your computer screen saver to a natural landscape could be just what you need.
Tap into your memories
For writers, a fantastic way to inspire creativity is to tap into your favourite and most cherished memories. Scattering photo frames of happy memories around your work space will bring your imagination alive with vivid ideas and feelings that will inspire your story telling.
Your  workspace doesn't  have to be loaded with personal memories, however. Alternatively, you could decorate it with artwork, colourful patterns or previous projects that you've really enjoyed doing and succeeded in.
Whatever it is, make sure your space is a reflection of yourself and that you get inspired by the things you see when working. Ever evolving inspiration boards, clip boards or wire picture holders are a great way to keep beauty around you, allowing creativity to flood through.
Have a creativity room
If you have the space in your home, try having a 'creativity room', a space designed specifically for ideas and creative thinking. You can fill it with absolutely anything you want as long as it gets your mind going, and by having this space, you'll condition yourself to think creatively when you're in there. If a whole room isn't feasible, try just having a corner of a room you can go to, somewhere that is separate from where you relax and socialise, and is specifically designed for you to think creatively.
Use statement furniture
Bold is beautiful, and if you need something a little 'out there' to get those creative juices flowing, then a stand-out piece of statement furniture could be ideal. If you're thinking of designing a creative room or corner, a statement chair or table could be a great place to go when you need some inspiration.
Check out some of the amazing statement chairs we sell at Utility: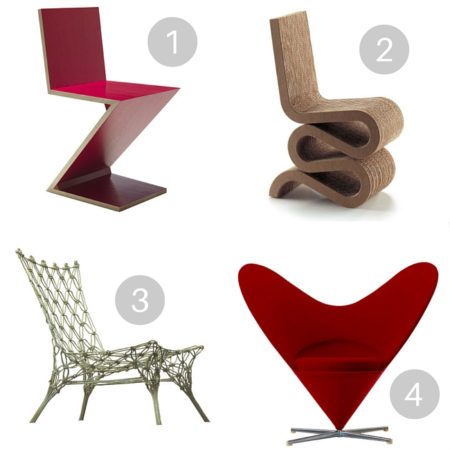 View our full range of statement chairs.
Have a sense of humour
Having a sense of humour is a great weapon against a creative slump. Do or watch something that makes you laugh; it'll brighten your mood and put you in a much better frame of mind to come up with ideas or think outside the box.
Try and laugh at least once a day, and you'll feel much better for it.
What are your tips on boosting creative inspiration?