A change in copyright law has now come into effect in the UK, which looks to protect classic designs from imitation.
The repeal of section 52 of the Copyright, Designs and Patents Act 1988 came into effect on 28 July, and means that iconic design products will now be protected for 70 years after a designer dies.
We realise that replicas are always going to be around despite changes in the laws - as great design warrants even greater demand. But along with great design comes great cost. The cost of the hours spent meticulously designing a product, the cost of innovation in manufacturing processes to make an idea become a reality and the cost of the superior materials used in manufacturing. This leads to the creation of replicas that can undercut the cost of the original, albeit with minor changes changes to the design.
It stands to sense that with increasing popularity, comes increased levels of imitation. This is especially true for the Vitra Eames Plastic Chairs designed by Charles & Ray Eames in the 1950's.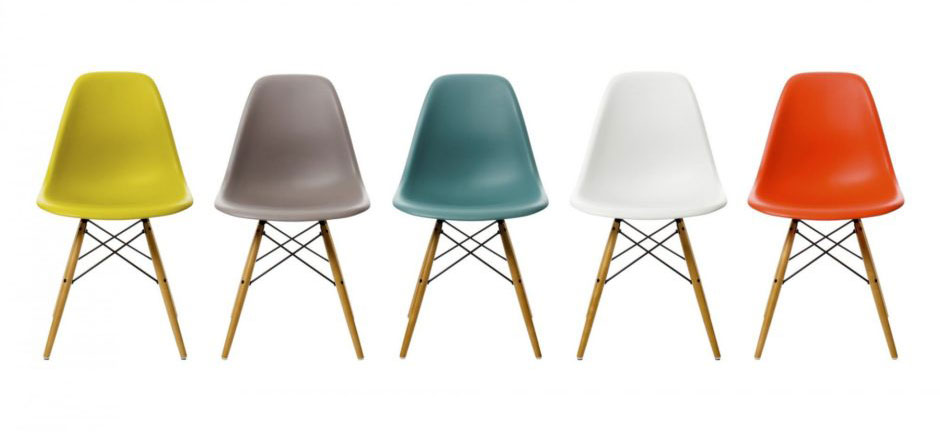 The current #OnMyEames trend has seen these immensely popular designs gain even more of a fanbase in popular culture. Eames Chairs, the iconic DSR/DSW models in particular, are quickly becoming the most 'instagrammable' furniture pieces of the 21st century and even though they are affordable design classics you still find a raft of replicas available. We think it's time we took a look...
If true design matters to you, read on as we take a look at the differences between real vs replica plastic Eames chairs and show you how to spot the difference.
Design
First and foremost, replicas may look close to originals aesthetically but if you have a fine eye for good design and exemplary production, you'll start to recognise the differences – and once you see them you can never un-see them!
With the Eames plastic range there are some telltale signs, pointed out by Est Living, that you're buying a fake (Note: All Furniture & Lighting Products available at Utility are genuine originals);
Shell Colour – The most noticeable difference between the real and replica. The real Eames is a chalky white where as the replica is a much brighter white.
Fixtures – The Real Eames has black screw to match the black frame. The replica however had chrome screws.
Timber colour – A notable difference. The Replica had a much blonder finish.
Timber dowel – On the Replica the timber edges were splintered and un finished, decidedly less polished than the Real Eames. SYMMETRY Near perfect on the Real while this attention to detail was no where to be found on the replica.
Most retailers will specify whether they sell originals or 'Eames inspired' chairs, but be especially aware of these points if you are buying a second hand Eames chair.
Manufacturing
When we invest in such a coveted design we tend to pay more attention to the whole story – who designed it, what their inspirations were and even how it was manufactured.
It's these small details that tell a story, one that you can repeat over dinner with friends and family and one that you feel a personal connection with.
The Eames plastic range is now licensed by Vitra in Europe and Hermann Miller in the US. This means the chairs are manufactured using only the highest technology and best processes available.
For Vitra, the manufacture of sustainable products means intense pre-production development, where the highest-grade materials are selected and tests are carried out that simulate 15 years of use. They also believe individual components should be easy to replace and ultimately recycled.
Since 1950 there have been slight variations to the design and manufacture of the plastic Eames chairs including using polypropylene for the shell to allow for more colour options and adding adding 20mm to the height of the chair to accommodate for the increase in the average height of people over the last 60 years.
These minor changes have modernised the chair and made it versatile chair it is today.
Sustainability
As previously mentioned, replicas are usually sub-standard in quality due to the use of lower quality materials and production methods. Not only does this usually lead the chairs to becoming worn or even broken within their first few months, it also leads to much higher waste, emissions and in some cases cheap labour too.
With the original Eames chairs from Vitra you can expect the highest quality materials and build with the highest attention to detail in each an every one of their chairs.
Vitra have a very robust culture that focuses on sustainability which began as early in 1986 through the group "Vitra and the environment". Vitra's passion for sustainability carried on the tradition of Charles & Ray Eames that product longevity is central to sustainable development and short-lived styling is avoided at all costs.
When it comes to designer furniture, the emphasis on sustainability isn't only from Vitra; when we personally invest time, money and our confidence in a product we tend to take care of the item and treat it as one of our own, extending the life of the product for many years.
Supporting Real Artists
Although this isn't a physical difference in the product, buyers need to be aware that replicas are just copies. There certainly hasn't been days, weeks even months spent gruelling over the intricacies of a design.
By buying an original you are supporting the designer and recognising the hard work they put into each design. When you purchase a replica, it may feel like you're supporting the original design, but you're really supporting an imitator and in some cases the uses of cheap labour to manufacture the chairs.
Here at Utility we are strong believers in "design for everyone", we also believe that there is much more to design than 'a nice looking chair'.
It's about creating a connection with the designer, the brand and the design itself. It's about telling a story, a story you are invested in and want to share with others - "A man is known by the design he keeps".
New measures have recently been put in place to outlaw the selling of replica furniture in the UK. Think about it, if you wouldn't buy a fake Chanel bag, or some fake Yeezy's... why buy a fake Eames?
Which is your favourite Eames Plastic Chair? Let us know on Facebook and Twitter.
Time for more Utility?
 Design Tips For First Time Buyers | Spotlight on Liverpool: Independent Liverpool | What's On My Eames?