Maison & Objet Theme – House of Games
Each season, the MAISON&OBJET "Observatoire de la Maison" defines a theme to be explored, based on consumption behaviours and trends. This year visitors were invited to explore the new House of Games themes at the Inspirations forum and it seems as though they didn't leave disappointed. Instagram user @2individuals described the installation as "very inspiring".
It seems as though those involved in the space felt just as inspired, with luxury games creators @purlinglondon stating that it was "an honour to be part of #houseofgames".
Designer Focus – A nod to Zaha Hadid
Before her unexpected death from a heart attack earlier this year, Zaha Hadid began working on a homeware collection. Now released as part of the architect's eponymous label, the collection features a number of scented candles and home fragrance products. While some of the designs feature Hadid's signature fluid forms, others – like the set of coasters below play on optical illusions.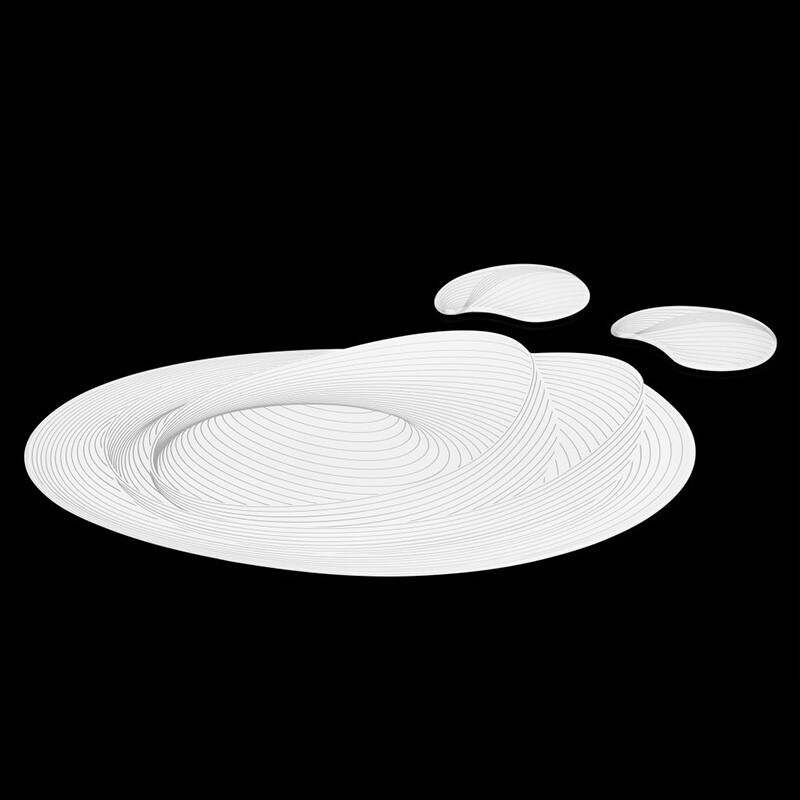 French designers and firm Utility favourites Ronan & Erwan Bouroullec have honoured the late Zaha Hadid with 120 specially made vases in groupings of cylinders at different heights, installed in the Vitra Fire Station (her first major completed building). The vases were this week unveiled at Maison et Objet
Visual Concepts / Design
Menu – Modernism Reimagined
Menu have released a series of carefully considered pieces that they consider both pure and minimalistic, whilst integrating richness and depth. The concept explores elements from architecture and design, resulting in beautifully designed, clever solutions for modern living.
Artemide x Mercedes Benz
While Menu were reimagining modernism, Artemide and Mercedes Benz were looking at new frontiers of relations between light, space, man, and the environment – ideas that reach beyond the products, projects and intelligence to operate them. On their first visit to Maison et Objet Artemide have blessed visitors with a first look at the Ameluna.
Find out more about the collaboration here.
New Releases | The Highlights
Among other things, Maison & Objet is the barometer of interior style for the coming season. New releases from established brands are not only exciting in terms of new product, but as an indication of where style trends are headed.
Normann Copenhagen
The Horizon Mirror designed by #KaschKasch for Normann Copenhagen have just been unveiled. Each mirror is fitted with a practical steel shelf which adds a unique shadow effect in your interior space.
The Momento LED Table Lamp is a new and simplified version of the classic office lamp. The typical technical office lamp details have been replaced by an elegantly balanced architecture, which is easy to adjust to the lighting need of the moment.
Special Mention | The Amp Lamp
The popular Amp Lamp will soon be available in white (with the new colourway available across the entire Amp range).
Vita Lighting
Described as "Wavy, Dainty and Ingenious, Vita's latest offerings include the VITA Sine, VITA Eos Micro and VITA Tripod Base. Announced earlier today (September 7th) we're still awaiting further information so check back here soon.
Not necessarily new but definitely worth a mention is the VITA Unfold at Home App for iPhone and iPad. The app which is free to download, uses VR technology and the camera on your phone to show you how Vita lighting products will look in your home. Now you really can "Try before you buy".
Tom Dixon
Exploring the use of new materials, Tom Dixon Studio have unveiled a selection of new accessories including Stone and Alloy candles from their "Scent Materialism" range.
Tom Dixon have also announced the release of the "Micro Wingback Chair". The Micro Wingback is a take on the much-loved range, re-imagined to work within the home or smaller confined spaces. Inspired by two seating archetypes: the 17th century wingback and its smaller sibling the 18th century balloon back, Tom Dixon nod to the past to inspire creativity for modern living.
Other Utility Favourites
A host of Utility stocked brands were exhibiting at Maison & Objet and we look forward to bringing you their latest collections as and when they become available. Here are some of our highlights from the week.
Muuto
Stay tuned to the Utility Design website and here on the blog as we bring you the latest brand releases following Maison et Objet.
Where you at this years Maison et Objet show? Let us know on Facebook and Twitter.
Time for more Utility?
 Design Tips For First Time Buyers | Mid Century Californian Road Trip | What's On My Eames?