Salone Del Mobile 2018 - What's new from Gubi?
Salone Del Mobile Milan is well underway (17th - 22nd April) and many of the brands we stock are exhibiting their new collections - exciting! We've already covered Vitra's Typecasting Exhibiton & Moooi's typically-flamboyant Museum of Exctinct animals; now it's time to look at what Danish design brand Gubi are up to this year.
Set up in the heart of Palazzo Serbelloni - a grandeur Milanese palace - the Danish brand find themselves in a setting that's on par with their splendid designs. Palazzo Serbolloni has witnessed over two centuries of Italian history and design, so it's only fitting that the neoclassical space is home to Gubi's expansive catalogue of astonishing design works.
Gubi are exhibiting a range of new designs alongside some current favourites at Salone Del Mobile to create a 1200m² space spanning home, hospitality and contract settings.
Gubi Presents...
Amongst the new and the old, Gubi are excited to announce they have collaborated with some of the most notable mid-century designers for some of their new works; the Finnish master of light, Paavo Tynell, legendary French icons Pierre Paulin and Marcel Gascoin and Italian architect and designer Carlo De Carli are amongst the cast of designers Gubi have worked with. Now let's take a closer look at the new Gubi products on show;
C-Chair - Marcel Gascoin - 1947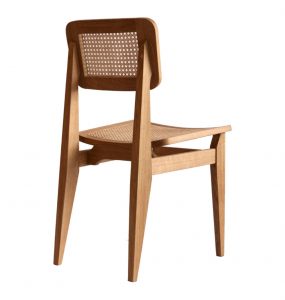 The C-Chair, designed by Marcel Gascoin in 1947, has been reinvigorated by Gubi and will be available to buy in mid-2018 in a range of solid wood finishes. The C-Chair represents the power - both politically and aesthetically - of Gascoin's designs as the chair was originally designed to fit the new, smaller homes built after World War 2.
The C-Chair boasts an elegant shape yet a strong and sturdy design. The ample legs give the chair a strong structure that's built to last whilst the details of the workmanship and light seat give the chair an inviting and light appearance.
---
Bat Lounge Chair - GamFratesi - 2018
The Bat Lounge Chair by design-duo and Gubi favourite GamFratesi follows suit with their recent range of animal inspired seating (check The Beetle Chair). The Bat chair takes inspiration from the wingspan of a bat to create deep, inviting seat; perfect for relaxation.
Following suit with traditional Danish craftsmanship, the Bat Chair balances simplicity and functionalism whilst carrying a strong design story. As with all Gubi upholstery the Bat Chair will be available in a wide range of fabrics and a choice of metal or wooden legs at then end of 2018.
---
Moon Collection in Marble - 2018
The Moon Collection from Space Copenhagen is a striking table design that is inspired by the moon, as you can clearly see in the image to the left. The marble top - available in black, white, grey & brown - resembles the cretaceous surface of the moon and is playfully balanced against the riveted base to create
The Moon collection spans dining, coffee and side tables and is Space Copenhagen's first foray into table designs. Available mid-2018.
---
For more news on Salone Del Mobile Milan 2018, stay tuned to the Utility Design blog.
Time for more? 10 Of The Best Dining Chairs | The Story Behind The Verner Panton S Chair