International Women's Day is the 8th March and this year the theme is #beboldforchange. So who better to choose for Designer of the Month than the late Zaha Hadid – the bold, world-leading visionary who spoke openly about the prejudices she faced as an Iraqi female architect?
Who Is Zaha Hadid ? 
Dame Zaha Hadid was an Iraqi-born British Architect who died unexpectedly last year. Over the span of her career she created award-winning museums, condos, stadiums and pavilions including the Maxxi Museum in Rome, the Guanngxhou Opera House in China, the London Olympics Aquatic Centre and the more recent Antwerp Porhouse pictured below.

These architectural masterpieces have won her numerous awards: In 2004 she became the first woman to win the most prestigious award in architecture, the Pritzker prize, and in 2010 & 2011 she won the UK's renowned Architecture Stirling Prize. In 2012 she was made a Dame by Queen Elizabeth II for her services to British architecture, in 2013 she won the Veuve Clicquot Businesswoman of the year Award and in 2015 she became the first woman to be awarded the Royal Gold Medal from the Royal Institute of British Architects.
By the time of her death she was one of the most celebrated, pioneering and influential architects in the world and by far the most successful female architect of her time. But it wasn't an easy ride.
Zaha Hadid & Discrimination in The Workplace 
Despite Zaha Hadid's success, the architect faced many barriers in her career. She admitted that the tough nature of the industry was one factor but believed her race and gender played a large part in her struggles. In one interview with the Guardian she described being an Arab and a woman as as "a double-edged sword", saying: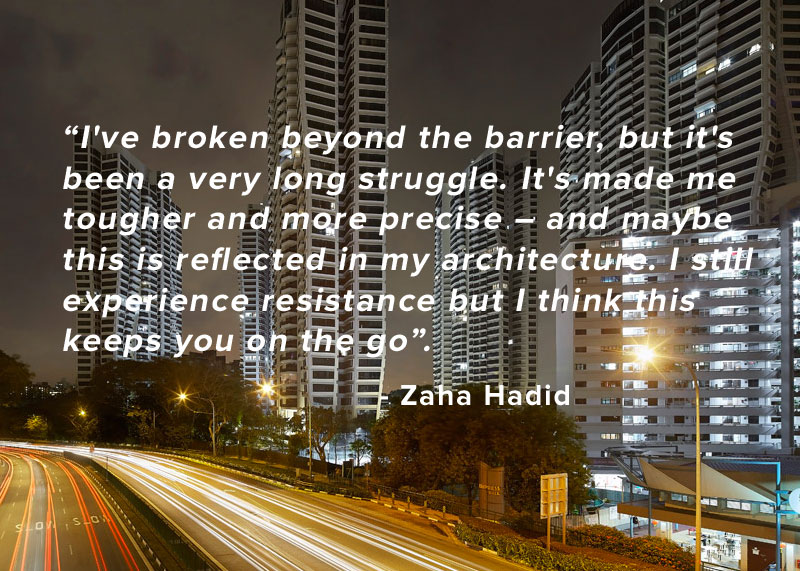 The architect was also openly critical of the misogyny in her industry, as well as the lack of female representatives in higher levels of management. And although she accepted that progress that had been made over the last 15 years, she maintained in an interview with Radio 4 a few months before she passed away, that she had always been judged more harshly because she was a woman.
These issues were given renewed attention last year, as female architects spoke about suffering sexism at work in light of her death.
Indeed, although around half of the UK's architecture students are women, only 24% of registered architectures are women, compared with 76% of men. Women leave the industry in large numbers, and a survey by the Architectural Review magazine found 61% of women architects claim to have been the victim of gender discrimination, with four out of 10 saying their bosses were responsible. Hadid herself said that during her career, it was frequently assumed that a woman architect could not take on a big commercial project and that she was better suited to residential properties, public buildings or leisure centres.
Whilst discrimination has clearly served as a barrier to progression for female architects, Hadid acknowledged this wasn't the only reason why many women 'drift off' from Architecture later in life. Part of the problem, she believed, was society being poorly equipped to help women go back to work after having children. Speaking to the Observer in 2013 she said: 

These problems are not specific to female architects, which makes days like International Women's Day  so important.
International Women's Day
The theme of this year's International Women's Day is #beboldforchange. Campaigners are calling on the masses to forge a  better working world- one that is more gender inclusive. There are so many successful women in design but as with many other industries they are disproportionately represented compared to men- especially at the higher levels.  Although so much progress has been made the World Economic Forum predicts the gender gap won't close entirely until 2186. That is too long to wait!
That's why it's important to celebrate visionaries like Zaha Hadid, whilst acknowledging the struggles successful women face to get to the top. Around the world, IWD can be an important catalyst and vehicle for driving greater change for women and moving closer to gender parity, so be bold for change!!
You can read more about International Women's Day here