Haute Hotels
A lot of the great iconic designs you see today are pieces commissioned for hotels much like the Swan and Drop chairs designed by Arne Jacobsen - now produced by Fritz Hansen. As the saying goes - there's no better way to travel than to travel in style. So we've created a list of the top hotels across the world to visit in 2017 where you can lounge around in some of the finest designer furniture the world has to offer.
Citizen M Hotel - London, England
CitizenM have hotels in several metropolitan areas across the world including New York, Glasgow & Paris. We've chosen the London branch for this list - purely so you can tie it in with a trip to Utility King's Cross! Located on Bankside, close to the newly renovated Tate Modern, CitizenM London has been kitted out by Vitra so you can sit in style whilst reading (or buying) art and design books supplied by MENDO. There's a multitude of great designs from Vitra on show like the Heart Cone Chair, Eames Plastic Chairs and Repos Lounge Chairs - and a dash of 'Britishness' too.
Mondrian - London, England
We're sticking around London for the next hotel because we had to include the Mondrian in this list. This boutique chic hotel oozes class and sophistication thanks to the use of striking Tom Dixon furnishings with strong metallic accents or in bold black. Based in Sea Containers - an ex-office building that was originally designed to be a boutique hotel - Tom Dixon has made sure the building has finally reached its initial potential. Featuring a plethora of Tom Dixon designs like the Copper Ball Pendant, Wingback Chair and Fan Chairs, as well as appearances from other great brands like Knoll in the form of the Bertoia Chair, the Mondrian is one of our top designer destinations. 
Raddison Blu Royal Copenhagen - Copenhagen, Denmark
Designed by the prolific architect Arne Jacobsen in 1954 - 1960 and originally named the SAS Royal Copenhagen, this hotel once featured some of the most iconic furniture and lighting to date. Unfortunately the hotel is a shadow of what it once was and much of the original furniture has been replaced due to wear and tear. However, one solitary room - room 606 - still exists with the original furnishings such as the Swan Chair & Drop Chair and is available for booking. Room 506 in the hotel also features a whole host of Fritz Hansen furniture and was designed by Jaime Hayón to celebrate the commercial launch of the Drop Chair.
OURS - Los Angeles, USA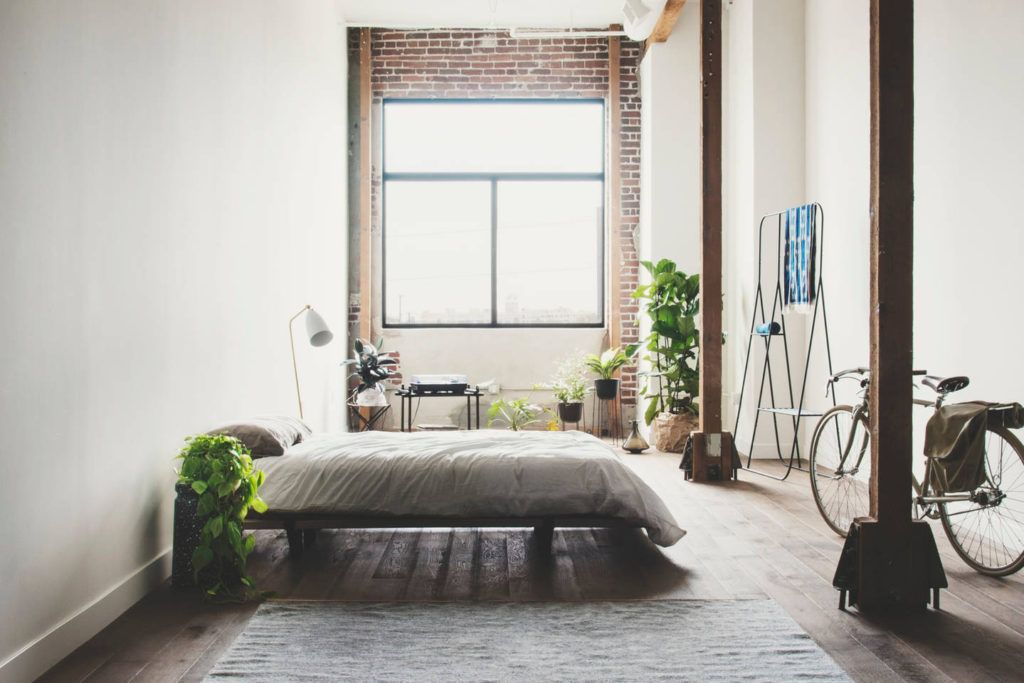 OURS is a new concept 'living space' in LA - and hopefully other cities in the near future - that allows you to buy the furnishings featured in the room. The minimalist rooms are beautifully furnished with some of today's top and upcoming furniture brands like Menu and Ferm Living and you can even shop the collection in the comfort of the room via an iPad. OURS sells pretty much everything apart from the bricks made to build the place including nightwear from In Bed, Matcha tea from Matchaeologist and Malin & Goetz skincare and candles.
STAY Copenhagen - Copenhagen, Denmark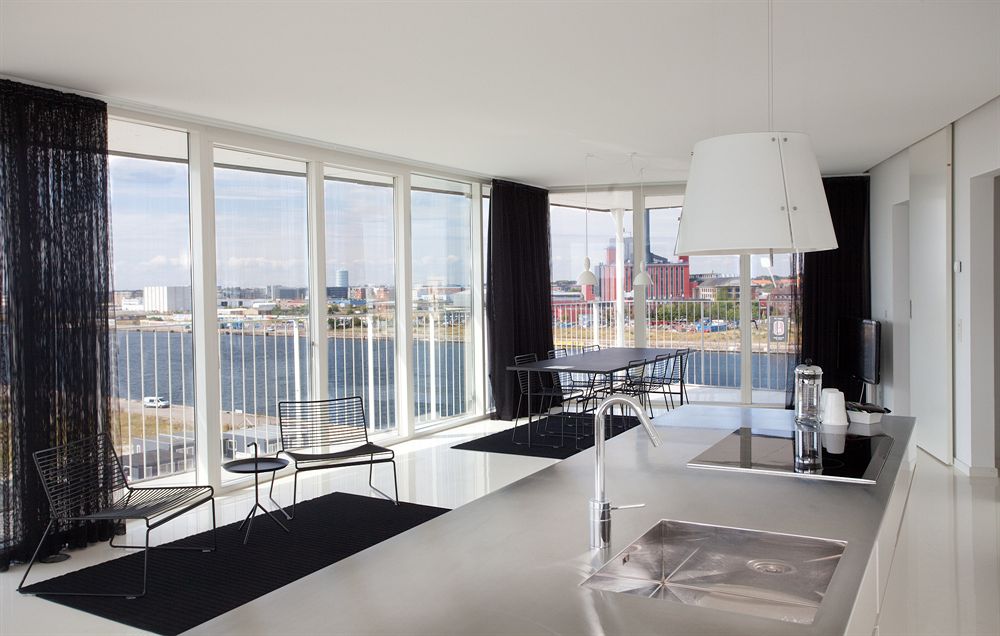 Another hotel in Copenhagen - you'd start to think Scandinavia is the home of great design (it is!). STAY teamed up with Hay to design and furnish 172 apartments in the Danish Capital. Opting for a minimal and monochrome aesthetic, the hotel is great for those looking for a stress free break in the city. Featuring plenty of Hay products - as you'd imagine - including Hee Chairs, DLM Tables and the Mhy Light from Muuto.
Boro Hotel - New York, USA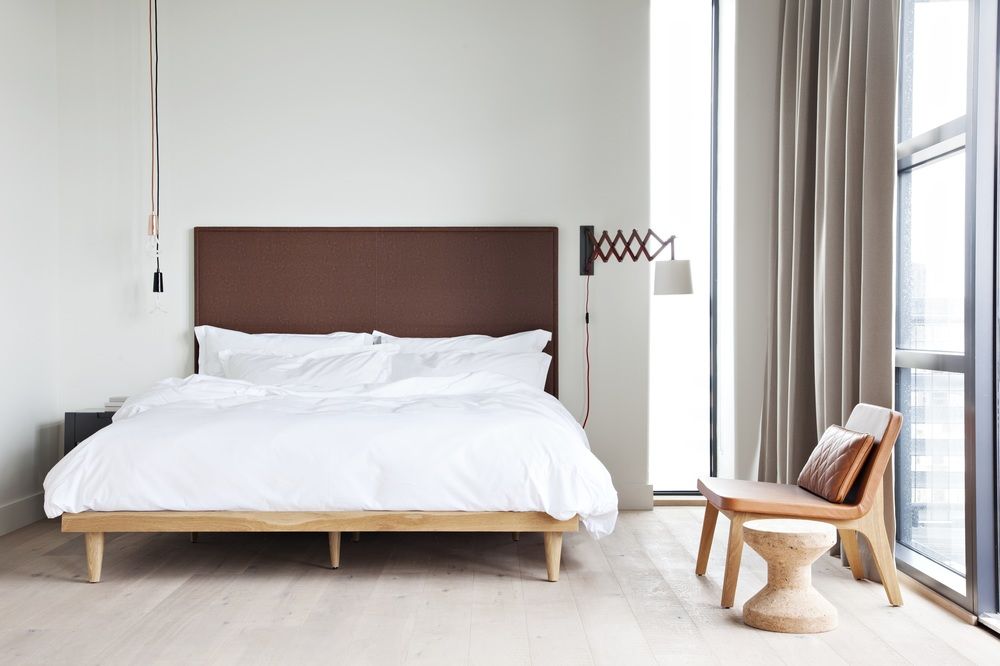 Boro Hotel is a communal style hotel in the heart of Long Island City, New York. Offering more space than the box-room hotels you find in Manhattan but for the same price, this hotel is one of a few boutique and designer hotels popping up in this area. With a pared back approach to furnishing, the hotel features a lot of soft tones and natural finishes like cork and beech wood. With designs from Vitra, Hay & lighting from Plumen your sure to find a place to relax and appreciate the designs on show.
Leman Locke - London, England
Leman Locke is a brand new hotel in the heart of the creative hub of London - Spitalfields. With soft blush hues and a large open plan area, this hotel is the ultimate city break apartment. The Aparthotel features brands like Hay, Gubi & Menu for you to lounge around in and immerse yourself in the laid back lifestyle of East London.
Hotel Minho - Portugal
How about a whole hotel made from bespoke designer furniture? Hotel Minho in Portugal offers just that. Tasked with designing the hotel, architecture studio Vírgula i custom made 37 pieces of furniture for the hotel in order to meet the design brief. It only made sense to expand the designs into a furniture collection showcasing the craftsmanship and woodwork that was used to create them. Introducing the Bracara collection, manufactured by Paularte.
Pullman Hotel - Liverpool, England
We couldn't not include a hotel in our home town Liverpool could we? The Pullman Liverpool features some of the best designer furniture available - some of it sourced via Utility! Located on King's Dock, a short walk away from the popular Albert Dock and main attractions in the town centre, it's the ideal location for a short weekend stay in Liverpool. Featuring furnishings from Flos, Fritz Hansen & Alessi including the Kelvin Lamp and Drop Chair.
That's our round up of Designer Destinations in 2017... if you do happen to visit any of these destinations this year, let us know  how your stay was on Facebook or Twitter.
Got time for more Utility? Pantone Colour of the Year : Greenery | 7 Things you Need to Know About Decorating With White | The Dark Colour Palette