Beazley Design of the Year
Now in its ninth year the Design of the Year awards, sponsored by Beazley, is an annual event ran by The Design Museum in London - the world's most renowned museum for contemporary and architectural design. The Design Awards aims to select designs, products and projects that "Someday the other museums will be showing". The recent partnership with Beazley follows their commitment to supporting and funding of the Design Museum and ahead of the move to new premises in November. The Design Museums first exhibition in its new premises will include the showcasing of the designs that were nominated this year. You can catch the Beazley Design Awards exhibition from 24 November 2016 – 19 February 2017 at The Design Museum and you can also have your say by voting for your favourite designs over the upcoming months.
The award is broken down into six categories; architecture, transport, product, digital, fashion and graphics. The awards select one winner from each category and one overall winner to be crowned 'Design of the Year 2016'. In this blog we're going to select our favourite from each category and share our thoughts on why...
Architecture
First up is the architecture category and probably one of the most difficult categories to chose from. With previous overall winners of the award from this category being the breath-taking Haydar Aliyev Cultural Centre from Zaha Hadid Architects, this year's nominations have a tough act to follow. The nominees in this category are not just fantastically constructed and mind-bending buildings like the nomianted Harbin Cultural Centre,  as the inclusion of sustainable housing projects, flat & modular pack housing for refugee camps and structural safety assessments of textile factories in Bangladesh add a social and sustainable aspect to the category - and rightly so in this day and age.
Winner: Better Shelter
A tough choice. With a selection of designs answering current housing and humanitarian issues across the globe there were several nominees that we could have chosen. But because of the overall effort and complete design - including marketing, branding and actioning of the project - we have chosen Better Shelter. In short, Better Shelter is a sustainable, easy-to-assemble and modular housing system designed to increase safety and living standards in refugee camps across the world. One shelter is delivered in two flat-pack boxes and can be constructed in as little as 4 to 8 hours by 4 people - without tools! The average shelter houses five people but they can be altered to be bigger or smaller depending on the environment and habitants. Shelters includes a solar powered light for lighting in the evening.
In 2015 alone Better Shelter donated over 10,000 units worldwide, saving lives and providing a better level of living for thousands, which made it our clear winner.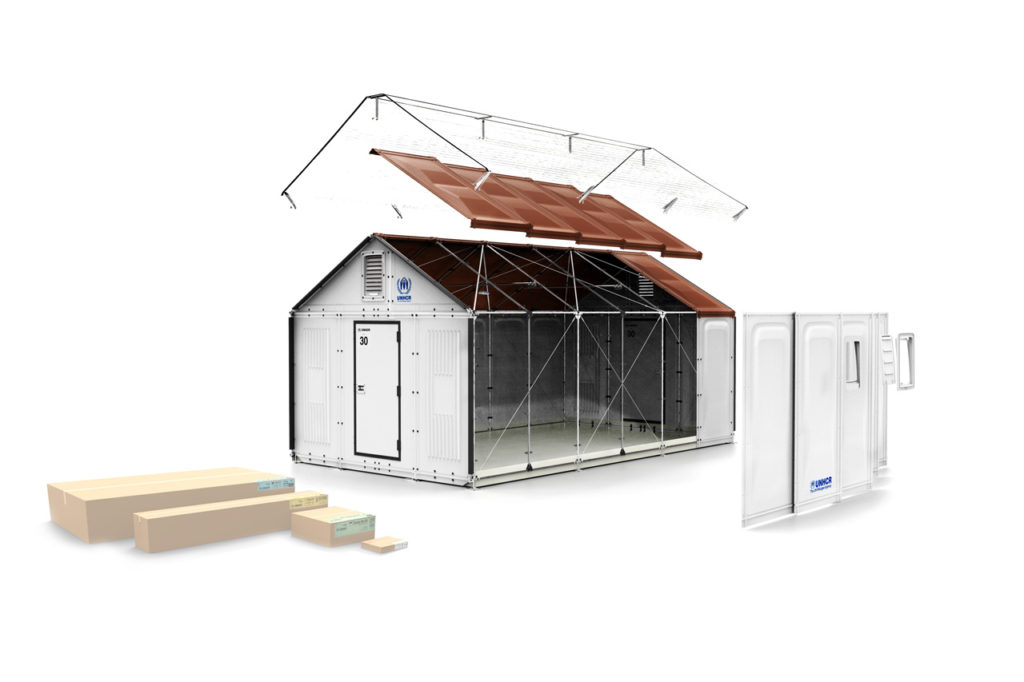 Digital
The digital category includes projects that may overlap other categories but all nominees feature a strong digital presence. Spanning fashion, technology and even virtual reality the Digital category has an eclectic mix of nominees. Notable nominations in this category are the Phonvert project which aims to promote the use of phone recycling in different ways, In the Eyes of An Animal; a virtual reality installation which gives users the perspective of a forest animal and Precious Plastic which promotes the upcylcing of plastic waste through open source machinery.
Winner: Casa Jasmina
Our favourite due to its application with furniture is Casa Jasmina which aims to explore the internet of things in the modern home. Their goal is to integrate traditional Italian skills in furniture and interior design with emergent skills in Italian open-source electronics and create a showplace for it all. The makeshift home features projects from designers and hackers alike that address the emergence of the IoT. A few of the projects include The Noctambula- a battery powered LED light made from a single milk carton and standard lighting components which will be released to the public for free use and Aker Kits which are simple downloadable kits to help you start growing your own food locally.
The successors of the Casa Jasmina project will be real homes with real, innovative products inside. The real actionable result and the incorporation of furniture really stood out for us here.
Fashion
A bit out of our depth here, but we can try and apply our eye for furniture and lighting design to the fashion world too. Luckily the category only features four nominations which made our work a little bit easier! Nominations included a Zen inspired fashion range from Craig Green and the first international Mexican fashion brand YAKAMPOT which both showcased the eccentric world of haute couture.
Winner: Kids vs Fashion
Not quite what you may expect in the fashion category, but interesting nonetheless. Kids vs Fashion looked to uncover a child's (age 8) viewpoint on commercial fashion campaigns. The results were chilling and unnerving. In the video, the children offered their help to the women depicted by saying things like "she's feeling lonely" or "they're hungry" but voiced their ambitions when male models appeared by saying "I want to go to University too" and "I'm the boss". It clearly shows how stereotypes are used in fashion and it exposed the implicit violence and inequality used to depict men and women in the editorials.
An interesting and eye-opening campaign that works so well due to the unfiltered mind of a child.

Graphics
Definitely the toughest category and not just due to the design element but because of the issues being addressed through the art of graphic design. A notable past winner from this category is Shepard Fairey who created the 'Hope' campaign poster for Obama's first election campaign - which is now an iconic well recognised design. Nominees from this category that grabbed our attention were this Scandinavian style Norweigan Passport design, the endearing dear-data project and the ubiquitous #shotoniphone campaign from Apple. David Bowie's latest album artwork  ★ (Blackstar) designed by Jonathan Blackbrook was also nominated.
Winner: Hello Ruby
We didn't chose this winner because of its actual graphic design - if that was the case we would have chosen the Norwegian Passport! We chose Hello Ruby because of what it is aiming to achieve. The children's book introduces the fun and importance of coding through the use of characters such as Ruby, Snow Leopard and Robot which are characterisations of existing technologies such as Apple, Android and Linux which we're all familiar with. As our world is increasingly ran by code and software, there is a real demand for people of all backgrounds to learn coding and apply it to the real world.
Again we've chosen a design that also has a real world impact - something that will stand the test of time and shape our future.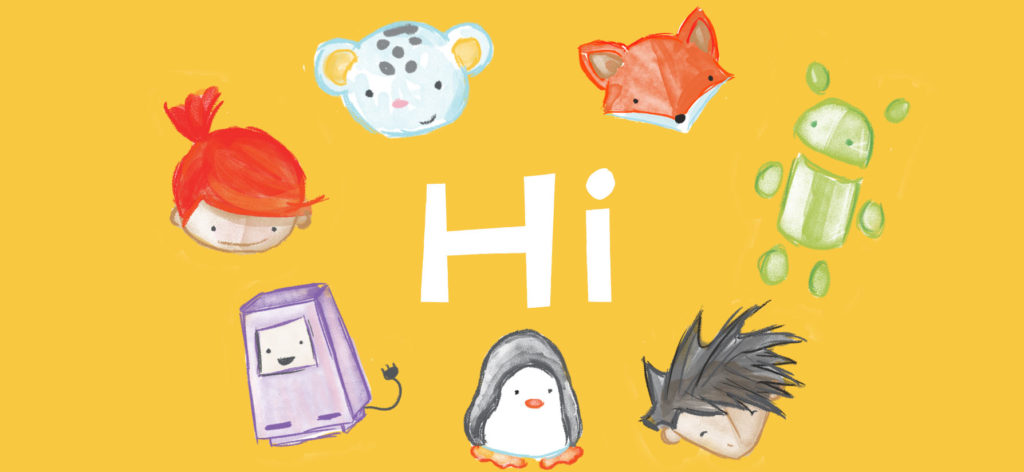 Product
A very well represented category with over 18 nominations spanning furniture, lighting, fashion, healthcare and electronics. Our top picks of the bunch were the Adidas x Parley sustainable shoe range, a digital pen that connects to the internet called Joto and Lego's City People pack that features submissions from the #ToyLikeMe campaign. Before announcing our winner we're giving a special mention to the Witt Energy for their renewable energy technology that can convert all motion energy into electricity.
Winner : Île w153 Lamp - Inga Sempé
The winner purely because of our love for well designed and innovative lighting. Inge Sempé aimed to create multiple uses for the standard clamp lamp with the Île w153 lamp. This has been achieved by including a flat base and a wall mounting mechanism which allow the lamp to also act as a table or wall lamp as well as a clamp lamp. But more importantly, the wonderful form of the lamp is what makes it stand out. Imitating a symbol from a drum kit, the tilted shade is connected to the base using magnets which allow it to be positioned perfectly to direct the light. Also available in a range of colours, the w153 is a playful and functional lighting fixture. You can shop the light at Utility Design today and receive 10% off all Wästberg lighting!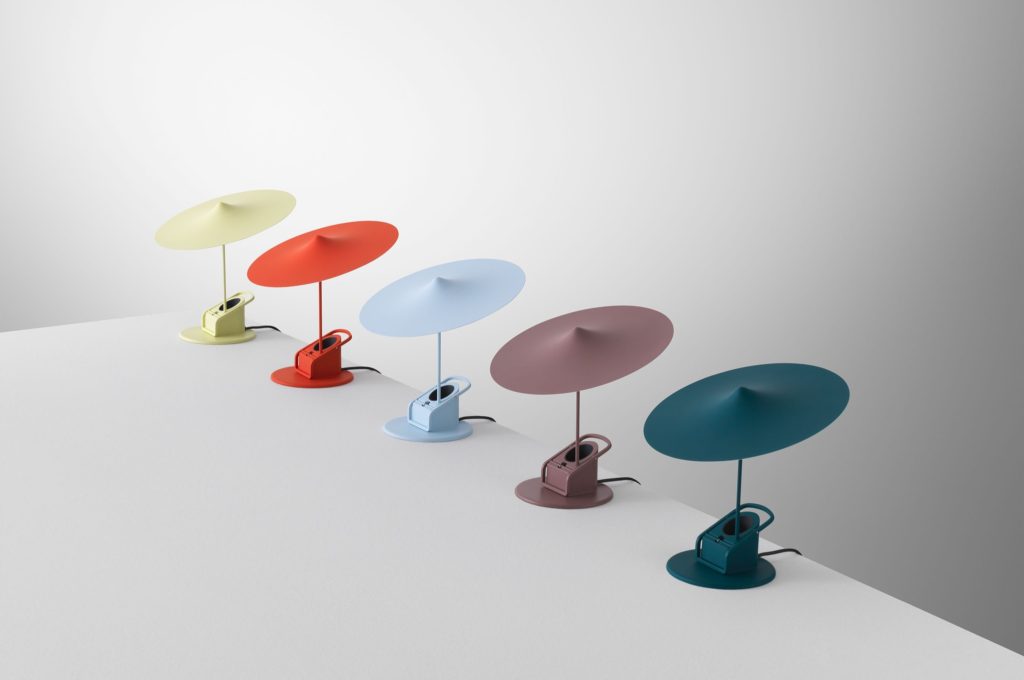 Transport
Another short category with just 4 nominations that all have a cycling aspect. Nominations include the Gogoro smart scooter that has interchangeable batteries - the first of its kind and Lumos which is a bike helmet with integrated turn lights and brake symbols.
Winner: BeeLine
A winner because of its simple functionality and design which shows that products don't have to be all-singing and all-dancing to impress. The BeeLine is a revolutionary travel system for your bike that uses a compass as opposed to actual prescribed turning directions that we're now increasingly reliant on. The BeeLine looks to put the adventure and fun back into urban cycling and give the user the decision on what route to take, all whilst exploring new parts of the city in the process.
Overall Design Awards Winner
After looking at each category and the nominees in depth we thought we would decide on an overall design award winner - much like the actual awards. We'll probably be way off with our guess but it's fun to see if we could actually pick the winner! So after much deliberation we have chosen the winner. Drum roll please...
Casa Jasmina
With its links to furniture design and goals to innovate everyday household products, Casa Jasmina really stood out for us. As the community around Casa Jasmina grows, so will their ideas and the real life application of their designs. It is organisations and think-tanks like these that will really shape our future as humans and consumers.
Let us know your favourite nominations from this year's Design Awards on Facebook and Twitter.
Time for more Utility?
Utility's Californian Mid-Century Road Trip | Office Interior Styling For The Harvery Specter Look | Travel with Utility: Where To Go & What To Take