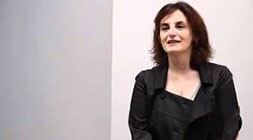 Miriam Mirri
Italian designer
Miriam Mirri
was born in 1964 in Bologna. She graduated from the Scuola Superiore di Disegno Anatomico in 1987 and the Università del Progetto in Reggio Emilia in 1991 where she studied Communication and Design.
Mirri
has worked as a designer at the Branson-Coates Architecture Office in London and as an assistant to Italian architect and designer
Stefano Giovannoni
. Here extensive range of designs for
Alessi
have won acclaim for their lovable charm and gift appeal.