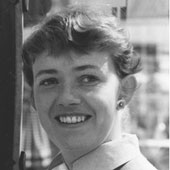 Kerstin Horlin-Holmquist
Kerstin Hörlin-Holmquist
(1925-1997) was a Swedish modernist architect and designer. She is remembered today for her ability to create designs for the modern home in the 1950's without worrying about short lived trends and what other people thought - to stay true to her own unique and humanistic design vision. She often worked with her husband Erik Holmquist, and together they modelled and created the pieces together. A key aspect for the couple was always to test out their designs in their own home before completing a project.
"I think both furniture and textiles, wherever they end up, must be kind, gentle and courteous, but without losing their character. They should have human qualities, not be pompous and only stand alone, but able to adapt to the environment they end up in..."
Holmquist worked and studied in England from 1946-47 immediately after the war where she also studied art history and became fascinated with the classic English upholstered furniture and style. Something that without a doubt inspired her own creations later in life while she still developed her own expression. She returned to Sweden where she attended and graduated Konstfack from 1948-52.
Her timeless and iconic 'Paradiset' collection, shown here, was created during her employment with NK - Nordiska Kompaniet in 1956-57 and holds a soft simplicity, they are unique in their appearance - light, clean lines and gracious with an air of romance. Today her designs are highly treasured collectibles and rarely to be found on auctions.