The Vitra 'All Plastic Chair' by Jasper Morrison has Arrived
Good things come to those who wait. Having unveiled the Jasper Morrison designed All Plastic Chair at their Salone Del Mobile 2016 Stand, Vitra have now delivered our shipment of All Plastic Chairs.
Made from various plastics, the A.P.C resembles the simple, classic wooden chairs that have been popular in Europe for decades. However, a complete overhaul in performance and appearance has seen Vitra significantly enhance this compact silhouette by adapting the design to an alternative material.
The flattened forms of the frame are moulded in a single piece, while the thin seat surface is organically shaped and the backrest more finely modelled than the back support of conventional wooden chairs. As a result, the All Plastic Chair is strikingly compact and graceful, and the combination of plastic components makes it extraordinarily comfortable. Whereas the frame consists of a rigid high-strength polypropylene, the seat and backrest are more resilient and adapt to the contours of the sitter's body. The backrest is connected to the frame by twin shafts cushioned with rubber buffers, which allow it to flex gently in response to the sitter's movements, further enhancing the chair's comfort.
Thanks to the use of high-performance plastics that are resistant to sunlight and water, the All Plastic Chair is a robust, durable chair for indoor and outdoor settings. Available in 7 colour options, the All Plastic Chair is suitable for indoor and outdoor use and perfect for both domestic and contract applications.
The Vitra All Plastic Chair is available to buy online at Utility now.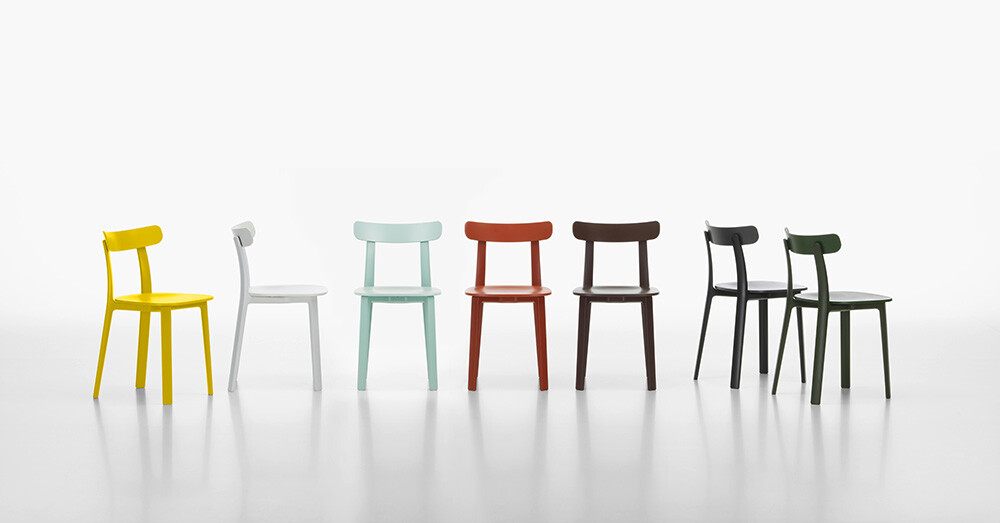 (Find out more about the A.P.C on MANimalist.co.uk)