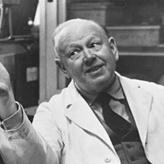 Kay Bojesen
Kay Bojesen
was an apprentice silversmith under Georg Jensen and continued to practice as a silversmith until the 1930's when he realised that there was something particularly lively about wood, and his wooden figures have made him one of the great pioneers of Danish art manufacture.
Bojesen
believed that people should want to pick his objects up, and that they should radiate humanity, warmth and vibrancy. One of his most famous designs,
The Wooden Monkey
was so popular in the 1950's that it was exhibited at the Victoria & Albert Museum in London. His
Wooden Animals
and
Songbirds
are still produced by Danish company
Rosendahl
.