Ettore Sottsass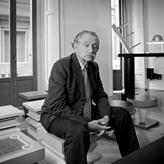 Ettore Sottsass
was born in Innsbruck in 1917 and studied architecture at the Polytechnic of Turin before graduating in 1939. He was know as one of the initiators of the revolution in architecture and design which led away from the rigid functionalism of the years prior to and following the Second World War. In 1945 he worked for the Giuseppe Pagano group of Architects, before setting up his own office 'The Studio' in Milan in 1947. During the 1960s he designed several pieces of Anti-Design Furniture that were manufactured by Poltronova.
Sottsass
has worked closely with
Alessi
and lighting company
Artemide
throughout his extensive career.
Was: £739.00

Special Price £628.15

Save 15%
Category

(15)

(3)

(2)

(14)

(52)

(5)

(4)

(27)

(21)

(4)

(22)

(2)

(1)

(7)

(5)

(10)

(1)

(78)

(4)

(21)

(6)

(2)

(2)

(15)

(1)

(2)

(3)

(36)

(1)

(4)

(7)

(1)

(21)

(6)

(3)

(2)

(4)

(10)

(4)

(2)

(25)

(8)

(2)

(2)

(1)

(8)

(4)

(7)

(2)

(47)

(2)

(18)

(21)

(14)

(19)

(3)

(17)

(4)

(2)

(49)

(1)

(13)

(2)

(2)

(2)

(3)

(2)

(6)

(14)

(3)

(9)

(16)

(17)

(2)

(11)

(4)

(4)

(6)

(6)

(4)

(11)

(3)

(3)

(43)

(3)

(5)

(2)

(10)

(2)

(2)

(1)

(5)

(3)

(2)

(1)

(29)

(11)

(12)

(4)

(1)

(3)

(18)

(2)

(7)

(1)

(44)

(2)

(2)

(1)

(1)

(33)

(60)

(38)

(2)

(2)

(1)

(2)

(4)

(12)

(1)

(9)

(2)

(7)

(4)

(53)

(6)

(22)

(5)

(20)

(14)

(1)

(1)

(21)

(19)

(7)

(2)

(3)

(6)

(121)

(1)

(22)

(10)

(10)

(3)

(6)

(2)

(1)

(6)

(3)

Designer

(1)

Brand

(1)