The watch has come a long way. From its 18th century roots of people carrying around 'portable clocks' to its modern day technological incarnation in the form of smartwatches, the humble wrist watch has a fascinating history and evolution.
Women had flirted with the custom of wearing small clocks on their bracelets, but there was one specific event that really brought the wrist watch into ubiquity - war.
It was vital that soldiers knew the time and their movements and actions were carried out with absolute precision. However, pocket watches weren't exactly efficient in this regard, and so soldiers were known to strap them to their wrist so they could check the time quickly and easily. This soon caught on and before long, it became commonplace for soldiers to use wrist watches as part of their equipment. They even started to modify them using unbreakable glass for added strength and radium to illuminate the face at night.
However, an article published in the New York Times in 1916 passed the 'bracelet watch' off as a joke and a "silly ass fad". Of course it wasn't a fad, and this battlefield chic soon bled into everyday fashion. Marketed to men as a way of appearing more manly and soldier-like, the wrist watch soon soared in popularity and became a symbol of modern fashion. By the time the Great Depression had started, the sales of wrist watches had overtaken that of pocket watches and have never looked back.
But what about the world of today's watch? Fewer and fewer of us now see the need to wear a watch, largely thanks to the invention of the smartphone, most of which prominently display the time the moment you look at them. In fact, the time is now pretty much everywhere we look other than on our wrists - our computer screens, TVs, games consoles, microwaves, car dashboards - so why would we need watches anymore?
That's the question we put to a couple of our favourite watchmakers LEFF Amsterdam and Mondaine. Here's what they had to say...
Are watches are still relevant today when people can check the time on their phone?
Mondaine: Yes very much so, and even more than before the mobile phone era!
Indra Kupferschmid is a professor for typography and graphic design in Germany, and also our consultant and mentor for all questions related to typography. In 2014, Mondaine added a new Swiss icon to the collection, the Mondaine Helvetica, dedicated to the font Helvetica.
Indra recently said to us that she was not wearing a watch anymore and hadn't done for years. And now of course she wears a Mondaine Helvetica! She says that the feeling of the watch on the wrist is awesome and also highly convenient in her daily life. For example, when she holds speeches at the university or congresses she cannot check the time on her phone. But a quick look at the watch allows her to manage her time perfectly.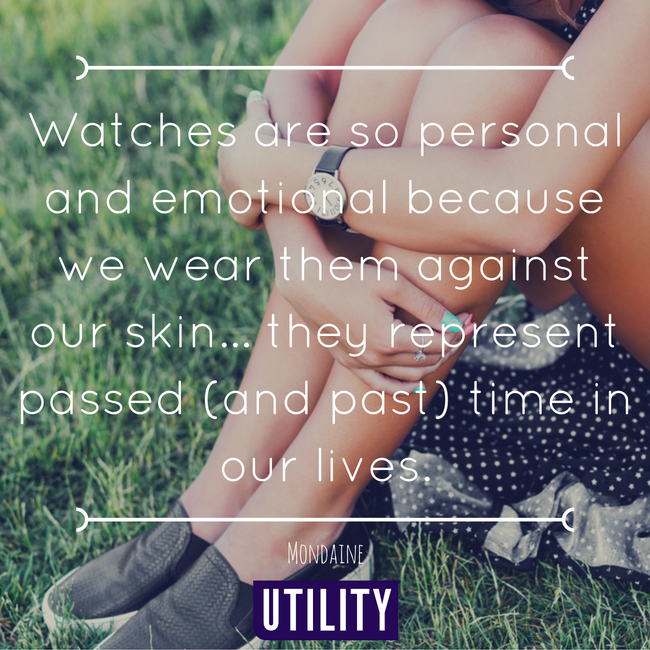 We also feel that the character of the watch plays a very important role. Phones are convenient and have many useful functions, but their look is largely very limited and not really suitable to express and underline the wearer's individual style. The watch allows so much more variety in terms of design and aesthetics.
LEFF Amsterdam: You are right, a watch is absolutely not necessary to look up the time, this is also why we alway say; nobody really needs a watch. But it's that exact frame of mind that challenges us even more to make beautiful timepieces that people still want to have.
Why do you think watches are such a personal thing?
Mondaine: I believe this has to do with time being so precious to us. On the one hand, time is so limited to all of us, but on the other hand, each person in the world has exactly the same amount of time available; it's just the individual that makes the perception of time so different.
I also believe that a watch is so emotional and personal because we wear it on our skin. So often when we ask people what they do with their old watches that they don't wear anymore they keep them in a drawer, and then when they move, they also pack the watches and take them with them. In a way they represent passed (and past) times in our lives. I really believe this isn't the case with old phones.
LEFF Amsterdam: With a watch you can show a little bit about the way you think and the kind of things you appreciate in life - you can really show your identity. Our watches are tough, industrial, raw but at the same time very sophisticated, and so are the people wearing them.
Do you think watches will change much in style or function?
Mondaine: It's difficult to say, although we are currently experiencing the wave of smartwatches. The watch linked to the smartphone is certainly very interesting and will play an important role in the future. However, the question is whether consumers prefer to wear computers on their wrist, whether they want something more traditional, or if they want something that combines the two - Our Helvetica 1 Smartwatch has the functionality of a smartwatch but looks like a regular, more classic timepiece.
LEFF Amsterdam: We are living in exciting times because of all the tech developments, so a lot is changing all the time. Although the big tech companies still haven't hit the right spot to get people convinced in buying smart watches, they will definitely win this game in the end, just not how they are made or the functions they have at the moment. I am sure that the tech guys will come up with software and sensors that will help you to improve your health by constantly checking your movement and many other medical readings of your body.
No doubt one of them will bring out a new technology and tell us that if we buy that watch then that will extend our lives by a few years by improving our habits and giving health indications all the time. Everybody will be willing to spend a couple of hundred to have some extra years, right?
However, in my opinion this will take some time due to the design off the smartwatch, which at the moment is and almost universal design. Who wants to wear the same watch that everybody is wearing and looks like a "tech thing". If Apple and Google are smart, they will make individual components, such as a back case that has a sensor and sends all the info to an app. Then we and other authentic watch brands will add that back case to our watches so people can still buy the designs that fit them, keep their own identity and have all the new technology at the same time.
Once they realise this and develop in this way the smartwatch technology will be embraced and will be successful.
What's on trend in the world of watches right now? where do you see trends going?
Mondaine: It's a tough one to predict. As a timeless classic Swiss watch brand, our focus is on the authenticity of the core values and look. However, we also monitor the trends even though we do not follow all of them. If we believe that something has a more sustainable core idea, like smartwatches, then of course we're interested and want to be a part of it.
LEFF Amsterdam: At the moment slimmer and smaller watches still seem to be the most successful, and this is exactly why I love the fact that we are the total opposite and still very successful. We don't aim for the mass market or for trends, we only want to bring out designs that we think are really cool and that can become design classics. People appreciate that we are not looking at trends - they buy our watches because the like the aesthetics and want to wear our watches for years, whatever trend there is at that moment.
Has working in Amsterdam inspired your designs or philosophy in any way?
LEFF Amsterdam: Definitely! Amsterdam is such a great place to live - it's a city, a village and a museum at the same time. Amsterdam is extremely multicultural and adapting to anything really fast. This all makes it the perfect place to get inspired and test new designs and ideas. Just walking around can bring you shit loads of ideas, because of all the history surrounding you, but also because you can run into amazing street art all over the city.
We are actually thinking of setting up a gallery and pop up restaurant in the basement of our new studio on the Herengracht where we can give a platform to young street artists and share ideas with them.