Decorating a small space is all about getting the balance right between design and function. Here's some top tips to ensure that if your home is short on space, it won't be short on style.
1. Measure & Plan
When refurbishing a small space, literally every inch counts. Plan first how you intend to arrange your furniture, measuring length, width, and height of the areas where you envision placing your new things. Knowing the dimensions of your apartment will influence your furniture choices, ensuring everything fits neatly and spaciously in the room.
2. Multi Functional Furniture
A great way to make the most of your space is to invest in furniture pieces that serve multiple purposes, such as a hollow ottoman that can be used for storage or a bed that folds into a sofa. Because homes are getting smaller than ever, it's actually never been easier to style a small apartment in this way, with innovative double duty furniture ranging from a bed that is also a wardrobe, to a bookshelf that's also a chair!
3. Hidden Storage System
A small apartment can easily look cluttered, you need vehicles for hiding things from view. A hidden storage system allows you to assign bits and pieces to one specific place, so they don't end up in piles on the floor or stuffed in random corners and surfaces, taking up unnecessary space.
4.Choose A Light Colour Palette
To make your space appear larger, avoid using dark hues.  A dark colour palette can make a space seem smaller to the eye, whereas lighter shades open things back up. A top decorating tip for studio apartments is to focus on three colours : two which are light and cover most of the space, and a darker accent hue to add a punch of colour.  This will give your interior a look that is light, open and spacious, yet visually interesting.
Measuring 30 sq. meters, this studio apartment in Gothenburg, Sweden uses a neutral colour palette and an abundance of storage to triple  the look of its size.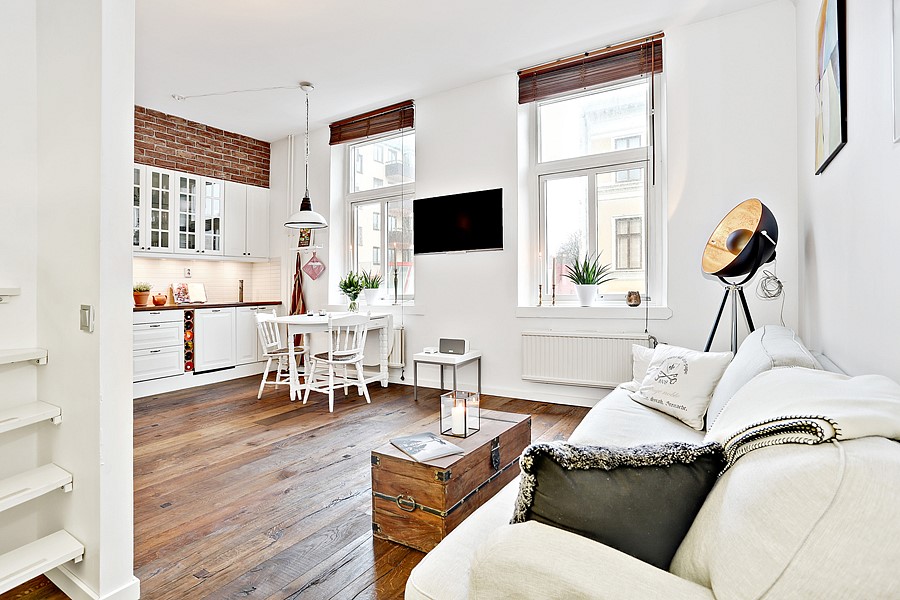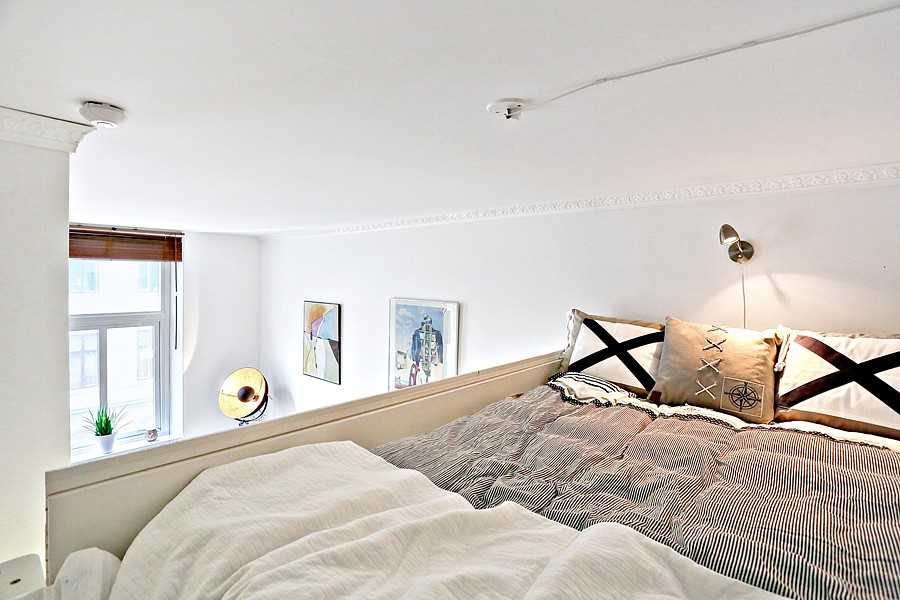 Click here to see a collection of our furniture & home accessories in white.
5. Work your walls
Clear out drawer space by maximising the use of your walls for storage & display.  From coat hooks and wall-mounted shelves to key and scarf hangers, we have a great range of space-saving wall solutions at Utility.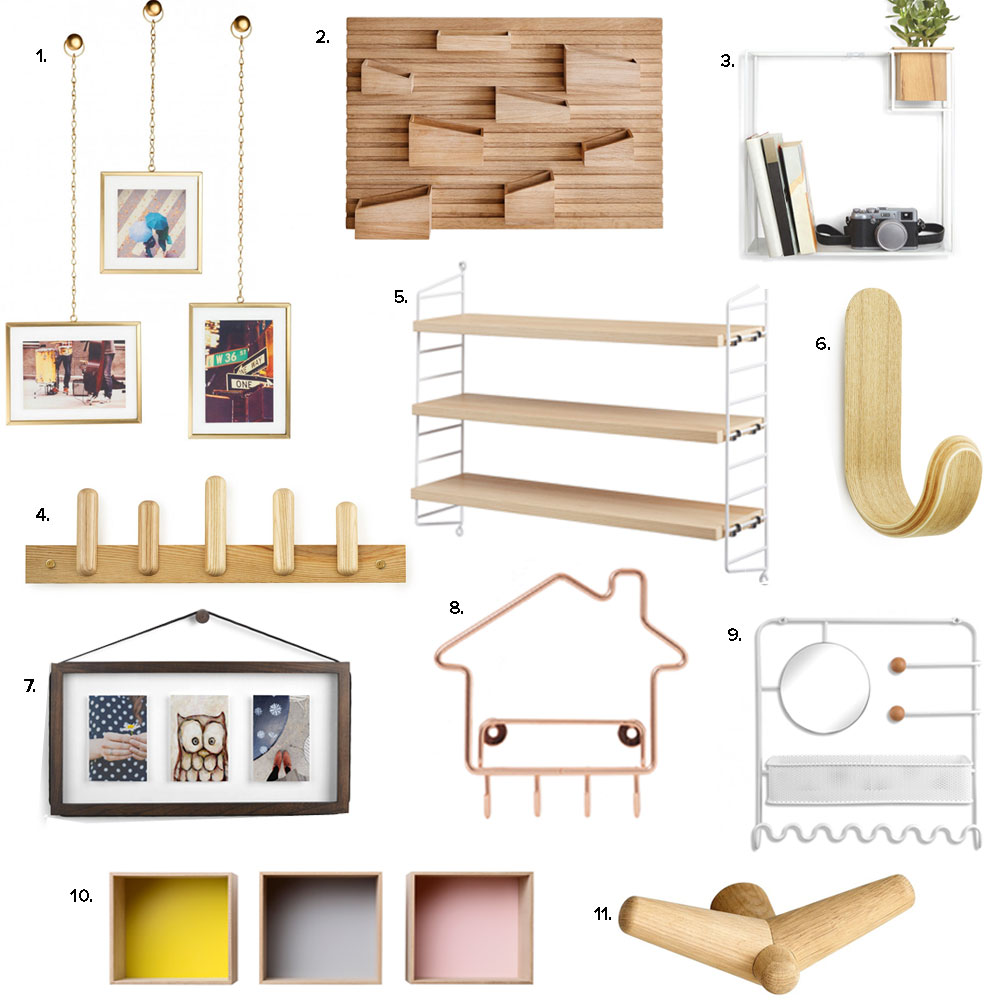 1.Umbra Fotochain Display, £35.00
2.Woud Input Organiser, £165.00
3.Umbra Large Cubist Shelf, £40.00
4. Normann Copenhagen Play Coat Rack, £45.00
5. String Pocket Shelving, Ash White, £109.00
6.Normann Copenhagen Curve Hook, £15.00
7. Umbra Corda Multi Photo Frame, £20.00
8.Key Hook Home, £12.99
9.Estique Accessory Organiser, £30.00
10. Muuto Mini Stacked Shelves, £69.00
11.Woud Tail Wing Hook, £39.00
6. Large Mirrors
One of the easiest design tricks to visually expand an interior is to invest in a full-body mirror. Placed opposite a window a mirror will bounce light around the room, adding dimension to the space whilst reflecting your apartment's full beauty.
7. Mobile Furniture
Mobility is key when you need to give a room another purpose, or move something out the way to make space for guests. Opting for furniture that can be tucked away easily such as nesting tables, stackable chairs and anything with a wheeled base, allows you to have more flexibility with limited space.
8. The Floating Design Trend
Big, bulky furniture pieces can make a small apartment seem claustrophobic. A  great way to avoid this is to make use of  'floating' furniture, such as floating shelves and tables with long thin legs that appear to almost hover in the air.  This takes up less room on the ground and allows the eye to travel across the whole perimeter of the room, creating a spacious feel.
9.Curvaceous Furniture
This may seem obvious, but if you have a small space, furnish your apartment with small pieces that fit its scale. Furniture with curves can appear less bulky than rectangular/square pieces, and as most small apartments are square, incorporating round shapes will keep it from looking monotone.
10. Be critical & creative
De-cluttering regularly is essential for keeping small rooms clean & spacious. Look at everything with a critical eye- don't store anything you don't love or need, and if you're still stuck for space, be creative with where you can place things. Look out for dead spaces such as empty corners, awkward angles,  blank walls, windowsills, any ledge you can hang something off and the top of kitchen cupboards where you could fit in some small shelves or storage baskets for those extra bits and pieces you need to find a place for.
Click here to see more ingenious storage solutions for small space living.
Feeling inspired? Click here to see more ideas for furnishing a small apartment.