A spoof series of four books called Enid Blyton for Grown-Ups, which reimagines the Famous Five as adults, is due to arrive soon.
Do you have fond memories of reading Enid Blyton's iconic The Famous Five as child? Or having it read to you by loving parents eager to unleash your imagination as you follow the adventures of Julian, Dick, Anne, George, and of course Timmy the dog?
Well you'll soon be able to check back in with the gang thanks to four new titles in the series! Except not really.
New Famous Five books are indeed on their way, but in spoof format, with the titular five reimagined as grown ups tackling more modern day problems.
So rather than the classics such as Five on a Hike Together or Five Go Off in a Caravan, this time we have altogether more adult adventures: Five Give Up The Booze; Five Go On A Strategy Away Day; Five Go Gluten Free; and Five Go Parenting.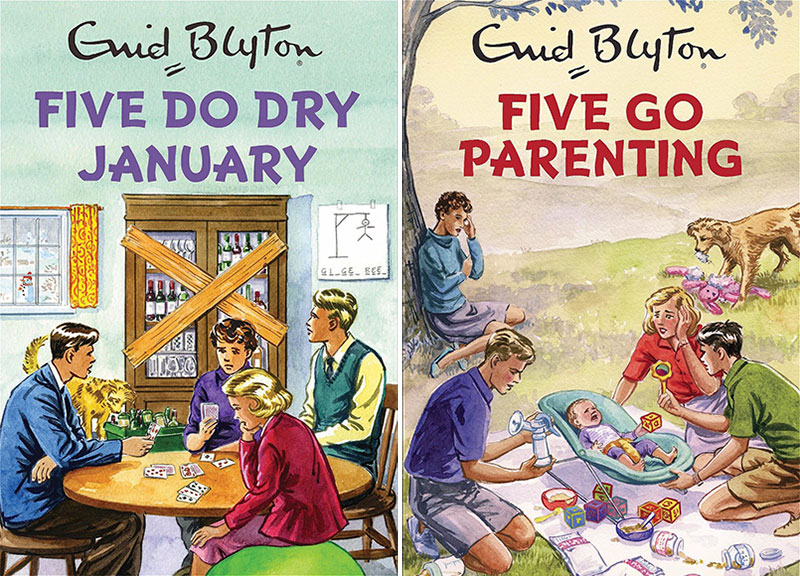 Speaking to The Bookseller, Anne McNeil of Enid Blyton Entertainment believes that Enid Blyton would have approved of the books. She said: "We are thrilled that Enid Blyton's iconic five are being reimagined for grown-ups. We are certain Enid Blyton would have delighted in the gentle parody of her characters - characters which have helped to create a multi-million-selling global brand."
The books are written by Bruno Vincent, the author behind humour bestsellers Do Ants Have Arseholes? and Do Bats Have Bollocks?, and published by Quercus Books. Quercus added: "Quercus is really excited to be catching up with Enid Blyton's The Famous Five as adults: their grown-up adventures will both remind older readers of the unbreakable bond between Julian, Dick, Anne, George and Timmy, and introduce newer readers to the spiffing time you can have with a few friends and a dog. Chuckle along as the Famous Five find themselves faced with 21st century challenges such as going gluten-free, attempting Dry January, surviving the hell that is a work away day and bringing up a baby."

Now, these books might ring a few bells. Last year, Penguin released a series of self-satirical (and pretty darn hilarious) books based on the classic Ladybird Education books. The series did incredibly well, raking in around £10m and leaving stores unable to cope with the demand.
In fact it was so popular, that we're also pleased to announce we will be stocking five brand new books in the 'How It Works' series - The Student; The Grandparent; The Cat; The Dog; and The Dad.
We will also be renewing some of the previous bestseller lines: The Mum; The Husband; The Wife; The Hangover; and Dating.
Keep your eyes peeled for more information on when the new spoof Ladybird books will be released, but they're sure to make ideal stocking fillers (or presents to yourself).
The Enid Blyton books for grown-ups could well prove to be just as popular as the Ladybird spoofs, tapping into that sense of nostalgia, and targeting those who hold the original books so dear. Those who grew up reading these books will likely be going through similar stages of their life, or even have children of their own doing so. Add to that a wonderfully dry and bizarre sense of humour and you've got yourself another bona fide hit.
Take a look at some of the pages from the spoof Ladybird books, and if you find yourself chuckling away, then there's a good chance you'll have fun with the adult Enid Blyton books when they're released.
The four titles will be released in hardback in November and they'll be for sale right here at Utility.
Did you have a favourite Enid Blyton book? Let us know on Facebook and Twitter.
Time for more Utility?
 11 Amazing Coffee Table Books You Won't Be Able To Put Down |Style Your Home Or Office Like Suits' Harvey Specter |The Best Books For Design Fanatics