How to Extend Your Style Outside
For most of us, our home is a haven and the beautiful décor within, a labour of love. We put a great deal of effort into styling the inside of our homes, but why stop there? For those lucky enough to have a garden, there's a fantastic opportunity to extend your style outdoors, and in some cases, significantly increase both the amount of living space available and the value of your property.
With summer in full swing and the school year officially over, now is the perfect time to take advantage of your garden. Beyond tidy hedges and charming flower beds bursting with colourful blossoms, here are four ways you can create functional and amazing outdoor living spaces, with options to fit every budget.
- -
Make Patios and Porches Inviting
The easiest and most cost-effective way to start creating an outdoor living space is by introducing just a few simple additions in an existing area. Most gardens have a back patio or porch already in place just waiting to be converted into a welcoming outdoor space.
Start by taking advantage of décor elements to instantly add that "intentional" feel to the space. Wall art made from wood, stone or metal make excellent focal points when mounted on the side of the house and can endure year-round weather.
Up the cosy factor by incorporating a fire source, such as a chimenea. This will ensure you're able to use your living space beyond just the warmer months, and adds another inviting element to the space.
It's also important to set the mood with lighting, just as you would indoors. If you already have access to electrical wiring on your porch or patio, it should be easy to swap over to some beautiful sconces or a statement chandelier, otherwise solar lighting is a perfect option.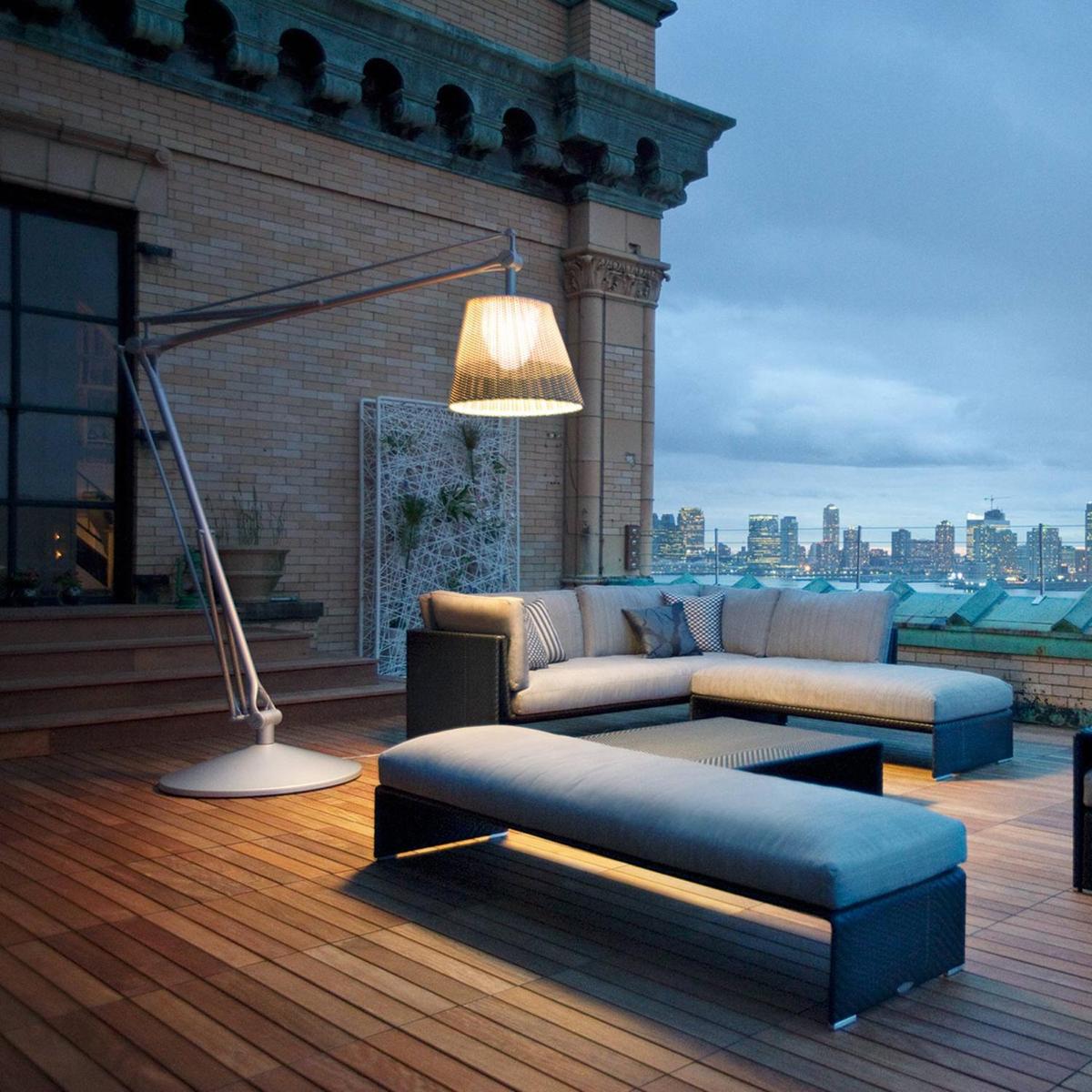 Create Relaxing Seating Areas
Outdoor seating areas can be so alluring when done right. Start by choosing an area of your garden that's flat and unused (the above-mentioned porch or patio is ideal) where you can create an inviting seating area for relaxing and socialising. Again, focus on making the space intentional by opting for outdoor furniture that offers character, style and comfort rather than something standard and nondescript.
Next, focus on other elements that will add charm to the space and give it a personal feel. Water features are not only pleasing to the eye, but also create a comforting sound. If you want to provide shade or privacy you could add a pergola or lattice with climbing plants, or even a large umbrella.
But perhaps you're not out to achieve a typical seating area - for the ultimate lazy space, why not introduce a hammock or a plush outdoor sofa for a cosy reading nook? Durable fabrics suitable for outdoor use are not nearly as limited as they once were, so you can really put a personal stamp on your outdoor living space and create comfort by adding textures and colours with cushions.
Dine al fresco
Outdoor dining spaces offer an atmosphere that isn't always achievable in a traditional dining room. One experiences a distinctly unique romantic and slightly exotic sensation when eating a delicious meal in the fresh air beneath the stars.
Creating an inviting outdoor dining space follows the same principals as creating a relaxing seating area. Again, focus on choosing furniture and decorative elements that are unique and intentional, incorporating colours and fabrics that will complement the space, with a focus on functionality.
Lighting is key for dining outdoors, so take the opportunity to hang some solar fairy lights or soft-glowing lanterns for a truly dreamy atmosphere.
If you enjoy outdoor dining enough to do it year-round, building a permanent structure like a gazebo might be the best option. This ensures that you can entertain rain or shine, and certainly offers an impressive setting for large garden parties.
Two Kitchens are Better Than One
The kitchen is the heart, and often the pride, of any home. They play a big role in defining the style of a house, and can significantly affect the value of a property. The same can be said for what an outdoor kitchen does for a garden.
Outdoor kitchens go a long way in creating an unparalleled outdoor living space. These impressive projects are ideal for people who enjoy entertaining large groups, and offer a real opportunity to extend your style outdoors. These spaces are perfect for barbeques, traditional cooking, or even for adding a wood-burning pizza oven.
Choosing the right layout, fixtures, appliances, furniture and accessories can be a costly undertaking, but when done correctly, will result in the perfect outdoor party space and can certainly increase the value of a property.
- - 
Rupert Elliott writes on behalf of Oak Designs, outdoor living specialists.
Time for more? Instagram Interiors | Hygge: The Art of Danish happiness | How to Declutter your home | 36 Hours in Liverpool