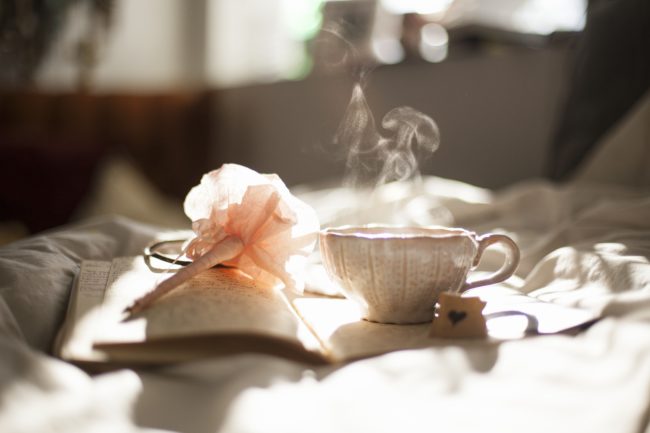 Here in the UK, tea isn't just a drink - it's a way of life. Tell a tea drinker that you don't like it and they'll do a double take, unable to process what you've just said. They'll then try and convince you that you do like it really or that you might like it if prepared a different way. It's that important.
"Tea started as a fashion around 1650 and was very exclusive and very expensive, then tea became a cheaper, smuggled item until 1784 and the repeal of 119% tax (!). Afternoon tea fashions in 1840, WWII rationing... We've been through a lot with tea! Tea is a very personal drink and you can make a cuppa anyway you like to drink it, which helps in popularity"- Tetley on why Brits are so obsessed with tea
Read more: Pinterest Gardens That Will Make You Green With Envy
Here at Utility we're no different, we love a good cup of tea whether it's Earl Grey, lapsang souchong, hipster-infused green tea or just classic English breakfast. We know that how  you make and drink tea is of  utmost importance, so here's some amazing gifts and tops from experts that will take your tea drinking to the next level.
Tea Flavours
There are a million and one different flavours of tea. The popularity of fruit and green teas represent the development of the British palette for flavours from all over the world, and we've got quite a few at Utility. Here's just a few of our favourites.
If you're in the mood for something fragrant and high society, then the range of Adventurous Blends of William Whistle are ideal! Pictured above are the delicious Earl Grey and orange & lemon flavours, although we do have a few more available too. Then we have the rather distinctive RoyalTea set of teabags which are a classic tea blend with assam - each bag features a different member of the Royal Family, including Prince Charles, Camilla and Prince Harry.
"Some teas have a bit more of a caffeine boost than others, so are great when you need that extra pick me up. Matcha, a powdered Japanese green tea is made from the whole tea leaf so it possesses many more health benefits as well as the highest amount of caffeine. For relaxation without caffeine, a good choice is a herbal infusion. Chamomile, Lavender and Anise make a very soothing and calming beverage."- Linda Gaylard on the best teas for different moods. 
Designer Teapots
For the more civilised tea drinker, there's no other way to brew the tea than in a teapot. Forget brewing it in the cup, you simply have to have a teapot for the middle of the table when having afternoon tea, and here are just a few of our wonderful designer teapots…
There's something for everyone here. First of all we have the Darcy teapot made from black clay which gives the look of cast iron (but without the weight), and then the retro looking Fritz teapot which comes in a range of matt colours and a built-in steel infuser for those who like loose leaf tea. Finally we have the eye-catching Viva teapot, hand-painted and made from delicate porcelain, which will add a dash of colour to your kitchen.
"If using a teapot to make a brew, milk comes first.  Pouring tea into milk results in smaller fat droplets when the milk disperses in the tea, giving it a smoother, creamier texture (and slightly lighter colour). The milk is also scalded more so has a more boiled milk flavour which tastes sweeter.If using a mug (and who doesn't really!) then milk goes in after the tea bag has left the mug."- Tetley on the age old debate- when does the milk go in?! 
Quirky designer mugs
You can't just drink your tea out of any old cup - you need something that's a representation of you, whether that's dainty, quirky or traditional. Check out these awesome designer mugs…
A great selection of mugs here - the Alessi heart mug is a great gift for that special someone, whilst the Ferry Across The Mersey mug by Scouseware is ideal for the Scouser in your life.The periodic table of typefaces mug will go down a treat with designers and computer geeks, and the Sagaform cat mug will is perfect who enjoy a cuppa with their favourite feline friend on their lap. But if you want something more traditional then the LSA circle mug and saucer keeps it all really simple.
"To get the full flavour our expert Blenders recommend 2-3 mins, but personally I like about 20 seconds and my colleague goes for 5 mins so again, very personal drink."- Tetley Staff member on how long to brew tea for. 
Tea drinking accessories
There's much more to drinking tea than just a mug, teabag and hot water. For the real tea obsessives, there is a whole world of tea drinking accessories available, including…
You need somewhere swanky to store all of your tea bags, and our Orla Kiely tea caddy is absolutely perfect, showing off the designer's signature bold colours.
Drinkers of loose leaf tea will need an infuser or you'll end up with a mouthful of leaves. Our Normann Copenhagen Tea Eggs and Alessi tea infuser will ensure you have a delicious cuppa and allow you to dispose of the leaves afterwards.
Worried about teabags dripping everywhere? The Alessi Teo teabag strainer has you covered, allowing you to drain off that excess water so it doesn't end up all over your kitchen work surfaces.
"For a good cuppa, which is always black tea, I would reach for spice bread, fruit tart, or anything made with dark chocolate. There are so many foods that pair well with different types of tea. You could try cheeses, savouries and even spicy foods with Oolong or black teas. Green and white teas pair well with fruits like melon and lychee or thai spring rolls and sushi." - Linda Gaylard on the best food to have with tea 
***Linda Gaylard is a tea sommelier, author of The Tea Book and founder of website The Tea Stylist which is well worth a visit. If you're feeling inspired to follow in her footsteps, she shares this valuable advice.
"Start with some elementary study and see where that takes you. If a passion to launch a tea career presents itself, seek out tea courses that will give you a good knowledge base. Not all tea education is created equal, so speak to other tea practitioners. You will not become a tea sommelier after a weekend course or 15 hours of study. It takes hundreds of classroom hours, visits to countries of origin and continuing study to keep up with the many developments within the expanding world of tea."
Check out our full range of gifts for tea lovers and let us know what you think is the perfect cuppa over on Facebook or Twitter.
Time for more? You may also like The Best Places To Drink Tea in Liverpool | The Best Places To Eat & Drink in King's Cross | Where to get the best coffee on Bold Street