Sometimes it's the little things that make a gift special. If you're more or less done with your Christmas shopping but need a few finishing touches, we're here to help with our list of 12 last minute stocking fillers. Whether you need something for mum or dad, your boyfriend or girlfriend, kids, teens or your brother or sister, there's something here for everyone. Simply order before noon on Wednesday 21st December and your last minute gift will arrive just in time for Christmas!
If you know someone whose greatest pleasures in life are chocolate and alcohol then this 2 in 1 treat is just the thing for them. The NomNom Espresso Martini Chocolate is handmade in Wales and blends British chase smoked vodka and Black Mountain Espresso into a rich and creamy ganache, making  a truly delicious chocolate bar.
Urban is a collection of city-inspired concrete candles embellished with lovely geometric detailing. Available in two sizes, the small 3.5oz one makes a colourful little stocking filler for any candle lover. The stunning scents include Driftwood & Indigo, Sea Salt & Sage and Fig & Olive.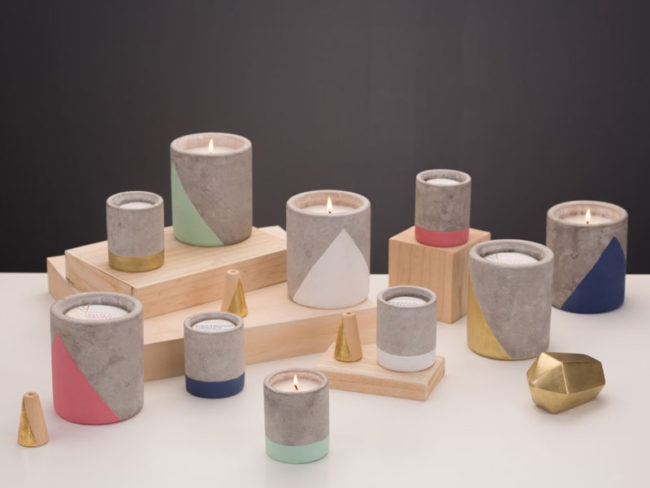 If you've bought someone a scented candle for Christmas, why not complete the look with a luxury matchbox from Vitra?  The Vitra Matchboxes feature iconic designs from Alexander Girard and come complete with 45 long matches. If you haven't bought someone a scented candle yet but you think you might, shop our range here.
You'll get a free matchbox with any candle over £25 if you place your order before Monday the 19th December! 
Give the gift of Danish design with the Hay Bullet Pen. This sleek metallic pen comes in three different colours and is made from zinc, copper and nickel alloys, creating a metal-like weight inside the palm of your hand. It's a great stocking filler for stationery lovers.
Whether you need a last minute gift for your mum, dad, wife, husband, son, daughter or even your grandparents, the LadyBird Books for Grownups are here to help. These hilarious parodies of the classic children's book feature artwork from the original Ladybird Series, alongside words of wisdom to help adults cope with their modern day problems. A brilliant stocking filler that'll put a smile on anyone's face.

Construct your own ghost stories, fairy tales, space-travel and pirate adventures with these unique Story Dice games. A great stocking filler for imaginative kids, each set includes 9 dice with prompts for telling your own stories.
Scrape the jar clean with this amazing Mini Supoon! More than just your average teaspoon, its flat silicone scraping tip and flexible scraping sides mean you can enjoy every last little bit out of a jar or container, be it Nutella, butter, peanut butter or mayo - there's a host of foods this unique invention works with. The tip also features a measuring function, whilst the handle is designed to sit the head of the spoon up and off the counter, keeping surfaces clean. You'll wonder how you ever lived without it!

Turn your empty bottles into lights with this Multicolour Bottle Light. This rechargeable USB light turns any old bottle into a colourful light, making for a fun piece of bedroom decor. It's a great stocking filler for teenagers.
Superpug, & Frenchie are two of Gemma Correll's most insta-famous designs... and now they're here on a keyring!  For dog lovers or cartoon lovers they make a fun little stocking filler.
Launched at the Milan design fair 2016, the Tann Toothbrush from Hay was produced as part of the company's collaboration with Norwegian dental brand Jordan. It's available in six lovely colours including yellow and rose, introducing Scandinavian design & colour to an every day object.
For jewellery-lovers, this handmade Tatty Devine Fortune Teller Necklace is a must-have. Featuring marbled tortoiseshell acrylic hands caressing a glittering acrylic crystal ball, even the jewellery is wearing jewellery - the hands are embellished with glittering Swarovski crystals and gold rings! Packaged in a sleek black gift box, it's the perfect size for a surprise stocking filler. View the full Tatty Devine Collection here.
Impress your guests with this sturdy oak bottle opener -  a handy little tool made from high quality oak. For people who love beer as much as they love design, it's a great idea for a stocking filler.
Not found anything suitable? Not to worry, you can browse more fantastic stocking fillers.