Spring has sprung and there's no better time to give your current home interior accessories a shake. Gone are the dark afternoons and oppressive weather, and drawing ever closer is a new season that's fresher, lighter and much more colourful.
For most people, spring is the season of rejuvenation and why should your home interior be any different?
Here at Utility we've selected our favourite accessories to add to your home this spring to refresh your current decor.
Reflect the bright, springtime light…
Boost the brighter light in your home with a sleek Prisma mirror from Umbra. Plated in copper (the trend that just keeps giving), the clean, geometric lines of this mirror will instantly revive and add impact to any room.
Make your home feel light and airy by switching up heavy wall art for lighter pieces such as our Prisma Wall Decor. Mount them on the wall or position on a shelf or table space to add extra interest in your room, instantly updating it for spring.
Nothing sums up spring more than birds. The Normann Copenhagen Shorebirds are the perfect accompaniment to your home this season, so use them to add a taste of Nordic design to your home.  Available in a range of sizes and colour finishes, place them in a group or style alone.
Incorporate pops of colour...
Experiment with colour in your home this spring with the Alessi dotty clock. Inspired by coloured sticky dots and the movements of the solar system, this fun and practical clock is an easy way to combine style with function in your home.
Update your toys or magazine storage solutions this season with our Muuto Restore Storage Basket. Made from recycled materials, it's environmentally friendly and available in a number of colours to suit your interior preferences.
Traditional spring cleaning….
Spring invites you to declutter your home and start afresh - they don't call it spring cleaning for nothing! Our Umbra Stealth Shelf is a stylish way to minimise clutter and house smaller accessories such as candles and photo frames.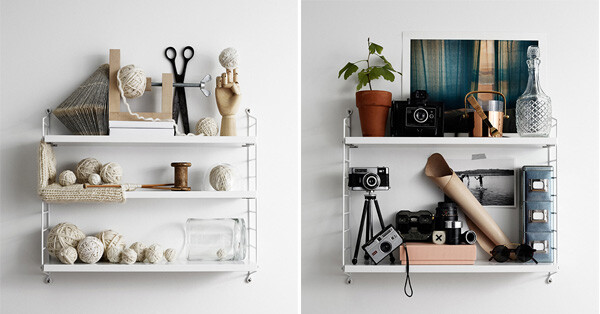 String pocket shelving is a functional choice offering clean lines and a minimal aesthetic. If you do one thing in your home this spring, reorder your shelving and create a new visual in your design.
So whether you're adding colour to your space or reorganising your shelving, spring is the perfect time to try something new in your home.
How do you update your home for spring?
Tweet us: @UtilityDesign
Time for more? Our stand out events from London Design Week 2016 | 10 Utility products you need in your home this Easter | The 5 best places to drink tea in Liverpool