Barba Corsini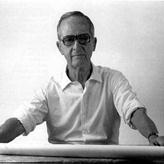 Spanish architect
Barba Corsini
was strongly inspired by German architect,
Mies van der Rohe
and American architect
Frank Lloyd Wright
. Corsini won international praise for his architecture and design for the conservation of Gaudis famous La Pedrera building in Barcelona. For this project he designed the
Pedrera PD1
and
Predrera PD2
.
Here we feature the modernised design by Jq. Ruiz Millet in 1991 for Gubi.